---
Web Developer Resume Guide for 2022
What is Web Development?
The method of creating, developing, and managing websites and web-based tools is known as web development. For the creation of websites and online apps, web developers utilize a variety of coding languages, including CSS, HTML, and Java.
The term web development has a broad scope. Web development includes both the painstaking production of a substantial website with several distinctive pages and the construction of a single webpage utilizing a Wix theme.
Table of Contents
Watch this video on how to make the perfect resume for developers
Tips for the Best Resume
The demand for web developers has increased after the post-pandemic COVID-19.
During the pandemic, online businesses have been boosted. People are more interested in purchasing online products, and the demand for web developers has increased for creating new websites and domains.
Every day, new internet enterprises are created. An extremely valuable talent is web development which is the capability to design user-friendly, high-performing websites.
To keep up with rapidly evolving technology, web developers must always master technological skills.
Here are tips to highlight your resume:
Beginning with a Resume Target
The resume objectives are written to convince the hiring manager to read the rest of your resume. The candidate should keep the following factors in mind to get shortlisted:
Summarize the level of training and experience you have.
You have to emphasize the capability to instruct others, which accentuates communication abilities.
The applicant should showcase his personality to highlight why he would be a good match for the position.
If you succeed in captivating the recruiting manager with your resume aim, you'll shortly be contacted for an interview.
Provide background in addition to your experience list
Provide examples from your working experience that are organized in a bulleted list to support the statements you stated in your career goal.
The three most persuasive bullet points from the preceding web developer resume sample are listed below for your consideration.
Developed and designed a handy website, with an optimized checkout process that improved user clicks and, as a result, customer transactions by 15%. (This point demonstrates that the applicant is considering the finished result and how web development affects a company's essentials.)
Hacker assaults were reduced from 4.76% to 0.69% by updated web security software. ( By this point, the applicant approaches web security by utilizing numbers, which gives the recruiting manager a better picture of their abilities in this field.)
Tools & Skills: HTML, ASP, SQL, Java, Visual Basic, JavaScript, XML, CSS, C#. (This point determines whether it meets their needs; web developers should always list any programming languages, software, hardware, and tools.)
Want to learn Web Development from the experts, here's a golden opportunity for you Web Development Courses!
Advice for Personal Details in Resume
Undoubtedly, the resume's main crucial component is the applicant's details. The important contact information is included in the basic information about you, so that the recruiter has it, in case they wish to ask you for a meeting to go over your application in more depth.
This offers the recruiter a rapid overview of you as a prospect. Your name, your work title, your contact information, and so on are examples of personal data that must be included in a resume.
Here are the important details in the resume:
Full Name:
One of the most significant pieces of personal details that ought to appear on your resume is probably your name. The recruiter will recognize you and evaluate you.
Professional role:
The professional job role you provide on your application describes who you are professionally and your degree of expertise. With all of this personal information on your CV, the interviewer can easily determine whether your knowledge corresponds to the post.
Location:
The decision to include your address on your resume is arguable, but it's usually a good idea to include where you live. It should be necessary to add the location, the zip code, and the nation.
LinkedIn Profile URL:
Your accomplishments can be further described in the resume's data section, which links to your LinkedIn page. Additionally, it demonstrates your professionalism and time invested in building your own identity.
Email ID:
The most important point of contact you should provide on your CV is your email. It's one of the most popular and convenient ways for a prospective employer to get in touch with you.
Are you preparing for the web development interviews? Check out the Top Web Development Interview Questions.
Web Developer Resume Sample for Fresher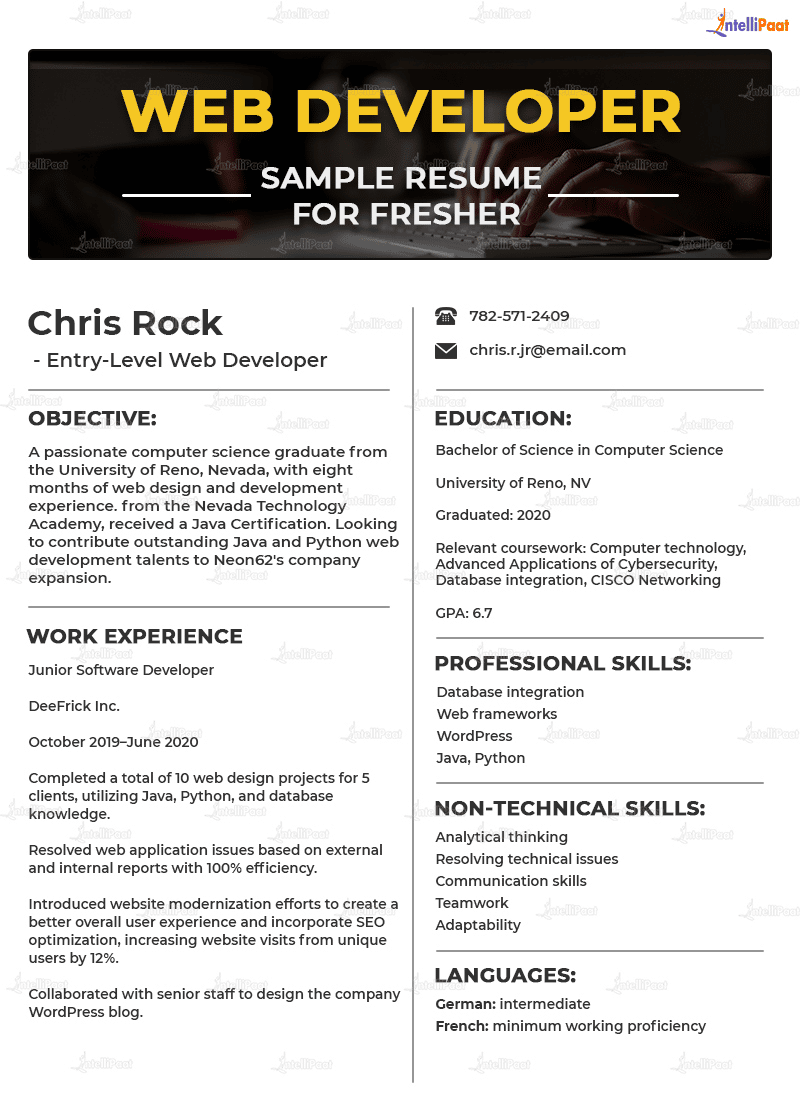 Web Developer Resume for Experienced Professionals
Check out this Web Development Tutorial to enhance your knowledge.
Do's and Don'ts in Resume
1. Vocabulary
Do
Use straightforward, clear language and simple sentences to describe your knowledge and talents.
Try using phrases like "led a team of Web Developers and managed to educate customers on Web development techniques" or "collaborated with a team of designers to generate targeted commercials."
These straightforward sentences describe your involvement in your previous employment.
Try to use words from the job description if you can, to demonstrate that you possess the necessary skills.
Don't:
Leave the clichés or buzzwords like "team player," "good worker," or "piece of information" for the job description.
These kinds of phrases could be ambiguous and create confusion.
2. Length
Do:
Make your resume brief, between one and two pages long. Most successful Curriculum Vitae are condensed and avoid superfluous details.
A concise resume makes it easier for hiring recruiters and managers to read and understand your qualifications as they might scan dozens of applications for every job vacancy.
Don't:
Don't go above two pages with your resume.
Although some jobs or sectors could need a lengthier, more detailed resume, many recruiters like between one to two pages.
Doing so will needlessly lengthen your resume because you don't have to list every employment you've previously worked.
Looking for a comprehensive Angular Course? Enroll now!
3. Education
Do:
Include a resume with any relevant education.
Use an associate's or bachelor's degree if the employment is entry-level.
You may also be able to add your Certificate or Diploma from high school for some entry-level professions.
Don't:
GPA may not be essential for most CVs or it can detract from other important information.
Just provide your precise GPA if your hiring manager asks for it.
Alternatively, you can exclude your Grade and instead add the university level, the field of study, the university attended, and the completion time for each qualification you hold.
Conclusion
Make the recruiter think you are the greatest candidate for the web developer position. In reality, it's really simple. Choose from the list of duties that apply to your employment history, then alter your CV by including your achievements. In this approach, you may put yourself in the greatest position to get a job.
If you have any doubts get them resolved at Web Technology Community!
The post Web Developer Resume Guide for 2022 appeared first on Intellipaat Blog.
Blog: Intellipaat - Blog