---
NTLF 2021 – Ends on an inspiring note!!
Blog: NASSCOM Official Blog
NTLF2021 started on an awesome note with our very own Prime Minister Shri Narendra Modi marking a proud moment for the Indian Technology Industry when he said "Jab pura desh ghar main simat gaya tha, aap ghar se duniya chala rahe the". In other words – "when the chips were down.. it was the technology industry's code that kept the world going".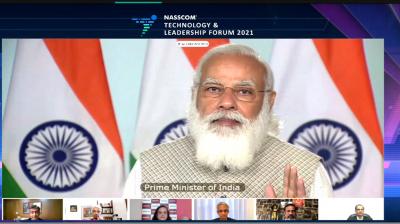 He also highlighted messages for start-ups to lead by innovation and the importance of technology in education. This was followed by industry leaders highlighting the importance of reskilling, hybrid model, cybersecurity and human and machine collaboration, in the new normal.
Today was the last day of our Annual Flagship event and that too saw a great start with the opening address from the honorable CM Shri Uddhav Thackeray, making us again proud as he mentioned "NASSCOM has played a major role in catalyzing the growth of the Indian IT industry".
This continued with varied discussions including one on building trust at the workplace with Paula Goldman from Salesforce giving the key message "Listening and transparency are the two key imperatives to build trust at your workplace" in her conversation with Keshav Murugesh.
Rekha Menon moderated the panel which focused the discussion on the digital divide and data privacy which are becoming important as digitization gains prominence across the way we live and do business
"To reduce the digital divide we must incorporate 'Each One Give One' where every person who has access to digital devices shares it with someone who doesn't and we make this into a mass movement to increase the digital literacy amongst people" Kris Gopalakrishnan
In the words of Roopa Kudwa, "Customers are more willing to share #data when they are able to understand the privacy policy better"
The day some awesome conversation among the women in leadership Debjani Ghosh and Julie Sweet, Accenture on responsible business with Julie Sweet, Accenture highlighting "It is important that your thoughts on reskilling, sustainability come together at the table & it is important to be able to communicate clearly to attract more talent" She also predicted every business will be a profitable business, and sustainable businesses are 2.5x more successful.
I may be biased but may favorite conversation for the day was the one where the #womaninleadership were guiding there fellows. Debjani in conversation with Sindhu Gangadharan, SAP, where my key takeaways are:
Never stop dreaming – It's not easy to dream – women with dreams should be celebrated
Always be confident
Never question your work
It's important to prioritize and once you do let go of the guilt – focus on the crystal ball, you can't have it all
It's okay to feel low at times just understand why is that happening – take a break
Hard work is the key, don't try to be a superwoman because none of us are
And the last but not the least the conversation of Keshav Mrugesh with team India's favorite cricket coach Gary Kirsten – where the work and play came together. Some inspiring words from Gary on building a team – "I wanted my team to be the best version of themselves as a team".. "I wasn't a strategic coach I learned with my team…believe in continuity and consistency".
The day saw many more such conversations and that treasure have been saved. Find all these sessions on our youtube channel, and follow our #NTLF2021 for more insights.
The post NTLF 2021 – Ends on an inspiring note!! appeared first on NASSCOM Community |The Official Community of Indian IT Industry.