---
India – The Next Datacenter Hub
Blog: NASSCOM Official Blog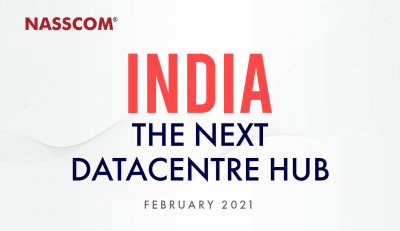 The pandemic has pushed the demand for cloud across the globe with digital transformation accelerating across industries, and internet becoming a lifeline for people both for work as well as entertainment. This shift towards cloud has pushed increased investments in hyper-scale datacentres with the global datacentre market investments expected to reach ~$200 billion per annum by 2025. India is also expected to get a share in this growth with investments in the country expected to reach ~$5 billion per annum by 2025. The report identifies the various aspects of global and Indian datacentre market; key trends, drivers and challenges; a site selection framework for India market opportunities; key recommendations for the India market outlook and the market outlook.
Global Datacentre Market

Cumulative investments of $1.3 trillion are expected over 2019-2025
North America is the leading market in terms of investments, while MEA & LATAM are the fastest growing markets followed by APAC
IT Infrastructure accounts for ~77% share of total datacentre investments; with the rest being invested in electrical & mechanical infrastructure, and general construction
Covid Impact

Increased data traffic has pushed the occupancy rate of colocation datacentres pushing more investments in the sector
A temporary halt in construction of datacentres during the lockdown, which quickly recovered as lockdowns were relaxed
India Datacentre Market

Cumulative investments of ~$28 billion expected over 2019-2025
In terms of CAGR over 2019-2025, India is expected to grow at ~5%, 2X faster than global
The India Advantage

Majority investments focused on Tier IV datacentres
Operational and development cost advantage
Availability of engineering skills

Covid Impact

Increased capacity utilization of existing outsourced datacentres
Service providers have fast track their planned expansions
Major Datacentre Locations and Site Selection

Mumbai, Chennai, Bengaluru, Hyderabad, Delhi (NCR) – as they offer good fiber connectivity, proximity to customers, availability of skilled workforce, and submarine cable connectivity
Geographic location, power, fiber connectivity, and general construction & operations remain the key selection criteria for site selection before setting up a datacentre
Outlook and Recommendations

India has a huge potential to take a large share of global datacentre investments if it is able to act fast on implementing the recently announced datacentre draft policy growing the CAGR by 2X-3X, with annual investments reaching $6 -$8 billion by 2025
Key recommendations include faster implementation of government's draft policy, encourage use of renewable resources, level playing ground for all players, deemed regulatory approvals and digitization of RFPs.
The post India – The Next Datacenter Hub appeared first on NASSCOM Community |The Official Community of Indian IT Industry.