---
India and Edtech : A post pandemic potential growth story.
Blog: NASSCOM Official Blog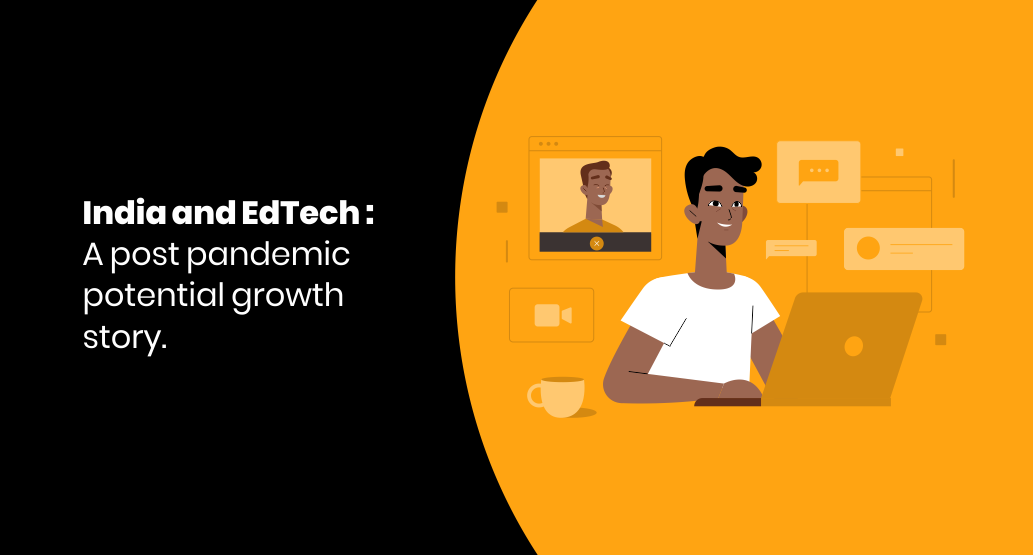 The need for education on a global level has and will always be on an increasing level. The COVID-19 pandemic had brought the entire world down to its knees. People, industries, companies, governments, and several other institutions and agencies faced massive disruptions. Further, everyday life was halted because of the enforcement of strict lockdowns to curb the spread of the transparent virus.
But, amongst all of these, the most affected were our students. Our children and students are the future of this world. What's worse, is that education and learning is not only limited to children, but to a large group of people who continue to quench their thirst for the curiosities of life.
Fast forward to a few months through the pandemic, and some of the schools and other centers for education have been able to open, albeit at a regulated pace and rate. What we have realised and got for certain however is the urgent need of revolutionizing the entire system of education. And, the best way to do this, would have to be through the use of technology.
This has been long coming – the need for technology-assisted-or-based education. The power of EdTech is such that with the right tools and right approach, the delivery and impact of education can be significantly improved, along with the massive advantage of providing to a much larger group of people through minimised cost.
And so, quite more than invariably, the EdTech industry has seen a massive influx of investment throughout the global geographical and commercial market.
The major essence of improving this highly crucial segment of life – education – mostly revolves around not having to ever face such massive disruptions in the flow and delivery of education. At least for until the end of the pandemic; or having to face any other kind of similar situation.
However, there are several ahead-of-their-time organizations, that have been making massive strides when it comes to aiding educators and facilitators in continuing with their teaching activities and efforts.
As a country, India has got a huge potential in the EdTech (Education Technology) market space.
Having made huge strides in the improvement of the overall literacy rate, as a growing market for education, India is not going to shy away from expanding its presence and grip in the EdTech sector.
In lieu of the COVID-19 Pandemic, India has realized that the only way in which it can keep-up with the growing demand for education throughout the country, it must make maximum use of technology when it comes to education.
Through technology, educators can reach-out to several learners/students from different parts of the country, allowing for an overall – minimum effort and expenditure on both ends of the device.
Investors and innovators have already seen the potential that technology-based education in India has, and are actively contributing towards enriching the industry.
The most popular EdTech trends in recent times have been in App-based learning and facilitating learning through the creation of online classrooms.
The CBSE Board of education in India has launched their very own – new platform for learning – CBSE-Shiksha; while the ICSE Board has plans of broadcasting their lectures on live television.
Many other educational systems and institutes have extensively been using Zoom and YouTube to continue their teaching processes.
Some highlights of the EdTech Industry in India
According to DataLabs By Inc42 analysis, India is home to over 4,450 EdTech start-ups; which makes it the second highest country for its number of EdTech companies in the world.
By 2022, online education offerings across grades 1 to 12 are projected to increase 6.3 times to create a $ 1.7 BN market, while the Post-K12 market is set to grow 3.7 times to create a $ 1.8 BN market. This is going to create meaningful opportunities for incumbent players as well as space for multiple new start-ups. Source – https://redseer.com/
The online markets in both India (and China) are red-hot and attracting massive amounts of capital in later-stage VC rounds and IPOs. The last couple of years have been highlighted by the $500-million-plus raises by BYJU'S, VIPKid, and TAL Education. The hundreds of millions of online learners in these countries present a massive opportunity, but external players have found the markets hard to break into and compete with the domestic behemoths. Language learning, online tutoring, and technology skills will continue to be the leading themes in India and China. Source – https://www.toptal.com/
The post India and Edtech : A post pandemic potential growth story. appeared first on NASSCOM Community |The Official Community of Indian IT Industry.