---
In The Spotlight: Radical Health's Use of AI To Screen For Comorbidities During COVID19
Blog: NASSCOM Official Blog
A simple retinal scan can save lives. In this story, find out how Radical Health, a Gurugram-based startup, is utilising AI to detect comorbidities like diabetes and hypertension, and helping the Municipal Corporation of Greater Mumbai (MCGM) identify high risk patients while managing the COVID19 workload.
In a COVID suspect or confirmed patient, comorbidities such as diabetes and hypertension are the major drivers of fatalities, and prolonged hospital stays. Labs are backlogged & results take 24 to 36 hours to come in. Self-reported symptoms are unreliable – previous work done by Radical Health shows that in LIG, over 92% of people do not have any knowledge of their diseases. Unmanaged & undiagnosed hypertension and diabetes increases the likelihood of worse outcomes by 57.9% in the best case and 244.9% in the worst case.
Radical's AI can non-invasively analyse a retinal image, and assess the damage from these diseases. Combined with basic history, in just 2 minutes, a risk category & action points can be generated. This is a clinically validated solution with >95% accuracy. Moreover, the solution has been independently vetted by the Municipal Corporation of Greater Mumbai (MCGM) through confirmatory blood tests and other mechanisms for high risk patients.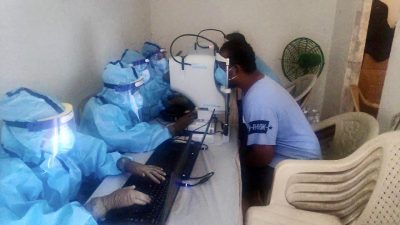 Radical, in partnership with the Brihanmumbai Municipal Corporation (BMC), has started screening patients in all CCC-1/CCC-2 and DCHC facilities in Mumbai. Radical's staff sets up the imaging, screens the patients, and informs the patients & the doctors about the patient's diseases. Based on the report, the doctor can take immediate action — in on-ground experience, this has ranged from expedited tests, closer monitoring and prophylactic medication to outright.
Radical has started this activity just 3 weeks back, but has yielded strong and positive results:
Over 3000

patients have been screened across 20 sites

A highly efficient and trained team from Radical is imaging at a rapid cadence. We started with 20 to 30 patients a day, moving now to 200 patients a day, and scaling up rapidly.

We have detected

188 new diabetics and 376 new hypertensive

patients who were not aware and not captured by traditional mechanisms.

We have been able to directly impact

88 high risk patients

, who have been shifted for pre-emptive care, and hopefully a mitigated outcome that avoids death.

The project is being scaled up ward-wise and zone-wise under BMC, and is slated to be scaled up all across Mumbai in the next few weeks.

Radical is now setting up post-diagnostic SOPs for treatment and management of patients with Radical's medical team and the MCGM's clinical team in collaboration. This SOP is already drafted, and is under final review from the Medical Council.
Sites:
The staff is on a rotating roster across different CCC-1 and CCC-2 and DCHC facilities in Mumbai. The larger sites and wards that have been covered include:
BKC Covid Hospital (Jumbo Facility)

NSCI Dome Hospital (Jumbo Facility)

F North Ward

F South Ward

G North Ward

G South Ward

T Ward
Expansion to H, K and S wards is slated in the next coming weeks, as well as to other jumbo facilities.
The primary patrons for the project in BMC are Shri Janak Shah, Advisor to the Chief Minister and Member of War Room Task Force for COVID-19, Brihanmumbai Municipal Corporation; Dr Mangala Gomare, Executive Health Officer, Brihanmumbai Municipal Corporation (Head of Public Health Department) and Smt. Ashwini Bhide, IAS, Additional Municipal Commissioner, Brihanmumbai Municipal Corporation.
The project was initially approved by Dr Padmaja Keskar, the previous EHO of MCGM, who has since retired from service, and is now continuing under the support of Dr Gomare.
In The Spotlight features NASSCOM CoE startups breaking new ground in technology & innovation. Write to sindhuja@nasscom.in for further details.
The post In The Spotlight: Radical Health's Use of AI To Screen For Comorbidities During COVID19 appeared first on NASSCOM Community |The Official Community of Indian IT Industry.