---
DCX the new frontier of MarTech
Blog: NASSCOM Official Blog
In my last blog "MarTech the driving force behind new-normal marketing", I discussed about how digital adoption took center stage for customers to sail through the pandemic and re-set their life patterns for the new normal. And how this shift towards digital has put a lot of impetus on the increase use of technology in Marketing.
Taking that discussion further, within MarTech the key area that gained immense importance for marketers is the Digital Customer Experience (or DCx); as MarTech is now inching towards building experience-driven businesses.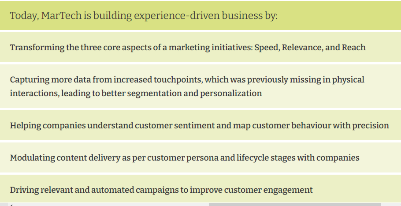 Source: NASSCOM MarTech Report 2021
This impetus on DCx is further reflected in the fact that 40% of large enterprises in our survey highlighted that they have increased their MarTech budget spending on DCx in 2020.
Source: NASSCOM MarTech Report 2021
Furthermore, this importance of DCx is bound to increase in the coming years as a highly engaged digital customer brings 3x more value as compared to an average customer annually.
Source: NASSCOM MarTech Report 2021
What this highlights for marketers is that they need to map the digital customer journey of the customer and majority companies have initiated that process.
Source: NASSCOM MarTech Report 2021
Also, knowing the different stages of customer journey with respect to MarTech adoption in an industry highlights focused opportunities for tech vendors.
Source: NASSCOM MarTech Report 2021
With this year's MarTech report we look at this shift towards DCx and what opportunities it creates across various enterprise industries. Read more about the same in our recently released report "MarTech – The Digital Customer Experience Imperative From Personalized Products to Personalized Experiences"
The post DCX the new frontier of MarTech appeared first on NASSCOM Community |The Official Community of Indian IT Industry.