---
Best Tableau Developer Resume Samples and Guide
In this blog, we have added an example of a Tableau resume that you can change to fit the requirements of any Tableau Developer position. Additionally, there is a detailed guide on how you can write a resume for Tableau developer jobs.
Let's first take a look at a sample Tableau Developer resume to get started.
Watch this Tableau online training video by Intellipaat.
Tableau Developer Sample Resume
Below is only a text sample of a Tableau Developer resume and what it should contain. Every individual will have their own experience, skills, and qualifications, so make sure to play to your strengths and fill out the resume accordingly.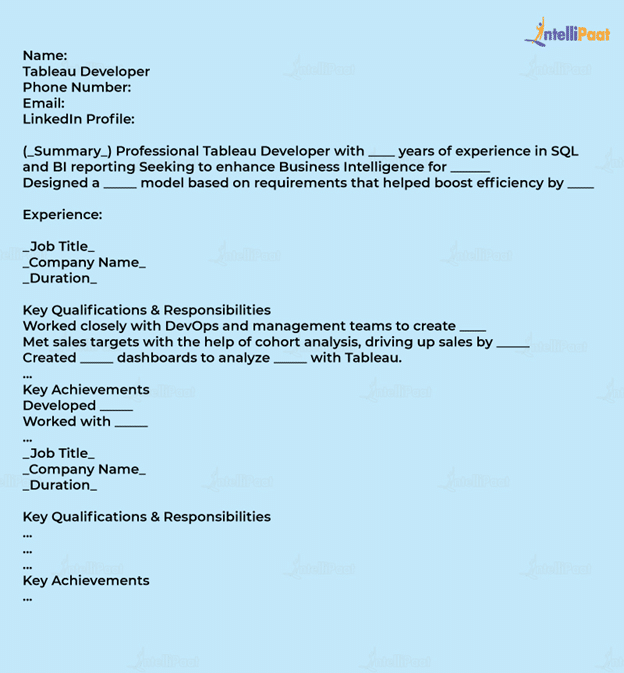 Step-by-step Guide to a Tableau Developer Resume
Tableau Developer Resume Format
The first thing you can do while building a resume is to decide on a format that you want to go for and one that will best highlight your skills and compatibility for the job.
Even the best Tableau Developer may sometimes hit a dead-end if their resume is not in the best format. So, make sure to clean up your resume and have the following checklist with you when you are preparing your resume.
Format
A reverse-chronological resume format is the best format that can highlight your accomplishments and skills with the maximum clarity possible. It is arguably one of the favorite formats for recruiters. A resume in chronological order will ensure that the recruiter will make it easy to find what they're looking for.
A typical chronological resume contains the following sections and in the following order:
Name
Job Title
Contact details
Summary or objective – brief highlights of your resume
Experience
Education
Skills – focus more on the ones stressed in the job posting
Additional sections like portfolio links, certifications, projects, interests, professional memberships, etc.
If you think the chronological resume format wouldn't work in your case, here are a few other common resume formats that you can opt for:
Functional resume – If you want to highlight your skills and hide gaps in employment
Combination resume – If you want to showcase both your skills and experience
Font
Choosing a good resume font comes down to:
Legibility and a font that is easy on the eyes
A universal font that is compatible with all computer systems
Different headings and section titles in the content by tastefully varying the text size, style, font pairings, etc.
Make sure to use a legible and respected resume font like Verdana, Helvetica, Calibri, etc. for the best clarity.
Font Size
Font Size shouldn't be so small that the recruiter has to squint their eyes to go through your resume nor very big that it ends up being a booklet in the recruiter's hands. Keep your font size between 11–12 points for clarity. In the case of resume headings, you can highlight them with a slightly bigger font size between 13–14 points.
Line Spacing
Line spacing is equally important to consider for a clean and organized format. Usually, a line spacing of 1 to 1.15 and white space between sections are recommended.
Resume Margins
If the margins on a resume are too narrow, the document will seem crowded with text. Recruiters may find it messy. However, a resume might look empty if the margins are too large. This may make it seem like you don't have a lot to say. Setting proper margins ensures that a resume is ATS (Applicant Tracking Systems )-friendly.
It is good to have an inch of margin on all four sides. Fortunately, Google Docs has its margins set to one inch by default.
Resume Length
Don't let your resume be so lengthy that the recruiters feel overwhelmed to even start looking at it in the first place. If you can't fit all of your content in one page, write a two-page resume. But, if you are an entry-level applicant, make it a single-page resume.
File Type
Share PDF resumes if a job doesn't explicitly request the resume in an MS Word document. While one isn't necessarily better than the other, it depends on the specific guidelines given by the company about the format. So, make sure to follow the specific instructions, especially when filling out online applications.
If the resume is to be sent to the recruiter directly or there are no specific instructions mentioned, have your resume saved in multiple formats like PDF, .doc, .docx so that you can easily pick depending on different situations.
Professional Experience Section 
Tailor your resume in such a way that it showcases your experience in the Tableau Developer position. You can start by listing the newest position that you held or are holding currently. Then mention the company you worked for followed by the duration of your employment with that organization. Next, mention the roles and responsibilities you had and then list your key achievements in that role in bullet points.
Give the organization a reason to hire you through PAR (Problem-Action-Result) and highlight your relevant achievements that can make your resume stand out from other candidates. Also, referred to as Accomplishment Statements, PAR describes a problem you faced and what measure you took that solved it.
While writing about your professional experience, don't forget to add action words like created, provided, supported, generated, etc. as well as add relevant figures and percentages.
In case you are an entry-level Tableau Developer, try to find Tableau-related achievements in your previous non-Tableau Developer jobs. For instance, you may do well to highlight it if you had experience creating dashboards or performing predictive analysis in your last organization. If not, you can also focus on soft skills like good communication with the management, other teams, third-party vendors, etc.
Tableau Developer Resume Education Section
While adding educational qualifications may seem simple, making it impressive is the right way to go about it, especially when a candidate is just starting out. If you are an entry-level candidate, you can mention details of school groups, other college high points, and Tableau projects that they participated in.
Read Tableau Tutorial for Beginners to learn about Tableau from scratch!
Skillsets to Mention in a Tableau Developer Resume
Skills, without a doubt, are the most essential part of a resume. But what are the best Tableau skills that will get you the dream job? While there is a right answer, the skillsets will be different for different jobs. One can't just add SQL or Salesforce as skills and call it a day.
Let's take a look at some of the hard and soft skills that you can add to your Tableau Developer resume:
Tableau Desktop
SQL (MS SQL, MySQL, Oracle)
Data warehousing
ETL frameworks
Analytical skills
Statistics
Business Intelligence
R
What-if analysis
Cohort analysis
Predictive analysis
Data visualization
External services integration
Client interaction
Dashboard reports
Soft Skills
Teamwork
Problem-solving skills
Time management
Active listening skills
Attention-to-detail
Interpersonal skills
Strong verbal and written communication
Organizational skills
Critical thinking
Here is how you can effectively showcase thebestTableau Developer skills:
Make a list of all your skills
Make a second list of all the Tableau developer skills mentioned in the job ad
Find common and related skills between both the lists
Add those soft skills and hard skills to the resume
Align your resume achievements to prove those Tableau-related skills
In this way, you can hand-pick each relevant skill from the job ad and add it to your resume. On top of it, adding action words and figures to it makes the best recipe for successful recruitment.
The Extra Sections
You can either choose to be a good fit or a great fit for the job. The difference lies in what you add 'extra' to your Tableau Developer resume that will catch the recruiter's attention. The extra section is a great way to showcase your capabilities either by mentioning any Tableau projects that you have undertaken, freelance work, awards, internships, volunteer work, related memberships to any clubs, groups, or communities, etc.
Let's explore what options one can choose from for this section:
If you have worked on Tableau-related projects before, don't hesitate to add that in the projects section of your resume. Also, make sure to add a portfolio link and your GitHub profile to the resume if you have one.
Certifications are valuable, especially for those in an entry-level position. It is the best way to show you're not totally inexperienced. Below are some Tableau-related certifications for consideration:
Tableau Desktop
SQL
Data Warehousing
Salesforce
Oracle
ISTQB Certification
Intellipaat's Tableau Server Administration Certification Training will help you climb up the career ladder.
Any kind of volunteer work shows that you have vigor and passion for work that matters to you. It is a green signal for recruiters.
If you speak a foreign language, make sure to add it to your resume if you know they have to communicate with business clients from other countries.
Professional Associations and Communities
Associations and other communities can help your career largely. Not only are they great for networking and learning, but also look great on a Tableau Developer resume.
Attending a Tableau Conference or PyCon proves that you love development and put in the effort to communicate with others who have the same passion.
An internship best showcases all your classroom knowledge in practice. It will add value to your resume and put you above all the other entry-level candidates. It also adds to work experience.
Writing a Tableau Developer Resume Summary or Objective
Sometimes, hiring recruiters don't even bother to read through the complete resume. A resume summary or objective briefly makes use of the top section to create the first impression and tries to pique their interest for the rest of the content in the Tableau Developer resume.
Here's a guide to writing a resume summary or objective effectively:
Mention adjectives like dedicated or professional
Add your Tableau Developer as your title
Make sure to mention your years of experience
Briefly mention your goals for the company you are applying for
Add your best Tableau achievements
Cover Letter
A cover letter should also be added as part of your resume as it shows that you care about the job. A cover letter will introduce you well and give a brief about your professional background. The length of a cover letter, on average, should be between 250 and 400 words.
If you can do the cover letter right, you can spark the interest of the recruiter and manager and get them to read your resume. A lone resume looks spammy sometimes or a widely distributed attempt to score jobs in the market. Cover letters, thus, also show the effort and care you put into applying for the Tableau Developer position.
 Keep in mind the following points while preparing your cover letter:
Start your Tableau Developer cover letter with the hiring manager's name
Start the cover letter in an engaging way
Prove your understanding of the job responsibilities expected from you in the middle section of your cover letter
Offer exactly what the company needs at the end section of the cover letter
Properly format your cover letter (one-inch margins on all sides, left-aligned content, no justification, format spacing of 1 or 1.15, double spaces between paragraphs, a digital handwritten signature in the sign-off, PDF format, etc.)
Preparing for an interview, take a look at our set of Tableau Interview Questions and Answers.
Key Takeaway
Here is a quick recap of what we learned today about writing a Tableau Developer resume. The resume should be in reverse chronological order. Pay heed to the Tableau Developer skills listed in the job posting and customize your resume and experience to fit the requirement.
Add all Tableau-related achievements, power verbs, and metrics as well as extra sections to show off projects and other activities. Attach a cover letter to finalize your job application process.
Drop in at Intellipaat's Business Intelligence community Forum and discuss any Tableau-related queries.
The post Best Tableau Developer Resume Samples and Guide appeared first on Intellipaat Blog.
Blog: Intellipaat - Blog