---
A Step-by-Step Guide to Export Power BI Data to Excel
Overview
Microsoft's Power BI solution allows you to design data models and then transform them into dynamic, interactive reports that are easily available to your intended users.
Despite the fact that financial professionals are increasingly using Power BI, teams must still prepare static reports in Excel to structure and analyze their data. So, how do you export Power BI data to Excel?
It just takes 1 to 2 clicks to export data from Power BI to Excel!
Normally, data is imported from Excel to Power BI.
Overall, it is quite simple and straightforward.
This Blog will walk you through the steps of exporting Power BI data to Excel.
Are you excited to learn about Power BI, here's a video for you
Table of Contents:
What is Power BI?
Microsoft Power BI is a business analytics solution that allows you to view data and share findings. It transforms data from several sources to create interactive dashboards and Business Intelligence reports.
Power BI Desktop is used to produce reports, Power BI Services (Software as a Service – SaaS) is used to publish reports, and Power BI Mobile is used to view reports and dashboards.
Are you excited to learn Power BI from the Experts, here's a golden Opportunity to you Intellipaat's Power BI Course!!
What is Excel?
Excel, which is enabled and enhanced with intelligence, understands your patterns, organizes your data, and saves you time. Excel has a variety of templates to assist you in creating spreadsheets, doing computations, and using contemporary formulae.
Excel will assist you in gaining a better understanding of your data. There are several charts, graphs, and images available to assist you to show your data in an appealing manner using sparklines, formatting, and tables to deeply understand your data.
Power BI VS Excel
| | | |
| --- | --- | --- |
| | Excel | Power BI |
| Dashboards | Users have limited options for designing dashboards. | More enhanced tools for designing personalized dashboards. |
| Connectivity | Connectivity with other applications and systems is limited. | Data can be extracted from practically any platform, software, or application. |
| Big Data | It Can handle a limited amount of data. | It Allows you to process significantly bigger data sets. |
| Reports | Reports are simpler and less attractive | Reports that are more attractive, individualized, appealing, and engaging |
| Tabular Reports | Perfect for developing tabular reports. | The ability to create tabular reports is relatively limited. |
| Usability | It is Harder to use than Power Bl. | When compared to Excel, it is much easier to use. |
Wanna Crack the next Interview of Power BI like a Pro..! here's Top Power BI Interview Questions
Export data from a Power BI to Excel with "Export Data"
Here's how to export data from a Power BI online report to Excel:
Go to app.powerbi.com and select a report to which you have access.
Click the "…" button in the top right of the selected graphic, then the "Export data" button.
Select whether to download a CSV or XLSX file with the visual data.
By default, you will only have access to the data filtered by the "Summarized data" view; however, depending on your privileges, you can export underlying data (unfiltered data) by selecting "Underlying data."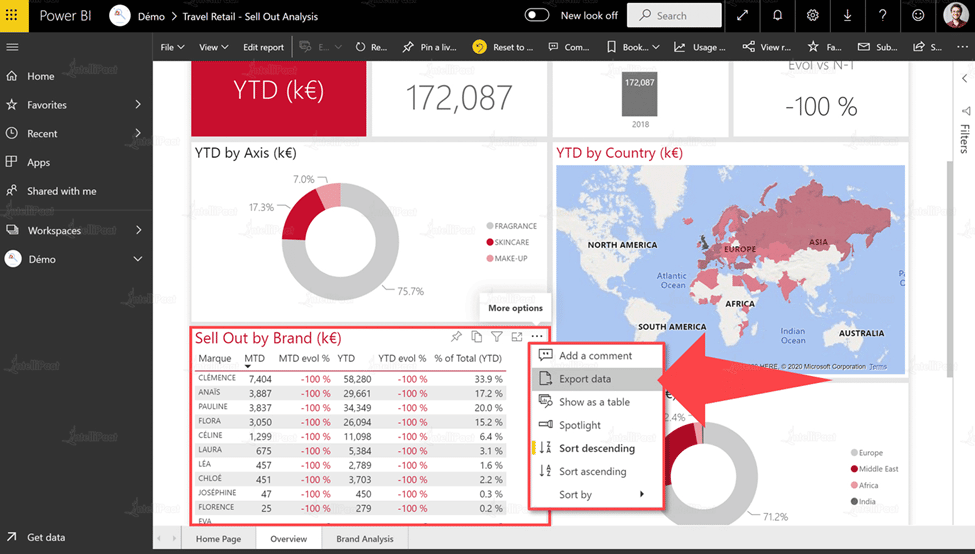 You can now simply update your data or re-create graphs in Excel.
This first form of Power BI export to Excel is straightforward but restricted in the following ways:
Data from one visual can only be exported in a new CSV at a time.
The data in Excel cannot be updated as the Power BI report evolves.
You can only export data associated with a Power BI visual; you cannot extract a table since the data and model are not visible in the published version.
However, you can export a table from the Power BI desktop to Excel by selecting a table in the "Data" view, then right-clicking and selecting "Copy" for a column or "Copy Table" for the full table. To access the data, just paste it into an Excel file.
Learn more about Power BI!
Export data sets from Power BI to Excel with "Excel Analyze"
The Second method for exporting data from Power BI to Excel can handle whole data models and has the added benefit of allowing you to refresh the data immediately in Excel!
This will be useful for exporting enormous volumes of data.
Here's how to use the "Analyze in Excel" feature to link your data model to a blank Excel file:
Visit app.powerbi.com.
Open the report containing the data set you wish to export.
To the far right of the ribbon above the report, click "…"
Choose "Analyze in Excel."
This will download an Excel file in the.ODC (Office Data Connection: an extension contained in HTML and XML) format. From here, you can instantly construct PivotTables, visualizations, and so on in Excel using the data obtained from the Power BI data cube.
This second form of Power BI export to Excel has the benefit of being semi-dynamic, but it is still constrained in the following ways:
It creates a new file with an unknown extension (.ODC, while Microsoft recommends using the .XLSX extension).
Measurements from data models must be produced in advance since they cannot be made in a Pivot Table.
"Get Data" from within the Excel
Here's how to use Excel to access Power BI data:
From the Excel "Data" tab, click "Get Data."
From the drop-down option, select "From Power BI."
To build a Pivot Table in Excel, select a dataset from the right-hand pane.
To show, select fields from the PivotTable Field List.
While this is a quick and simple method for exporting data from Power BI to Excel, it is not the most efficient.
This is because choosing fields from a PivotTable Field List might make it difficult to understand and grasp the data set, particularly if the Power BI dashboard was not created by you. Clicking through the numerous PivotTable columns in Excel to generate your desired table may take more time in the long run.
What is the best approach to export Power BI to Excel?
Option 1: Export data from a Power BI visual – this is great when you just want to get the data underneath a Power BI graphic.
Option 2: Analyze with Excel – this is a better option if you want to investigate your Power BI datasets. You get additional freedom by importing the complete dataset, as long as your measurements are established ahead of time so that you may utilize them in your tables and graphs.
Option 3: Get Data from Within Excel – This is a simple and quick approach to exporting Power BI data to Excel. However, if you did not develop the Power BI dashboard, picking the appropriate PivotTable columns may take some time.
Power BI over Excel Benefits
Power BI processes data quicker than Excel.
Dashboards in Power BI are more aesthetically attractive, interactive, and configurable than those in Excel.
When it comes to comparing tables, reports, or data files, Power BI surpasses Excel.
Power BI is more user-friendly and straightforward than Excel.
Conclusion
This tutorial covered the three distinct methods for exporting data from Power BI along with its primary advantages:
One is when you export data from the Power BI dashboard.
Second, while exporting data from Power BI reports.
Three, when you just want to export data from Power BI utilizing copy and paste data without any complications or headaches.
Your doubts get resolved on Intellipaat's Power BI Community Page!
The post A Step-by-Step Guide to Export Power BI Data to Excel appeared first on Intellipaat Blog.
Blog: Intellipaat - Blog