---
What is the 'Hyper' in Hyperautomation?
Blog: NASSCOM Official Blog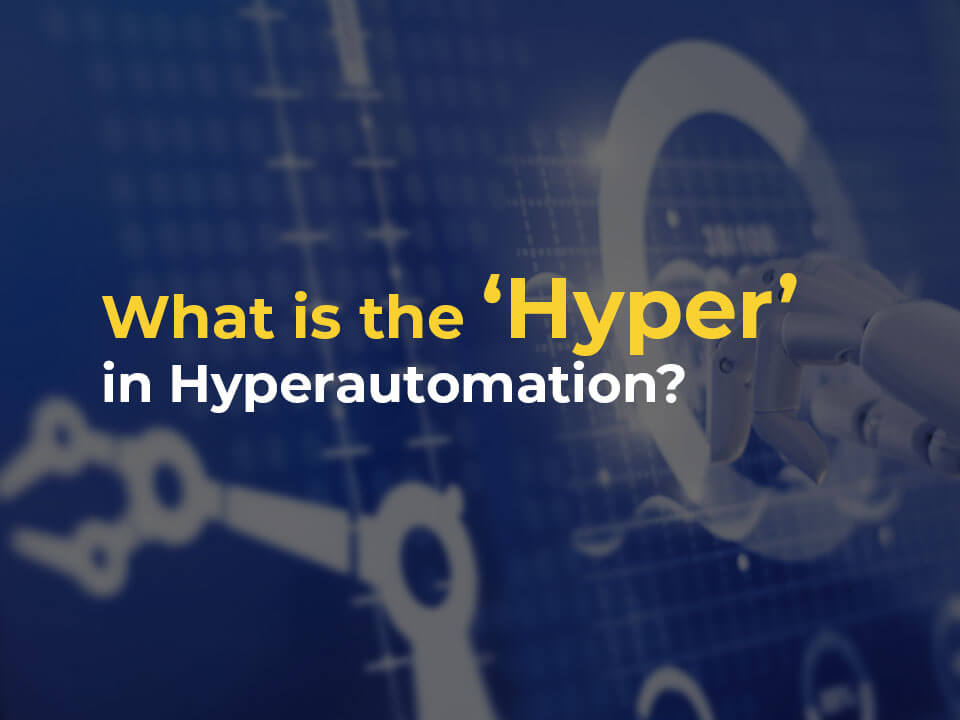 Hyperautomation is the newest buzzword in the world of technology. According to Gartner, hyperautomation is one of the top 10 strategic technology trends in 2020 and it has great scope to transform businesses and drive significant opportunities over the next 5 to 10 years.
As defined by the global research and advisory firm, "Hyperautomation deals with the application of advanced technologies, including Artificial Intelligence (AI) and Machine Learning (ML), to increasingly automate processes and augment humans. Hyperautomation extends across a range of tools that can be automated, but also refers to the sophistication of the automation (i.e., discover, analyze, design, automate, measure, monitor, and reassess)." Simply put, hyperautomation refers to the combined approach of using automation technologies to augment and expand business capabilities.
What is Hyperautomation?
Hyperautomation can be described as a set of digital technologies that allow businesses to transform their day-to-day operations and make them more efficient. It involves employing Artificial Intelligence (AI) and Machine Learning (ML) along with Robotic Process Automation (RPA) and other advanced technologies to automate tasks and processes that require manual effort.
Hyperautomation also enhances the level of automation (hence the word –"hyper") while allowing businesses to integrate a variety of tools and technologies to amplify the ability to automate their everyday work. This is why hyperautomation is referred to as the "next major phase of digital transformation."
It should be noted that hyperautomation would not entirely replace the human workforce, but free them from doing repetitive and low-value tasks. This means that the staff in an organization can focus on working on those aspects that drive a higher-value to the company. In other words, it is a mix of automation and human involvement, which can work together to achieve superior performance, higher productivity, and better customer and employee experiences.
The Core Components of Hyperautomation
Hyperautomation uses a combination of advanced technologies to overcome the limitations of earlier approaches to automate business tasks as they depended on a single tool. This allows businesses to go beyond the boundaries of individual processes and find the right solutions to automate nearly any scalable and tedious business task.
Below are the key components of hyperautomation that work together to deliver improved opportunities to business automation.
Robotic Process Automation (RPA)
RPA uses software bots to perform repetitive tasks by mimicking manual actions. In general, RPA bots work on those processes, which are rule-based, repeatable, occur often, and have pre-defined inputs and outputs. Yet as RPA bots rely on structured data to complete tasks, they cannot understand the context or use unstructured data sources to scale their functionality.
Business Process Management (BPM)
BPM refers to the foundation on which the automation strategy of a business is built, managed, and improved. It allows businesses to tackle the challenges of incorporating different digital tools for enhancing their day-to-day processes by allowing them to create new workflows and test them before the deployment stage. This helps to avoid the risks of any breakdowns that could have led to catastrophic results.
Artificial Intelligence (AI) and/or Machine Learning (ML)
AI and ML are recognized as powerful automation tools that can carry out many of the business-specific tasks without needing any human intervention. This can range from customer support to running marketing campaigns. These technologies leverage data to identify specific patterns and make predictions based on the gained insights. As implementing AI and ML can require significant investments, hyperautomation facilitates their strategic deployment to make the most of the technologies.
Advanced Analytics (AA)
Hyperautomation also comes with powerful analytical tools and functionalities to help organizations overcome the limitations of depending upon a single platform for data collection and analysis. For instance, where RPA only works with structured data, hyperautomation makes use of both structured and unstructured data to access and analyze patterns, and make more practical business decisions.
If implemented properly, hyperautomation can also convert unstructured data into structured data, which can then be used by RPA bots to perform the routine tasks in the organization. This is a perfect example of how the interconnected play of these digital technologies helps to offer unmatched efficiency for the business when they automate different processes.
Unlocking Maximum Business Potential with Hyperautomation
It requires careful planning to implement hyperautomation successfully in an organization. Business owners should recognize how the various digital technologies will suit their existing operational workflows and what roles they can take to redefine the structure.
Without understanding the role of automation in the organization, businesses cannot make the most of these advanced technologies. Besides, it will not serve the purpose either if they try to automate a business process, which is already broken. In fact, that could lead to serious consequences as well.
Another important thing to consider when implementing hyperautomation is business integration. Company owners should identify whether the various automation technologies would work together seamlessly to deliver the best scalability and functionality. This also requires careful planning and understanding of the concepts of Business Process Management (BPM) to improve and implement hyperautomation.
The post What is the 'Hyper' in Hyperautomation? appeared first on NASSCOM Community |The Official Community of Indian IT Industry.