---
What is an Online Video Platform(OVP) and How Does it Work?
Blog: NASSCOM Official Blog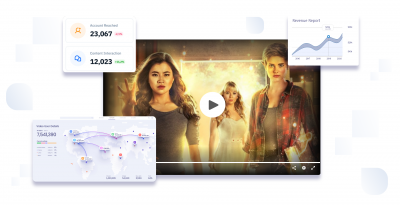 Increasingly, streaming video networks are finding popularity through mobile devices such as smartphones and tablets because they can play live or pre-uploaded video content anywhere, any time.
Owing to the growing prevalence of online video solutions, the industry has reported tremendous growth over the past few years, with viewership rapidly surpassing conventional video content channels such as cable and satellite television.
The global market size for online video services was estimated in 2019 to be USD 5.43 billion. What's more, it is projected to grow from 2020 to 2027 at a compound annual growth rate (CAGR) of 17.3 percent.
What is an online video platform?
An online video platform is an asynchronous video solution for designing, hosting, searching and uploading videos on the internet. These platforms are ideal for the purposes of communication, teaching, or entertaining, and allow for the quick recording, control, and display of video content.
Video online platforms provide a variety of options for on-demand videos. Increasingly, they're also picking up the pace for live and group broadcast videos which enable better audience interactions.
There are a variety of online video platforms for businesses depending on one's business goals. Some of them are more consumer-oriented, while others are constructed for institutional use. Some are mainly video content libraries, while others provide native recording applications, live streaming, editing, and more.
Some are designed straight out of the box to be complete structures, while others are marketed as whitelabel platforms that can be completely customized and integrated into existing platforms.
How do online video platforms work?
In the first step, videos are uploaded onto the platform and all their corresponding data is added along with them.
Then they're transcoded to fit different bandwidths. For example, there's a copy for 1080P, 720P, 480P and so on. This helps the online video hosting platform optimise the video that is being played in real-time to keep up continuous playback without affecting user experience.
Thirdly, the meta information is added for each video, from their title and description to keywords and category tags. This consolidates and organises all the videos on the platform so that users are able to find the one they need, in a matter of seconds.
The video is decrypted on the user's video player when they're ready to watch, which forms the delivery part of the process. Creators and distributors are able to then access the analytics for their videos, which helps them optimize their marketing and reach more people, and create targeted recommendations much like Netflix and Amazon Prime do.
Top reasons to choose online video streaming for your business
Multi-device platforms
The top online video platforms allow video playbacks on multiple devices that support the platform. This includes smartphones, smart TVs, laptops and tablets. This way, users can watch your videos seamlessly on multiple devices, without having to worry about not having the right laptop on hand.
Highly secure
A secure online video platform is often protected by DRMs and other security systems that ensure both the content and the viewer are safe from prying eyes. It ensures that video content isn't illegally downloaded or copied; at the same time, personal data and details of users are kept safe from illegal breaches.
Multiple monetization models
The amount of ways to create sales without ruining the viewing experience is what makes OTT online video platforms so worthwhile for creators and distributors. There are different choices for video content monetization to choose from, including:
SVOD: After a flat monthly or annual charge, users consume as much content as they want
TVOD: Viewers buy the programming on a pay-per-view basis that they choose to watch.
AVOD: Consumers watch free of charge, but they have to watch ads placed by the company to access said content
Audience insights
With online video platforms, you can gain insights into your audience's viewing patterns and metrics. This includes where they're watching from, what they watch, what device they prefer to use and how long they remain on the platform, among others. These analytics are priceless in helping companies better target their videos, market them appropriately, and spot gaps in the process that they may be able to optimize.
Accessibility
Online video platforms make video content a lot more accessible, because they can be watched on a variety of devices with nothing but an internet connection required. This levels the playing field for both viewers and platform owners.
Erased boundaries
Additionally, viewers get access to content without geographical boundaries, while platform owners get to tap into larger networks and successfully build their audience base.
High quality playback
The top online video platforms have in-build high quality video players which decode content and play them in high definition to suit the viewer's bandwidth. These also make it much more convenient for viewers, because they don't need to download or purchase additional players as they traditionally would have had to.
Ease and convenience
Creating a comprehensive database for videos is one of the best ways to keep everything in one place for easy and convenient referrals. It also makes it much easier to choose what to watch next, or recommend videos to others, or even create a to-watch list.
How to build an online video streaming platform?
The best way to create a online video streaming platform is to spring for a service provider that allows you to work with pre-built architecture and customize it the way you need it to be.
This method allows you to take advantage of a service provider's expertise.
In return, you get a fully customization platform that blends in seamlessly with the rest of your website and offerings suite.
The method of building the best online video streaming app depends on which provider you decide to go with, but you can be assured that you'll get the guarantee of stability, privacy and scalable architecture.
Conclusion
A secure video hosting platform is a timely way to connect with audiences and get your finger on the pulse of the OTT advancements that the world is seeing. The platforms are intuitive, affordable and highly globalized, so you can reap the benefits of your creative content in the best manner possible.
The post What is an Online Video Platform(OVP) and How Does it Work? appeared first on NASSCOM Community |The Official Community of Indian IT Industry.