---
What Do You Need to Know to Choose the Right POS System?
Blog: NASSCOM Official Blog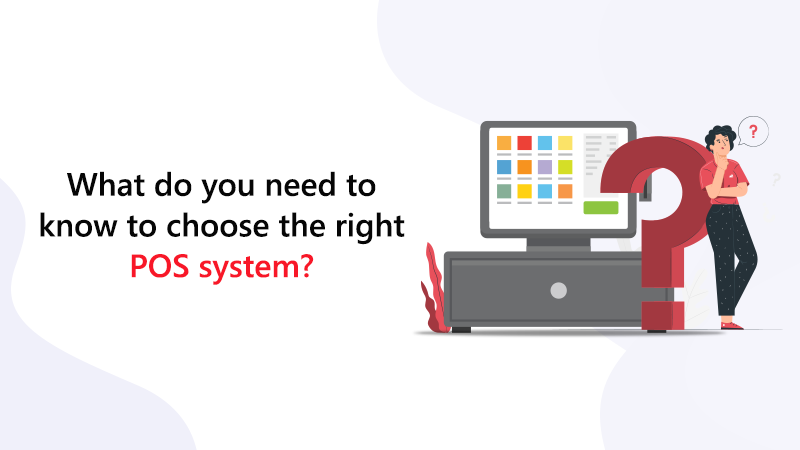 Nowadays, point-of-sale (POS) systems are full of impressive features that help you to run your business efficiently. Whether you are running a cafe, retail shop, or restaurant, the right POS solution can transform the shopping experience of your customers and help you scale much faster. In this guide, we will dive into the factors that you should consider when choosing a POS system for your business.
What is a POS system?
A point-of-sale solution is the combination of hardware and software that work together to let your customers pay for goods and services. Modern POS solutions also allow you to record and track inventory, take payments and issue receipts, manage customer rewards programs, and manage employees. All in all, POS software streamlines your business operations and gives you valuable insights that help you to make informed decisions. Regardless of the size of the POS system, its features can help you achieve a lot.
Benefits of a POS system
You, your team, and your customers can benefit when you invest in the right point of sale system. Without a POS system, your customers will find it difficult to checkout, and you will have trouble keeping track of the transactions. And, the right POS solution comes with reporting capabilities to help you get in-depth information about sales, products, customers, and more. Some of the ways your small business can benefit from a point-of-sale solution are as follows:
A centralized system to help you streamline multiple operations and save time
Reduce the costs associated with administrative activities and boost employees' productivity
Data analytics and detailed sales reporting to help you make smarter decisions
Automate mundane processes to reduce human intervention and increase accuracy
Transform customers' experience and grow your business
What is a cloud-based POS solution?
A cloud POS solution is a web-based, software-as-a-service (SaaS) solution that stores your business data in the cloud rather than on the on-premise computer. Unlike a traditional premise-based POS solution, you can access data, record transactions, process payments, and get business insights from wherever you are with an internet-enabled device.
Apart from taking and running your business from anywhere, a cloud-based POS system offers the following excellent benefits:
You can access your data from anywhere at any time via the internet.
With real-time sales reporting and inventory tracking, you no longer have to rely on guesswork.
Automatic upgrades and data backups mean you don't have to worry about losing your data.
Further, cloud-based POS software allows you to continue taking payments from your customers even when your internet connection is not working – the system will track sales and sync data as soon as you get online. A scalable POS system is an ideal solution for small business owners who can customize it as per their needs and add capabilities as their operation grows.
What are the features of a POS system?
First, customer relationship management (CRM) comes as a part of the point-of-sale system that allows you to track your customers' buying behavior, setup profiles of your customers, and categorize your most valuable customers. Moreover, you can create loyalty programs to reward customers based on specific criteria, send personalized messages to your customers, and use other marketing tools to have a positive impression on people who are purchasing your products or services.
Next, inventory management helps small business owners to collect data in real-time, track their best selling items, and replenish stock before they run out. Additionally, a barcode reader allows you to receive, track, and sell items in real-time, helping you avoid the trouble of recording transactions and monitoring stock levels manually.
What are the businesses that use POS solutions?
Businesses that have a physical checkout process need a POS system to help them function smoothly. Some of those businesses include:
Retail stores: Shops selling physical goods like boutiques, convenience stores, supermarkets, etc. need retail POS software and hardware.
Restaurants: Be it sit-down or quick-service restaurants like fast-food chains both need restaurant POS systems.
Service providers: Service-based businesses, such as salons and spas, also use POS solutions for their daily operations.
Entertainment and hospitality: Establishments where consumers pay for the experience, such as hotels, cinemas, theme parks, etc., use POS systems.
The key takeaway
With several POS solutions available on the market, starting from basic setups to systems with more advanced features and tools, you will have to choose the product that meets your needs. You also need to select the one that fits within your budget. If you aren't ready to pay costly upfront fees, some solutions offer lower monthly subscription rates. If you are a new small business owner, you can also try 30-day free trial to help you decide if your choice of POS software works well for you.
The post What Do You Need to Know to Choose the Right POS System? appeared first on NASSCOM Community |The Official Community of Indian IT Industry.