---
Voice of Manufacturing Edition 5 – From Thought Leadership to Execution – Curtain Raiser for Industry Digital Offerings
Blog: NASSCOM Official Blog
Though the changing market dynamics have steered the focus towards resiliency and business continuity, discovery & reinventions are the key factors. Recognizing the need to address the current imperatives, NASSCOM CoE-IoT & AI – IndDIC organized Voice of Manufacturing Edition 5 – from Thought Leadership to Execution – a curtain raiser for the launching of Industry Aligned Digital Offerings.
Mr. Kishore Jayaraman, President, Rolls-Royce India & South Asia delivered a sharp keynote address on connecting the systems together and 'Being DIGITAL'. However, a well-charted governance model is of utmost importance for adoption of the advanced technologies. He emphasized on the significance of convergence of digital and physical systems and the importance of upskilling and maintaining a fine balance between digitalization, upskilling, employment and productivity.
Mr. Jayaraman, along with Mr. Vivek Saha, NASSCOM CoE IoT & AI, launched the ''NASSCOM CoE Industry Offerings'' designed based on the various industry challenges for enabling Industry 4.0 led Digital Transformation and empowering return on investment (ROI).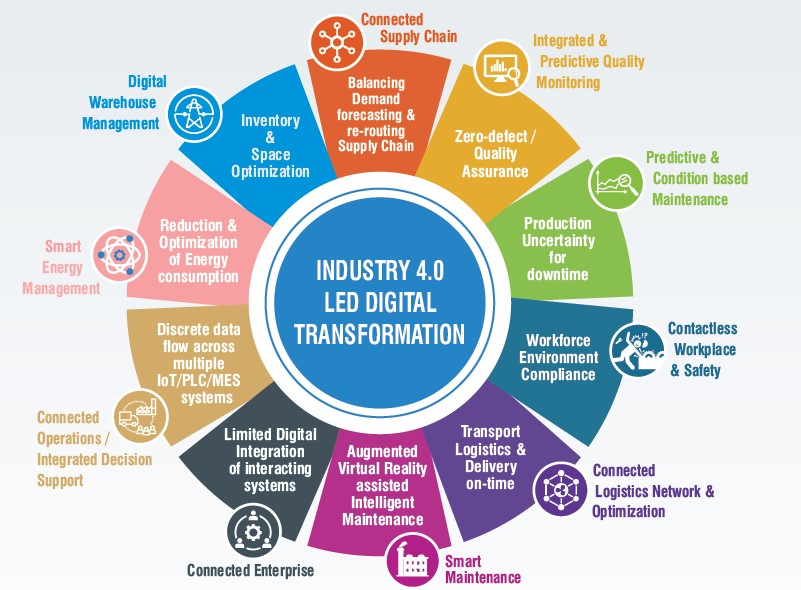 Infographic 1: NASSCOM CoE IndDIC Industry Offerings
It is critical to move from Thought Leadership Process to Execution Scaling Innovation at speed to enable the transformation journey.
Mr. Navid Talib, Manufacturing Operations Head, Honda Cars, India highlighted the essentiality on quality specially in Tier 3 cities – entire value chain based on the connectedness of the Tier 2 & Tier 3 cities in line to the Original Equipment Manufacturers (OEM) and the end-users needs an evaluation. Further, Mr. Krishna Bhojkar, Chief General Manager, Production Planning, SKODA AUTO Volkswagen, India resonated with Mr. Talib on appraising the value chain interconnectedness. According to Dr. Rene VAN BERKEL, calibration of this maturity in the value chain can only be gauged through companies adopting digital technologies/platforms.
The panellists deliberated on crucial aspects like limited skilled labour, decoupling the supply chain, promotion of domestic manufacturing and zero-defect. Even so, it is the digital integration across enterprise systems and Artificial Intelligence (AI) based predictive insights across manufacturing operations that should be the prime focus of the industry at this juncture.
The panel was followed by an Innovation Presentation by Algo8 on a few of their AI-ML based solutions in manufacturing solely based on the company's iSpace4.0 Architecture which is a blend of diagnostic, descriptive, predictive and prescriptive analytic tools.
It is important to understand while the Indian industry is still in speculation, a well-charted digital framework can mitigate disputes in line to the new normal.
The post Voice of Manufacturing Edition 5 – From Thought Leadership to Execution – Curtain Raiser for Industry Digital Offerings appeared first on NASSCOM Community |The Official Community of Indian IT Industry.