---
Top WorkTech News from the Week of May 27th: Updates From Contentstack, Sage, Epicor, and More
Blog: Solutions Review - Business Process Management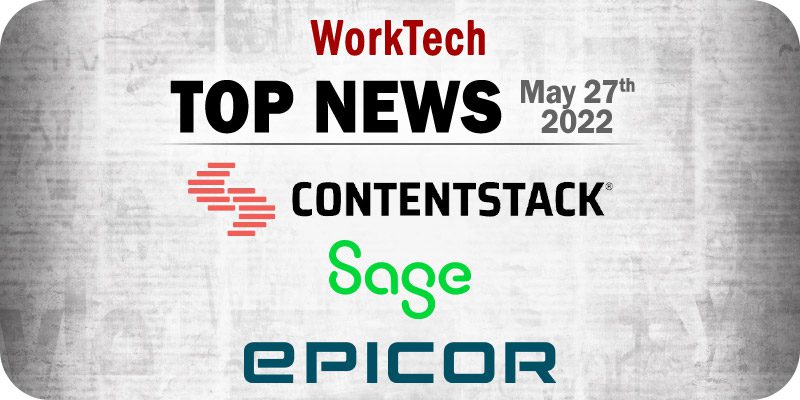 The editors at Solutions Review have curated this list of the most noteworthy WorkTech news from the week of May 27th. This roundup covers new announcements and updates for companies like Contentstack, Epicor, Sage, and more.
Keeping tabs on all the most relevant ERP and BPM news can be time-consuming. As a result, our editorial team aims to summarize the week's top headlines in the enterprise technology marketplace. The Solutions Review editors will compile a weekly roundup of vendor product news, mergers and acquisitions, venture capital funding, talent acquisition, and other noteworthy WorkTech information.
Top WorkTech News from the Week of May 27th, 2022
---
Contentstack, a Content Experience Platform (CXP) provider, has revealed details on Automation Hub, a new no-code solution to help businesses simplify the deployment of composable architectures. The new solution is part of Contentstack's Connect without Compromise program, which provides businesses of all sizes with a library of best practices and guides for composable experiences. Automation Hub is available now in Contentstack's Platform Beta Program, with general availability expected to launch later in Summer 2022.
---
Epicor, a global provider of industry-specific enterprise software, has announced the launch of Epicor Automation Studio, a new integration Platform as a Service (iPaaS) solution that's embedded within Epicor Prophet 21 and Epicor Kinetic. The new solution will help citizen integrators improve how they connect data and automate workflows in the Epicor tools they use alongside over a thousand additional applications and databases.
Epicor also revealed details on a collection of new features for its Epicor Industry ERP Cloud portfolio. These include updates for Epicor Kinetic, Epicor Prophet 21, and Epicor BisTrack, which are industry-specific solutions for the manufacturing, distribution, and building supply markets, respectively. The new features include enhancements for Epicor CPQ, Epicor Commerce Connect, Epicor Application Studio, Dynamic Documents, Epicor Report Studio, Smart Inventory Planning, Epicor Identity Provider (IdP), and a geotab fleet management integration.
---
Iterate.ai, an AI-driven "innovation ecosystem" that helps businesses build production-ready low-code tools, has announced the launch of Interplay 7. Interplay 7 is a low-code, drag-and-drop AI environment that combines built-in frontend and backend capabilities with new AI workflows to help users accelerate application development timelines. The solution also offers a visual page builder, AI workflows, a Figma code generator, configurable applications, and built-in object character recognition/robotic process automation (OCR/RPA).
---
OneStream, the corporate performance management (CPM) solution provider, has announced a limited general release for Sensible ML. The solution combines AI and machine learning (ML) technology on the OneStream platform to help users accelerate time to value for their critical planning processes. Sensible ML reduces forecast bias with ML scenarios, unifies granular operational plans, automates processes, creates recurring ML forecasts for demand planning, captures business intuition, automatically selects the best forecasting method for a situation, and helps users build, and manage, and deeply ML forecasts.
---
Sage has announced the launch of Sage Intacct 2022 Release 2, which expands the SMB-centric subscription billing solution with support for evergreen subscriptions. With Release 2, Sage Intacct users in the SaaS business can easily bill auto-renewing subscriptions, manage billing in perpetuity, navigate the complexities of hybrid models, predict consumption, and roll out new pricing models without disrupting operations. The platform can also eliminate the need to manually adjust subscriptions via third-party solutions and utilize consolidated views of billing, financials, revenue, cash, and SaaS metrics. Additional functionalities in Release 2 include expanded warehouse efficiencies, real-time inventory visibility, and construction billing tools.
---
Zeitworks, an AI-powered business process intelligence platform, has announced its launch out of private beta. The platform, which was founded in 2020, was incubated at Madrona Venture Labs and is now onboarding new customers in industries across fintech, e-commerce, healthcare, and insurtech. Zeitwork's capabilities include interactive inspection of outlying data, efficiency metrics to predict worker productivity, tools for measuring process complexity, visualizations that reveal insights into cross-application flows, data extraction, pattern discovery from record systems, and more.
---
For consideration in future WorkTech news roundups, send your announcements to wjepma@solutionsreview.com.
---
The post Top WorkTech News from the Week of May 27th: Updates From Contentstack, Sage, Epicor, and More appeared first on Best BPM Tools, Vendors, Software and BPMS.