---
Top WorkTech News from the Week of May 20th: Updates From Deloitte, Epicor, Shipwell, and More
Blog: Solutions Review - Business Process Management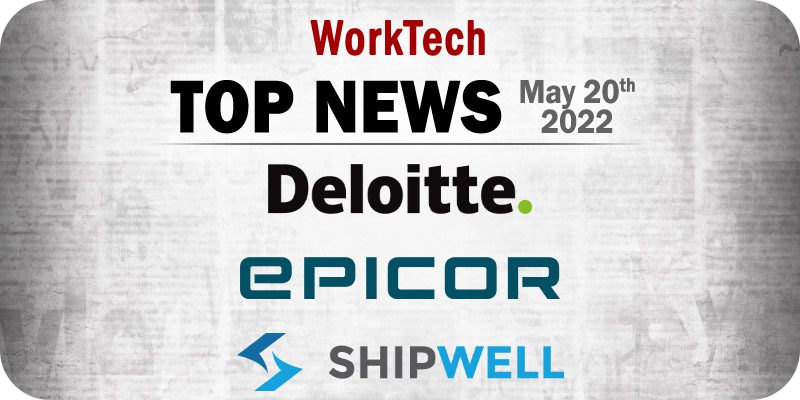 The editors at Solutions Review have curated this list of the most noteworthy WorkTech news from the week of May 20th. This roundup covers new announcements and updates for companies like Deloitte, Epicor, Shipwell, and more.
Keeping tabs on all the most relevant ERP and BPM news can be time-consuming. As a result, our editorial team aims to summarize the week's top headlines in the enterprise technology marketplace. The Solutions Review editors will compile a weekly roundup of vendor product news, mergers and acquisitions, venture capital funding, talent acquisition, and other noteworthy WorkTech information.
Top WorkTech News from the Week of May 20th, 2022
---
Deloitte has announced an expansion for its cloud observability practices encompassing its AI/ML, cloud complexity management, DevOps principles, and software engineering offerings. The development will leverage Dynatrace's Software Intelligence Platform's AIOps and observability capabilities, which will be used to develop targeted solutions for clients capable of accelerating digital transformation for global organizations of all sizes. Deloitte's DevOps and site reliability engineers will be trained and certified to incorporate Dynatrace's platform into its DevOps Cloud Platform and Innovation Centers.
---
Epicor has revealed that it will leverage MicroStrategy's HyperIntelligence Technology in deploying the Epicor Predictive Maintenance Assistant (PMA) solution, which will provide users with convenient, pervasive access to valuable data at every point of the decision-making process. The new PMA solution combines AI technologies with Epicor's service industry insights to help service providers and consumers predict maintenance and repair events by vehicle. Alongside the PMA solution, Epicor also introduced an AI-driven Predictive Inventory Assistant for retailers and parts wholesalers.
---
Netstock, a cloud-based demand planning solution provider, has launched a new app to help growing organizations unlock intelligent, predictive insights into their supply chain. With the updated Netstock app, executives, order fulfillment teams, and supply planners can reduce stockouts, minimize overstocks, manage supplier risk, and orchestrate their planning efforts to optimize their inventory investments. New features available in the app include a redesigned inventory command center, updated supply management interfaces, streamlined forecasting tools, and improved demand planning workflows. All current Netstock customers will be automatically migrated to the new interface.
---
Pegasystems has announced the launch of Always-On Insights, a new offering that combines Pega's Customer Decision Hub capabilities with Celebrus' Customer Data Platform (CDP). By combining Pega's AI-powered decisioning technology with Celebrus' real-time data capturing and identity solutions, companies can improve how they react to consumer behaviors by delivering relevant inbound and outbound offers that drive higher response rates. These capabilities will also help boost lead generation and customer satisfaction by helping ensure that businesses don't miss out on valuable customer engagement opportunities. Always-On Insights is available now for all Celebrus Customer Data Platform and Pega Customer Decision Hub customers.
---
Shipwell, the cloud-based shipping and logistics service provider, has released a new load optimization feature for its transportation management system (TMS). The new feature can automate manual calculations and help businesses save time, increase savings, and reduce carbon emissions with optimized order consolidation and route planning tools. With this load optimization tool, companies can leverage a proprietary algorithm to assess an order's size, weight, locations, pickup, and delivery time and use that data to plot the most efficient routes.
---
For consideration in future WorkTech news roundups, send your announcements to wjepma@solutionsreview.com.
---
The post Top WorkTech News from the Week of May 20th: Updates From Deloitte, Epicor, Shipwell, and More appeared first on Best BPM Tools, Vendors, Software and BPMS.