---
Top WorkTech News From the Week of January 13th: Updates from Camunda, NICE, Cognizant, and More
Blog: Solutions Review - Business Process Management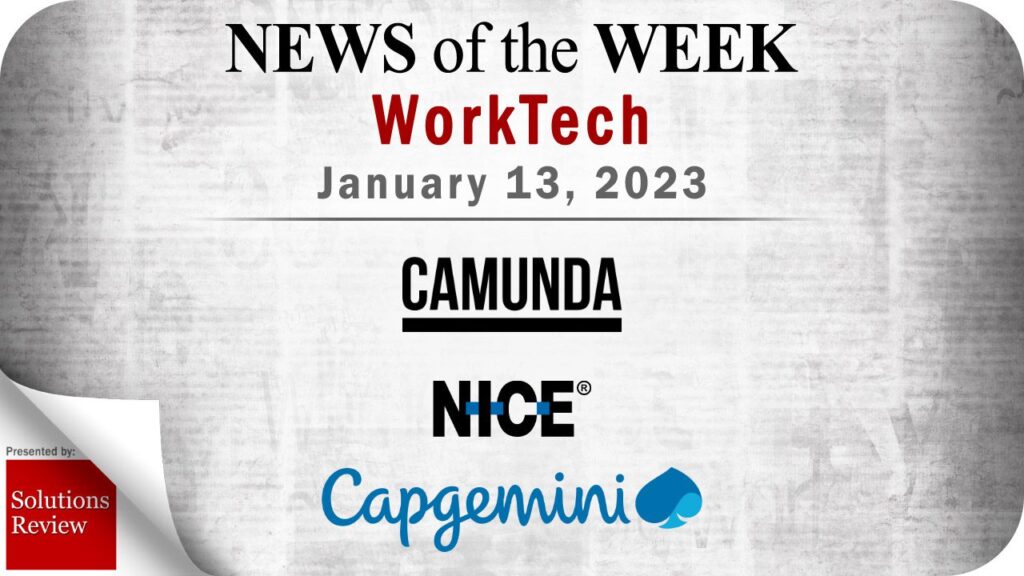 The editors at Solutions Review have curated this list of the most noteworthy WorkTech news from the week of January 13th. This round-up covers announcements and updates from companies like Camunda, NICE, Cognizant, and more.
Keeping tabs on the most relevant ERP and BPM news can be time-consuming. As a result, our editorial team aims to summarize the week's top headlines in the enterprise technology marketplace. The Solutions Review editors will compile a weekly round-up of vendor product news, mergers and acquisitions, venture capital funding, talent acquisition, and other noteworthy WorkTech information. With that in mind, here is some of the top WorkTech news for January 13th.
Widget not in any sidebars
Top WorkTech News From the Week of January 13th, 2023
---
Accenture has announced its agreement to acquire SKS Group, a consulting firm that helps banks in Germany, Austria, and Switzerland modernize technology infrastructures and address regulatory requirements using SAP's S/4HANA solutions. The acquisition will help Accenture enhance its ability to service specialized banks and expand its technology, regulatory, and consulting capabilities. SKS Group's approximately 500 employees will join the Accenture Technology team.
---
Camunda has launched the new release of Camunda Desktop Modeler 5.7. The latest version improves the platform's BPMN editor with an on-canvas color picker, adds support for the new features available in Camunda Platform 8.2, updates the user experience, and allows users to apply a Camunda Platform 8 element template directly through the replace menu. Camunda Desktop Modeler 5.7 is available for download now.
---
Camunda also announced a new version of Camunda Optimize, which provides companies with tools for business activity monitoring, continuous process improvement, automated workflows, transparency into business processes, and more. The new features in Camunda Optimize 3.10 alpha3 include updated dashboard navigation to help users find dashboards pre-built by Camunda and improved Camunda Platform 8 navigation, making it easier for users to open any Camunda Platform 8 component within the Optimize software.
---
Capgemini has announced the appointment of two new Group Executive Board appointments to help reinforce its focus on providing business value to global industries with its sustainability service capabilities. The new appointments include Jerome Simeon as Capgemini's Head of Global Industries and Cyril Garcia as Head of Global Sustainability Services and Corporate Responsibility. In their new roles, Simeon will focus on bringing together Capgemini's worldwide industry expertise to meet the transformation needs of global organizations. Meanwhile, Garcia will be responsible for integrating sustainability practices across Capgemini's portfolio of client services.
---
NICE, a cloud-native customer experience platform, has announced details on the new Robotic Process Automation (RPA) capabilities available in its latest release, which use AI technology to identify focused opportunities for automation. The new capabilities include NEVA Discover's process analytics solution and semi-supervised machine learning tools, which will help companies improve how they optimize business process executed elements to achieve complete performance. NEVA Discover will also use advanced AI to provide companies with actionable insights into optimizing processes, improving efficiency, and empowering employees to meet their key performance indicators (KPIs).
---
Expert Insights Section
---
Watch this space each week as the Solutions Review editors will use it to share new articles from the Expert Insights Series, Contributed Shorts videos, Expert Roundtable videos, event replays, and other curated content to help you gain a forward-thinking analysis and remain on-trend with changing industry expectations. All to meet the demand for what its editors do best: bring industry experts together to publish the web's leading insights for enterprise technology practitioners.
---
Supply chain management is a complex process requiring various skills and experience in multiple fields. While there are plenty of technologies to help, nothing can replace the value of well-earned expertise. That's why the Solutions Review editors have compiled this list of vetted certification courses to help you kickstart (or continue) your journey toward becoming a supply chain expert.
---
As part of Solutions Review's Expert Insights Series—a collection of contributed articles written by industry experts in enterprise software categories—Bernd Ruecker, the co-founder and chief technologist at Camunda, explains how companies can begin to root out the bias in their automated processes.
---
For consideration in future WorkTech news round-ups, send your announcements to wjepma@solutionsreview.com.
---
The post Top WorkTech News From the Week of January 13th: Updates from Camunda, NICE, Cognizant, and More appeared first on Best BPM Tools, Vendors, Software and BPMS.