---
Top WorkTech News From the Week of February 3rd: Updates from Acumatica, QAD, SAP, and More
Blog: Solutions Review - Business Process Management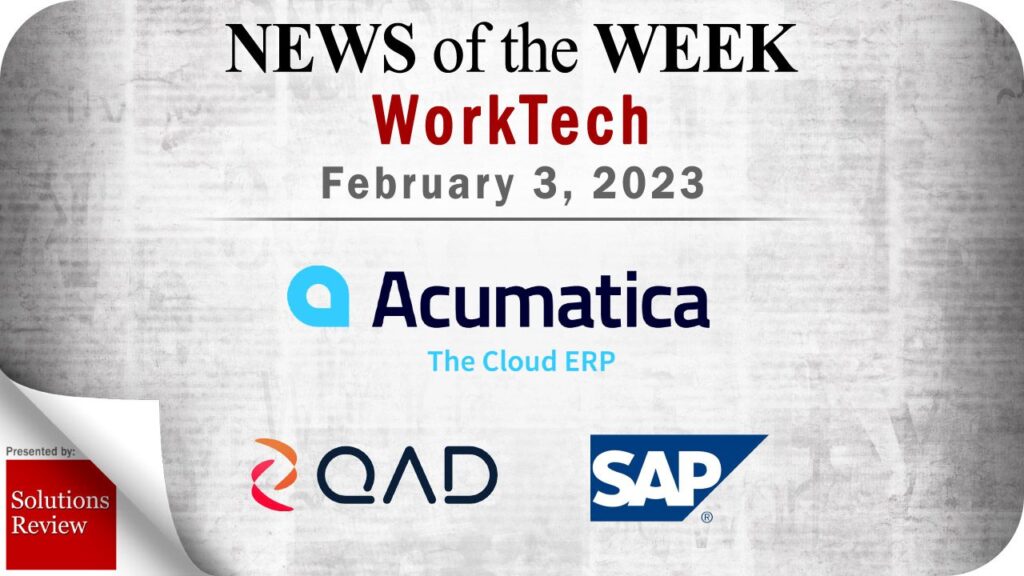 The editors at Solutions Review have curated this list of the most noteworthy WorkTech news from the week of February 3rd. This round-up covers announcements and updates from companies like Acumatica, QAD, Rootstock Software, SAP, and more.
Keeping tabs on the most relevant ERP and BPM news can be time-consuming. As a result, our editorial team aims to summarize the week's top headlines in the enterprise technology marketplace. The Solutions Review editors will compile a weekly round-up of vendor product news, mergers and acquisitions, venture capital funding, talent acquisition, and other noteworthy WorkTech information. With that in mind, here is some of the top WorkTech news for February 3rd.
Widget not in any sidebars
Top WorkTech News From the Week of February 3rd, 2023
---
Acumatica, a cloud-based ERP provider, has released details on its ERP solution's upcoming 2023 R1 release. The news was announced during the Day 2 keynote presentation at Acumatica Summit 2023 and outlines the advancements in usability, intelligence, and industry functionality that are in beta now and are planned for general availability in April. Those advancements include special orders for distribution and field service businesses, a Microsoft Teams integration, a native payment integration capability, and enhanced SendGrid templates.
---
Gartner recently released the 2023 iteration of its Magic Quadrant for Enterprise Low-Code Application Platforms. The updated report includes profiles on the LCAPs offered by Alibaba, Appian, Creatio, Huawei, Kintone, Mendix, Microsoft, Newgen Software, Oracle, OutSystems, Pega, Quickbase, Salesforce, ServiceNow, Retool, Unqork, and Zoho. The editors at Solutions Review have read the report and compiled a rundown of the critical takeaways worth knowing about.
---
NICE, a cloud-native customer experience platform, has announced a new global strategic go-to-market partnership with Cognizant. The partnership will leverage Cognizant's consulting and business transformation capabilities with NICE CXone's integration cloud platform for accelerating customer adoption of advanced customer experience (CX) solutions. The companies will unlock growth opportunities for their respective customer bases and the broader CX, WFM, and digital transformation markets.
---
QAD—a manufacturing and supply chain solution provider—has acquired Redzone, a connected workforce solution for manufacturing companies. This is the second acquisition that QAD, a Thoma Bravo portfolio company, has completed in the last few months after purchasing Livejourney in December. Redzone's connected workforce product will help QAD's Adaptive Applications suite empower users to improve frontline retention, empowerment, and productivity.
---
QAD also revealed its new branding, introducing new colors and a logo to the company's brand identity. According to the company's announcement, "The colors reflect the dynamic nature of our markets and are inspired by three raw materials used in manufacturing: Cobalt Oxide, which is used to create blue colored enamels as well as ceramics and glass; Cinnabar, a bright red ore used in pigments and dyes from which mercury can be extracted; and Cadmium, an orange mineral extracted from zinc ore used in the production of batteries."
---
The Root Group, the official customer user group for Rootstock Software, has launched a new brand, charter, mission, advisory board, and website. The group's mission is to help fellow Rootstock Software customers leverage its Manufacturing Cloud ERP in the best ways possible. David Stephans, CEO of Rootstock Software, says, "It's been a pleasure to watch The Root Group grow and mature. The group operates independently, outlining its own goals and activities, but they can always count on Rootstock for complete support."
---
SAP has announced that it's expanding its partnership with Red Hat, a global provider of open-source solutions, to help companies enhance intelligent business operations, drive holistic IT innovation, and support cloud transformation across industries. The expanded partnership will significantly increase SAP's use and support of Red Hat Enterprise Linux, which involves SAP migrating part of its internal IT landscape and its SAP Enterprise Cloud Serviced portfolio over to the foundation of Red Hat Enterprise Linux.
---
The upcoming event, scheduled for February 9th, aims to offer a unique webinar featuring an inside look at the vendor's new platform for automation and remediation, enabling visibility across all environments so IT teams can continuously improve the digital workplace by optimizing productivity and cost. Alongside a live product demo, the Spotlight event will also feature an interview about the product with members of Nexthink's team.
---
Torii, a Distributed SaaS Management Platform (SMP) provider, has announced new SaaS management capabilities to help distributed workplaces promote cross-team accountability, monitor critical tasks, reduce spending in digital workplaces, manage cloud apps, and more. These new functionalities and advancements include an advanced data engine, ticketing management tools, cost-saving license recommendations, license cost benchmarks, a flexible app catalog, and insights into which departments drive app costs to help improve budgeting and forecasting.
---
Expert Insights Section
---
Watch this space each week as the Solutions Review editors will use it to share new articles from the Expert Insights Series, Contributed Shorts videos, Expert Roundtable videos, event replays, and other curated content to help you gain a forward-thinking analysis and remain on-trend with changing industry expectations. All to meet the demand for what its editors do best: bring industry experts together to publish the web's leading insights for enterprise technology practitioners.
---
Low-code development platforms provide enterprise and citizen developers with visual-based software they can use to improve how they drag and drag application components, connect them, and use them to create applications. However, even a low-code (or no-code) development project requires specific skills, and it's not always straightforward to know where to start learning those skills. With that in mind, the Solutions Review editors have compiled a list of top-rated low-code development courses available online.
---
As part of Solutions Review's Expert Insights Series, Rebecca Jones, the General Manager of Mosaicx, explains why AI technology might be the "antidote" to labor challenges. Additional topics covered in the article include intelligent automation solutions, how to streamline recruitment efforts, automate shift changes, avoid payroll discrepancies, use AI to maintain customer satisfaction, and more.
---
As part of Solutions Review's Expert Insights Series, Henrik Hulgaard, the CTO and co-founder of Configit, explains why successfully shifting to Industry 4.0 will require companies to embrace a single source of configuration truth. Other topics and insights covered in the article include the steps needed for a successful digital transformation, getting to a single source of truth, and more.
---
For consideration in future WorkTech news round-ups, send your announcements to wjepma@solutionsreview.com.
---
The post Top WorkTech News From the Week of February 3rd: Updates from Acumatica, QAD, SAP, and More appeared first on Best BPM Tools, Vendors, Software and BPMS.