---
Top WorkTech News From the Week of December 9th: Updates from Deloitte, SAP, Contentstack, and More
Blog: Solutions Review - Business Process Management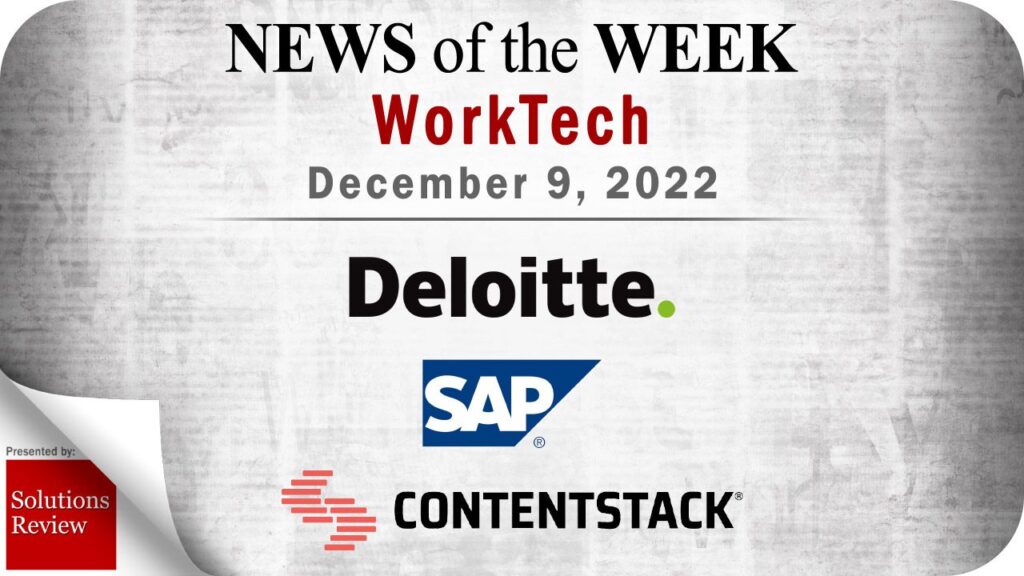 The editors at Solutions Review have curated this list of the most noteworthy WorkTech news from the week of December 9th. This round-up covers announcements and updates from companies like Deloitte, SAP, Contentstack, and more.
Keeping tabs on the most relevant ERP and BPM news can be time-consuming. As a result, our editorial team aims to summarize the week's top headlines in the enterprise technology marketplace. The Solutions Review editors will compile a weekly round-up of vendor product news, mergers and acquisitions, venture capital funding, talent acquisition, and other noteworthy WorkTech information. With that in mind, here is some of the top WorkTech news for December 9th.
Top WorkTech News From the Week of December 9th, 2022
---
Advantive has acquired two new companies to expand its current solution offerings in the Enterprise Resource Planning (ERP), Manufacturing Execution Systems (MES), and Statistical Process Control (SPC) markets. With the acquisition of DataNet and PQ Systems—two solutions equipped with Statistical Process Control (SPC), manufacturing quality, and gage calibration capabilities—the company will improve its ability to provide customers across industries with the solutions they need to adapt to supply chain challenges.
---
Apromore, a process mining software provider, has raised $10.3 million in a Series B funding round, with investment from Salesforce and GBTEC. The company will use the investment to expand its product capabilities, develop its connectivity options, grow its geographic presence, and extend its product portfolio. Alongside the funding, Apromore has announced that it's partnered with Salesforce to create connectivity between the Salesforce Cloud solution suite and Apromore's process mining software. The combined solution will help organizations identify friction points, bottlenecks, and opportunities for optimization in their service and sales processes.
---
Cognizant has acquired Utegration, a full-service consulting and solutions provider specializing in SAP technology and products for the energy and utility sectors. Upon completion, the acquisition will expand Cognizant's business with 350 employees in North America and India. Rob Vatter, Executive Vice President of Cognizant's Enterprise Platform Services, added the following statement: "In bringing together Utegration's experienced, specialist team with our global scale in SAP and digital transformation, we have a strong new set of capabilities designed to address the market's critical transformation needs."
---
Contentstack, a Content Experience Platform (CXP) provider, has expanded its leadership team with the hiring of Susan Beermann as its new Chief Marketing Officer (CMO) and Preseetha Pettigrew as Vice President (VP) of Global Partnerships. Beermann has over 25 years of experience in the B2B SaaS software marketplace. Pettigrew has over 20 years of partnership and consulting experience and has previously worked with companies like Oracle, IBM, Atos Consulting, and more.
---
Deloitte and Amazon Web Services (AWS) have announced the formation of Olympus, a jointly developed global and multi-year investment fund for developing industry cloud solutions. The initiative combines Deloitte's engineering and industry domain experience with AWS's security and scale. Olympus will support the development of industry cloud solutions that address challenges and accelerate digital transformation across industries like consumer banking, smart manufacturing, life sciences, and more.
---
EY and Software AG have announced a new alliance to help organizations improve business growth and streamline digital transformation initiatives with IoT, business process management, and integration platforms. The EY-Software AG alliance will leverage an integrated platform for process mapping, process mining, customer experience management, operational data analysis, and other capabilities to equip organizations with the capabilities, expertise, and services they need to achieve their transformation goals.
---
PwC and SAP have announced a new co-innovation strategy designed to make sustainability an essential part of standard business operations. The strategy will create solutions to address environmental, social, and corporate governance (ESG) business challenges by covering supply chain decarbonization, climate risk, competitive analysis, carbon measuring, reporting, and steering. PwC and SAP's strategy builds on the two company's existing partnerships and aims to equip organizations with auditable and verifiable ESG metrics.
---
15Five, a performance management company, has received a strategic investment from ServiceNow, adding to the $52 million 15Five raised in a Series C funding round earlier this year. The investment will help 15Five accelerate its ongoing product development initiatives across its performance management software platform and integrated manager training capabilities. This marks ServiceNow's first investment in the talent technology marketplace and reinforces the company's commitment to supporting technology that reinvents work and boosts productivity.
---
For consideration in future WorkTech news round-ups, send your announcements to wjepma@solutionsreview.com.
---
The post Top WorkTech News From the Week of December 9th: Updates from Deloitte, SAP, Contentstack, and More appeared first on Best BPM Tools, Vendors, Software and BPMS.