---
Top WorkTech News From the Week of December 16th: Updates from Creatio, QAD, FinancialForce, and More
Blog: Solutions Review - Business Process Management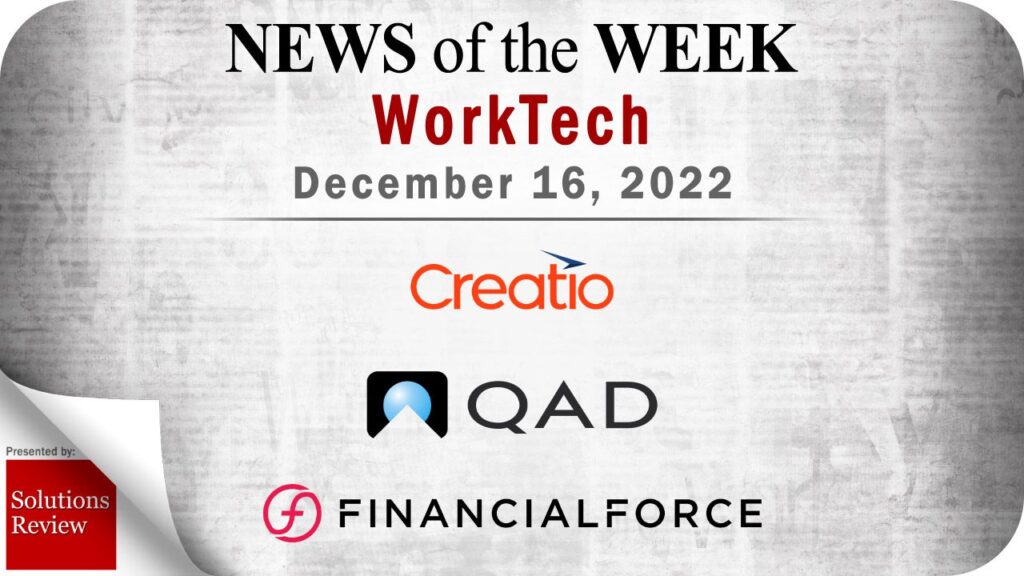 The editors at Solutions Review have curated this list of the most noteworthy WorkTech news from the week of December 16th. This round-up covers announcements and updates from companies like Creatio, QAD, FinancialForce, and more.
Keeping tabs on the most relevant ERP and BPM news can be time-consuming. As a result, our editorial team aims to summarize the week's top headlines in the enterprise technology marketplace. The Solutions Review editors will compile a weekly round-up of vendor product news, mergers and acquisitions, venture capital funding, talent acquisition, and other noteworthy WorkTech information. With that in mind, here is some of the top WorkTech news for December 16th.
Widget not in any sidebars
Top WorkTech News From the Week of December 16th, 2022
---
BigCommerce, an open SaaS e-commerce platform, has announced details of its new partnership with Sage, the accounting, HR, financial, and payroll technology provider. The partnership will help the companies provide B2C and B2B merchants with an end-to-end commerce solution that integrates their online storefronts into their back offices. With the integration between BigCommerce and the Sage 100 ERP software, businesses can make strides toward modernizing their e-commerce presence, increase operational efficiency, launch fully integrated B2C and B2B storefronts, and provide users with real-time visibility into orders, invoices, customer information, and more.
---
Creatio has revealed details on the new 8.0.6 version of its platform, which introduces an updated composable architecture designed to enable organizations to accelerate the application design process and maximize the re-usability of components. The update also includes a new AI-driven recommendations engine for workflow automation and an improved Freedom UI, offering an extensive library of pre-defined widgets, views, and templates to help users build applications at speed and scale.
---
Deloitte has announced that it's making a $1.4 billion investment to expand its professional development experiences further. Titled Project 120, the program is designed to curate personalized learning and development pathways for critical tech and leadership skills among its growing employee base. The investment will also help Deloitte enhance its tech and leadership curriculum and expand the Deloitte University facilities with future academic and business collaborations.
---
FinancialForce has announced the general availability of its Winter 2023 Release, which further expands its Service-as-a-Business (SaaB) approach by combining capabilities that help service businesses run efficiently and effectively. Those capabilities include automation, innovation, and intelligence tools, all backed by the company's domain expertise and best practices. Some of the new additions in the Winter 2023 release include Advanced Resource Management features and ERP enhancement for FinancialForce's Professional Services Cloud solution, which enables resource managers to automate manual tasks, gain more control over the staffing process, and keep up with the speed of work.
---
Gryphon.ai, an AI-powered conversation intelligence platform, has released its automated compliance solution in the Salesloft marketplace. The release means that Salesloft, a sales engagement platform, will integrate Gryphon.ai's compliance architecture to help sales teams increase productivity, boost revenue, and protect their brand reputation by evaluating every phone number against state, federal, and TCPA Do-Not-Call lists. Gryph's automated compliance capabilities also provide coverage around other restrictions (i.e., curfews, state laws, states of emergency) to improve sales teams' ability to develop customer relationships.
---
QAD, a manufacturing and supply chain solution provider, has announced its acquisition of Livejourney, a process mining and monitoring software provider. The addition of Livejourney's process intelligence capabilities will help QAD expand its Adaptive Application suite and enable customers to unlock insights into how their manufacturing, supply chain, and operational processes are performing. Additionally, the acquisition will eventually provide QAD users with tools for identifying automation opportunities, visualizing processes, measuring ROI, simulating process paths with predictive analysis, and more.
---
Unanet—a provider of project-based ERP and CRM solutions for government contractors (GovCons), engineering and construction (AEC), and architecture firms—has received a new round of strategic financing from Onex Corporation. The investment will help the company accelerate its go-to-market strategies, product innovation, and growth strategies. Alongside the funding, Unanet also announced that it appointed three new board members for the company's executive team. New board members include Tony Catalfano, former CEO of Worldplay U.S., Zach Levitt, Senior Principal of Onex Partners, and Jim Reagan, Former Executive Vice President and CFO of Leidos.
---
For consideration in future WorkTech news round-ups, send your announcements to wjepma@solutionsreview.com.
---
The post Top WorkTech News From the Week of December 16th: Updates from Creatio, QAD, FinancialForce, and More appeared first on Best BPM Tools, Vendors, Software and BPMS.