---
The QA imperative for delivering excellent Customer Experiences
Blog: NASSCOM Official Blog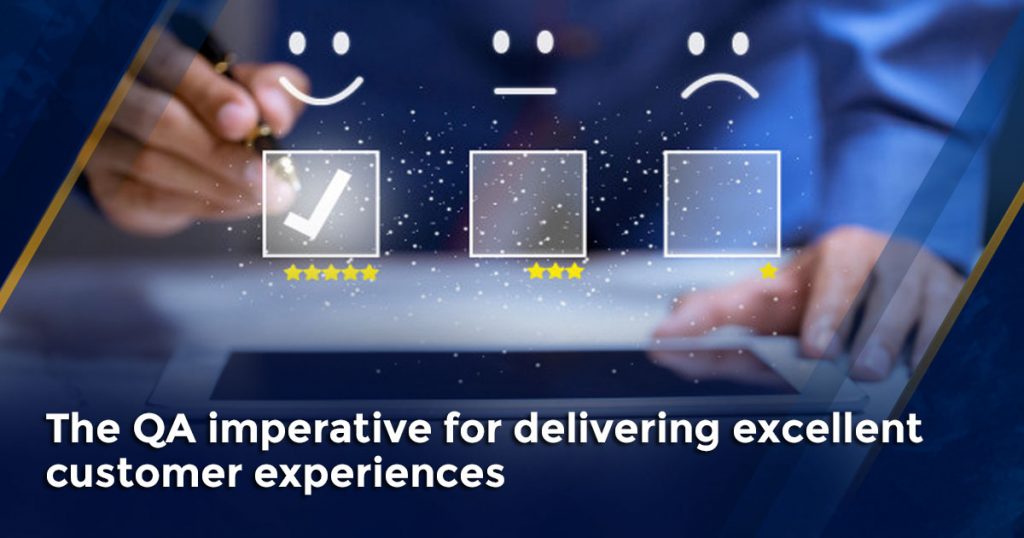 QA plays an all-important role in delivering superior customer experiences for enterprises by offering their target audiences omnichannel engagement, predictive analysis, and data-driven insights.
Thriving in a crowded marketplace for any business enterprise is underpinned to a large extent on providing a quick, consistent, and positive customer experience. With customers self-educating them before buying software products, their decision to buy (or continue buying) stuff from a specific business enterprise are largely driven by the quality of the product, and the alacrity of the support team in responding to customer queries. The customers of today expect flawless performance across channels from the software products they buy, anytime and anywhere. The situation has become challenging as competitors are offering similar products at rock bottom prices. So, for any enterprise to stay put and grow in the competitive business landscape, it has to work on enhancing the customer experience. In an increasingly disruptive non-linear business landscape, those who are laggards in adopting digital transformation with no focus on CX testing will find it difficult to remain competitive.
Customer experience is not something that can be attained by just tweaking the existing products and business processes. It occurs when the core of an enterprise is robust and functional. Hence, enterprises with legacy systems and processes should revamp themselves through digital transformation and deliver superior CX. Again, it is not just about delivering a hi-tech product but involves innovation, collaboration, and data science, among others, in the value chain. According to Forrester, brands need to deliver the best customer experience (offline and online) to stay the course. So, what happens if an enterprise delivers poor customer service?
The impact of poor customer service
Any enterprise thrives on the quality of its products and the effectiveness of its customer service. However, in the absence of the latter, customers dissatisfied with the product's performance or usability can abandon it in favor of its competitor. And the word of mouth can be a dangerous thing, which can ensure the product has no takers anymore. There are many examples of enterprises being jolted out of their stupor to revamp their customer service. Further, brand equity can go for a toss if the enterprise is not known for delivering prompt customer service.
How QA (user experience testing) can deliver a great CX
As per the World Quality Report 2018-19, the commonest objective of QA is to ensure customer satisfaction followed by enhancing the quality of software. QA is generally executed by the tester instead of the developer who writes the code. The QA specialist specializes in thinking critically as to how the software can help the customer. He or she can set up a test strategy and execute manual/automated testing of the code on parameters like performance, security, usability, and functionality. In customer experience testing, the tester works towards optimizing the customer journey. This includes experiences gathered by the customer as he or she interacts with the product – from the initial phase of awareness to the final phase of advocacy.
The tests to cover various aspects of quality and ensure customer satisfaction include functional tests like cross-browser tests and cross-device tests. Here, testers can check how the software application functions when customers access it from different browsers or devices. In addition to testing functionality, testers aim at uncovering risks associated with security, usability, accessibility, and performance. Today, UX testing (and others) is not only about securing the software against existing glitches but testing it continuously to ensure it remains top-notch in terms of quality throughout its usage lifecycle.
Omnichannel engagement: Digital revolution has expanded the number of customer touchpoints, and so, customer engagement need not be limited to a specific touchpoint or channel. The savvy customers of today want a seamless omnichannel experience with better interaction. This is different from disparate multichannel experiences and connects smartphones, desktops, laptops, wearables, smart TVs, and social media to offer a more convenient journey, online and offline. So, should customers remain dissatisfied with the performance of the software, they may end up damaging the brand image by posting negative sentiments on social media. Further, to deliver omnichannel customer experiences, data analysis must be backed with context to understand customer motivation. Thus, CX testing may allow enterprises to get actionable insights into customers' behavior across devices and channels.
Superior customer experience with data: Whether someone shops on Amazon, watches shows on Netflix, or navigates with Google Maps, the use of data is apparent. Used properly, data can help create experiences in alignment with the interests of the target audiences. Data-driven insights gained by usability testing companies can help businesses to compete against others by exceeding customer experience. Data can allow enterprises to do away with the false signals of traditional marketing and build a detailed and monetizable customer picture. For example, Netflix collects data from around 139 million subscribers and recommends shows based on customers' personal choices.
Conclusion
Positive customer experiences happen when enterprises provide products or services backed by an integrated set of offerings. These include product or service design to the revamping of legacy systems, tools, and processes in the value chain. As enterprises look at enhancing digital experiences, they must include CX performance testing to ensure that customers' needs are addressed.
The post The QA imperative for delivering excellent Customer Experiences appeared first on NASSCOM Community |The Official Community of Indian IT Industry.