---
The Edtech Story #6: Edtech Stakeholders in COVID-19: Changing Strategies, Changing Moves
Blog: NASSCOM Official Blog
The Edtech Story
A blog series by NASSCOM covering in-depth analysis of the Edtech Sector during COVID-19
#3 Edtech Stakeholders in COVID-19: Changing Strategies, Changing Moves
Stakeholders play an important role in every ecosystem and drive growth in the sector. Stakeholders' perspective, vision, thinking all lead to the growth of the sector and hence play a key role in its overall success.
The key stakeholders in an Edtech ecosystem are the Edtech firms providing series and solutions, investors, academic institutions, the Government and of course the consumers i.e the teachers and student community. Each stakeholder with its own uniqueness worked on different strategies during COVID-19 to tackle and understand the changing market.
Edtech Firms:
Being one of the most important stakeholders, many Edtech firms changed their business strategies during COVID-19 to penetrate the market in an efficient and productive way. Though Edtech firms gathered huge traffic on their platforms, the key was to convert this traffic into subscribers or paid users. To do so various market tactics have been deployed by the firm to attract students. Image below shows some of the marketing strategies adopted by various Edtech firms to attract students: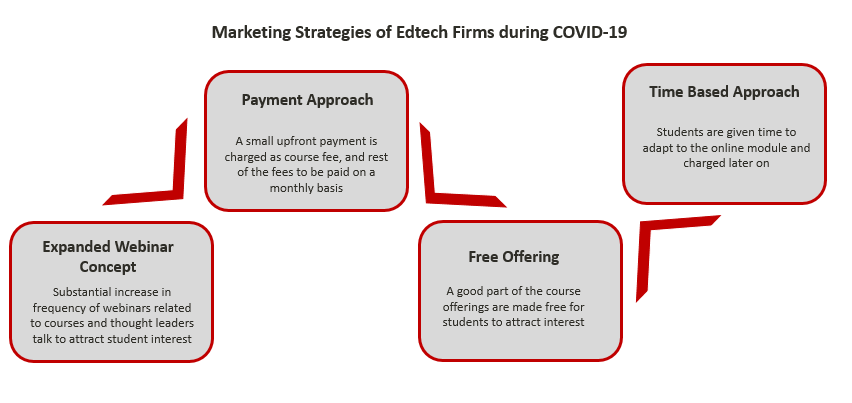 As you can see above, Edtech firms offer free courses and webinars to students to initially draw them to the platform and then offer multiple options in terms of payments, course choices etc. to retain them as a permanent user.
Investors:
With the growing requirement of Edtech during COVID-19, the interest and the strategies of investors have changed drastically. Though the focus continues to be on mature and established Edtech companies, investors have started taking a keen interest on new and innovation solutions applicable for a wider audience.
During the period from March to August 2020, investors have invested more than $235 million in 15 Edtech start-ups. The strategy is evident- while investors are betting on new start-ups, the mature ones are going for rapid growth and expansion.
Academic Institutions:
For academic institutions COVID-19 is the most challenging phase and they are also the most affected. With the closure of school and colleges, millions of students were forced to stay at home. But the schools and institutions quickly adapted themselves to this new change. Most of the academic institutions shifted their classes onto online platforms like Google classrooms, Zoom etc.
Various universities have also tied up with Edtech firms to offer online-offline blended degree courses, this includes various post graduates degree courses. Edtech firms are also offering free online platforms to these academic institution to make them migrate to digital platform easily. Teachers also upgrading themselves to cater to this changing requirements. They are taking the help of school as well platforms like Diskha to upgrade themselves.
Government:
Government had already made a substantial shift towards Edtech platforms even before COVID-19. The success of Diksha platform and E-Pathshala is a case in example. Details of these platforms can be read in our earlier blog (Link). The recent National Education Policy (NEP) 2020 announced by the Government is also expected to boost digital education in the country. Few highlights of NEP 2020 which will push Edtech growth are:
Coding to be taught from class 6 onwards
E-content in regional language
Multiple entry and exit programs
Content will focus on idea, application, problem- solving
Increase focus in vocational studies from the school-level itself
If all the above stakeholders continue to work in the same way, we are not far away from the day when we can take digital education to every corner of India.
Please find below the links to our earlier blogs in this series:
https://community.nasscom.in/communities/product-startups/the-edtech-story-1-the-edtech-landscape-a-brief-overview.html
https://community.nasscom.in/communities/product-startups/the-edtech-story-2-indian-edtech-sector-takes-off-during-covid-19.html
https://community.nasscom.in/communities/product-startups/the-edtech-story-3-edtech-in-india-pre-covid-vs-during-covid.html
https://community.nasscom.in/communities/product-startups/the-edtech-story-4-indian-edtech-firms-the-winners-and-innovators.html
https://community.nasscom.in/communities/talent/edtech/the-edtech-story-5-edtech-funding-during-covid-19-a-brief-analysis.html
The post The Edtech Story #6: Edtech Stakeholders in COVID-19: Changing Strategies, Changing Moves appeared first on NASSCOM Community |The Official Community of Indian IT Industry.