---
The Edtech Story #4: Indian Edtech firms – The Winners and Innovators
Blog: NASSCOM Official Blog
The Edtech Story
A blog series by NASSCOM covering in-depth analysis of the Edtech Sector during COVID-19
#4: Indian Edtech firms: The Winners and Innovators
In our earlier blogs we have covered in detail how and why the Indian Edtech ecosystem was able to move up during COVID-19. If we examine a bit deeper, we can easily deduce that the growth in this sector is driven by innovative Edtech firms whose offerings have been widely adopted and accepted by Indian students.
We are living in an "App era" where download and usage of apps decide its success or failure rates. The same applies to the Edtech business which has shifted from a pure brick and mortar model to a digital model. Here the success of a platform is measured using app usage and rankings on app store (for iOS) / play store (for Android).
To gauge the success of an Edtech firm, we analyzed them on the below data points as of June 2020:
Google Play Store Ranking
Apple App Store Ranking
Usage Ranking
Each of the above parameters consider different metrics like total downloads, recent downloads, reviews, uninstalls, user experience, in-app revenues and more. Based on these, we calculated a combined score to rank the Edtech firms.
Edtech Winners
Based on the analysis, the top 5 Indian Edtech firms garnering a score above 500 are Unacademy, Vedantu, Byju's, Diksha and Udemy. These companies dominated the list based on their aggressive business strategy and the rise in subscriber base during COVID 19.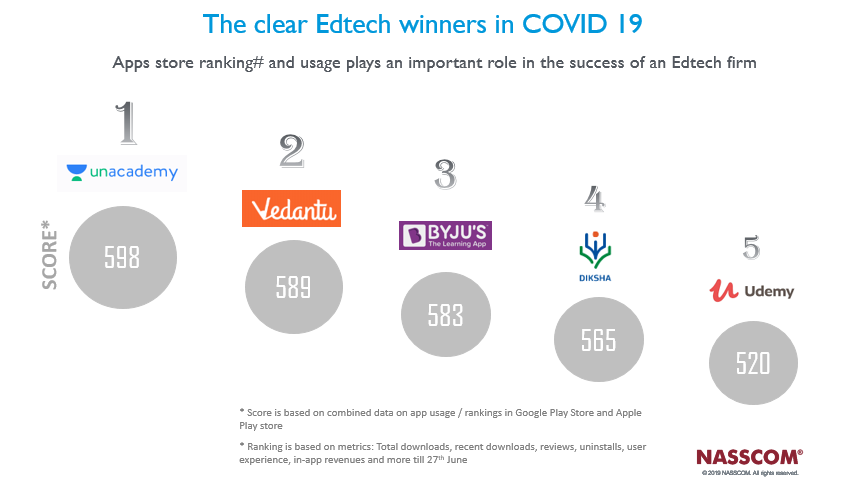 Byju's and Vedantu are online education providers majorly catering to K-12 students, Unacademy provides exam preparation assistance while Udemy helps in upskilling of professionals
Diksha is a Government of India initiative to equip teachers about advanced digital technologies. This CBSE app helps accelerate and enable teachers to learn and train themselves with self-assessment modules. It helps teachers to create training content and connect with their peers across the country. The app also provides certifications after completion of a particular course
E-pathshala is a joint initiative by the Government of India and NCERT providing teachers, students, parents and educators access to digital textbooks for all grades and more
Gradeup, an exam preparation platform helps aspirants to prepare for various competitive entrance examinations
An emerging name in this list is Doubtnut, a multilingual online learning platform which helps students to clear doubts and queries on any topic. The app can read questions in over 11 Indian languages. Within just 3 years of its inception the app has garnered 85% of its users from outside the top 10 metro cities
Apart from the winners listed above, there are many Edtech firms with unique business models catering to varied audiences and creating visible impact.
Edtech Innovators
COVID 19 also propelled many firms to strategize and restructure their business models to not only provide innovative solutions but also improve accessibility and adoption by catering to a vast and varied audience. Some successful innovative solutions are listed below
Enrolment Automation
NoPaperForms: A SaaS Enrolment Automation platform saw 225% growth in Q1 on-boarding compared to last year and 3x growth in lead flows. They recently launched a 'contactless admission ' module to help institutions during COVID 19 to complete their interview scheduling, counselling, admission fees collection, and offer placement online
Classroom Environment and Online Education Blend
Flinto Learning: An innovative pre-school model that provides all education related material for a student in a box. Their Flintoclass@HOME is growing at 250% every month since lockdown
Game Based Learning
Splashlearn: A game-based personalized learning program, SplashLearn has experienced a 5X increase in user numbers since March, with demand growing not only across US and India but Europe too
Teacher's upskilling
Suraasa: Offers an e-learning platform for teachers to upskill themselves, the technology used built on cognitive learning
Learning Tablets
iDream Education: Offers learning tablets allowing students to learn at home and connect with teachers online offering a perfect offline and online education blend
The count of these winners are endless and they are winners not just on the basis of their score but also on innovation. The key is making education accessible to everybody.
But all winners' needs some support, a support not only from the demand perspective but also from the business side which comes from "Investors" in the form of funding. In our next blog, we will cover the Edtech funding situation in India during the COVID era.
Please find below the links to our earlier blogs in this series:
#1 The Edtech Landscape a Brief Overview
https://community.nasscom.in/communities/product-startups/the-edtech-story-1-the-edtech-landscape-a-brief-overview.html
#2 Indian Edtech Sector Takes Off During COVID-19
https://community.nasscom.in/communities/product-startups/the-edtech-story-2-indian-edtech-sector-takes-off-during-covid-19.html
#3 Edtech in India- Pre-COVID Vs During COVID
https://community.nasscom.in/communities/product-startups/the-edtech-story-3-edtech-in-india-pre-covid-vs-during-covid.html
Source: Similarweb, NASSCOM
The post The Edtech Story #4: Indian Edtech firms – The Winners and Innovators appeared first on NASSCOM Community |The Official Community of Indian IT Industry.