---
The Edtech Story #1: The Edtech Landscape: A brief Overview
Blog: NASSCOM Official Blog
The Edtech Story
A blog series by NASSCOM covering in-depth analysis of the Edtech Sector during COVID-19
#1: The Edtech Landscape: A brief Overview
INTRODUCTION
"Edtech" or "Technology in Education" is not a new buzzword. It is a sector which has evolved over the last few years and emerged to become the fastest growing sector during Covid-19. Increase in digitization, the start-up ecosystem continuously innovating to provide new services, the ever evolving consumer base and the COVID-19 situation has given the Edtech sector both in India and globally a huge boost.
In the following series of articles I will be analyzing the key trends in the Edtech sector and its progress during the COVID-19. The first in this series is a brief overview of the sector with some parallels drawn between the Global and Indian Edtech landscape.
Edtech has seen an upsurge over the past years and is expected to be the 'new normal' in the near future also. It's not entirely because of COVID-19, the trends were similar even during pre-COVID times when Edtech was equally important for supplement, test preparation and distance learning courses. Edtech is a global phenomenon and hence needs a deeper look on the complete landscape to develop a clear understanding.
GLOBAL LANDSCAPE
Global Edtech is dominated by select countries based on key parameters like VC Funding, number of Edtech start-ups headquarters, unicorns, acquisitions etc. The countries with their area of specialization are mentioned below:
United States (Highest number of Edtech enterprises)
United Kingdom (4th highest number of Edtech enterprises)
India (2nd highest number of Edtech start-ups)
Brazil (3rd highest number of Edtech start-ups)
China (Highest venture capital investment from 2014-18)
Sweden (Highest proportion of Edtech companies securing funding)
Italy (3rd highest proportion of Edtech companies securing funding)
Austria (4th highest proportion of Edtech companies securing funding)
Canada and more
Global Edtech landscape majorly comprises of the following categories covering different aspects:
Pre-K12- early childhood educators
K12- online learning platforms, online tutoring, language learning, curriculum production and search tools
Higher Education- online platforms, enterprise learning, next gen schools
Upskilling- Corporate skilling, advanced technology learning platforms
Technology Providers- learning management system, school administration tools
There are overlaps between tech learning and online learning platform providers as they offer solutions both for K12 and Higher education.
Global Edtech Landscape (illustrative)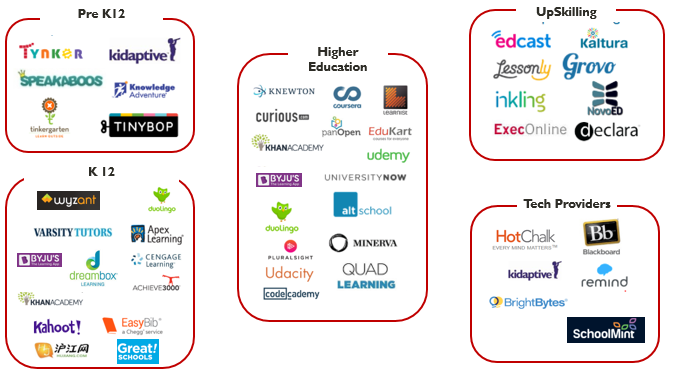 Edtech Headquarters around the world
The above chart explains the density of Edtech firms' headquarters in different countries. The dominance of few countries in the Edtech space are clearly visible in the above chart.
GLOBAL KEY FACTS & FIGURES
Top Edtech enterprises hubs: (Based on number of headquarters around the world)

United States
India
Brazil
United Kingdom
China

Investment in Education: Global VC funding in education (2014-18): more than 4x increase from $1.8 bn in 2014 to $8.2 bn in 2018

Over 60% investment went to China, followed by USA (~20%), India (~10%) and Europe (8%)

Edtech Funding: $3 bn global Edtech VC funding in Q1 2020
Listed Companies: ~30 global listed education companies with market cap >$1 bn
Unicorns: Global Edtech offers a unicorn base of 19 companies dominated by China and USA accounting for 90% of total unicorns:

Indian Edtech firm Byju's tops the unicorn list with highest valuation of over $10bn
Acquisitions: Of the total 200 acquisitions during 2010-18, more than 70% were acquired between 2015-18, a short span of 3 years. Investors see rise in Edtech business opportunities fueled by increased connectivity in school, bring your own device (BYOD) concept in colleges, Chromebook penetration in K12.

Facebook backed Unacademy acquires PrepLadder (Test Preparation)for $50 million
Campus logic (student financial success) announced RaiseMe (providing access to higher education)
Emerging Technology Focus: Increasing usage of emerging technologies in Edtech

Delivering learning platform – STRIVR provides virtual reality learning and application platform to offer realistic environments, immersive experience, data assessment etc.
Customer Experiences – Develops VR applications for training & simulation to enable buyers to view products in a virtual environment.
Emerging technologies (AR/VR, AI, Robotics, Block chain) based Edtech firms have seen a rise due to increase in advanced technology expenditure of $4+ bn in 2019, it is expected to reach $22+ by 2025.
The data points mentioned above indicate the growing importance of Edtech globally.
India, too is not very far behind. Edtech and more importantly 'education to all' is an important agenda for the Indian Government. Needless to say the growing prominence of digital education and Edtech firms has helped enormously to fulfil the Governments' agenda. In a short span of 5-7 years, Indian Edtech sector has achieved a lot and has set global standards. India stands tall among other countries in the Edtech space in various categories like funding, start-ups, cities and many more.
India Landscape:
Indian Edtech journey started in 2004 with the emergence of satellite based education and smart classrooms. 2008 saw the start of e-learning with players like Extramarks, Khan Academy venturing into providing online education. 2015 was a game changing year for Edtech which saw the emergence of over 1,000 start-ups raising a funding of over $125 million. Increasing awareness and disposable income led to rise of EdTech market and attracted large investments. In 2018 Indian Edtech firm Byju's turned unicorn and now tops the list of 19 EdTech unicorns in the world.
Start-ups incorporated: 3600+ (2015-19)
Funding: $1.7 bn (2015-19)
Unicorns: 1 (Byju's)
Key States: Bangalore (>70% funding), Mumbai, Delhi NCR, Hyderabad, Chennai
Acquisitions: 35 start-ups were acquired between 2014 and 2019
Indian Edtech Landscape (illustrative)
India's Edtech landscape majorly comprises of K12/College, test preparation, upskilling and technology providers. The landscape is not very different from the global landscape but there are few areas which makes it different:
Indian Edtech is highly focused towards K12/college and Test Preparation in term of funding (>70%)
Edtech firms creating solutions to cater to rural population like iDream Education delivering educational tablets and tablets for digital learning in schools
The recently announced National Education Policy 2020 is expected to boost the quality and scope of education in the country, giving an impetus for further growth to the Edtech sector
India's Edtech story though growing at a rapid pace in the past few years has got a major thrust in the form of COVID-19. How has COVID-19 affected the Edtech industry? Our next series of blogs will delve deeper into "The India Edtech Story during Covid times".
NASSCOM covered a detailed landscape of Indian landscape in its 2018 report on "Edtech – The Advent of Digital Education". You can download the report from the link below:
https://www.nasscom.in/knowledge-center/publications/edtech-advent-digital-education
References & Sources
Holoniq, Tracxn, Medium, Yourstory
https://www.toptal.com/finance/market-research-analysts/edtech-trends-2020
https://yourstory.com/2020/07/funding-edtech-startup-flinto-lightbox-ventures
https://medium.com/the-edtech-world/edtech-landscape-743716608675
The post The Edtech Story #1: The Edtech Landscape: A brief Overview appeared first on NASSCOM Community |The Official Community of Indian IT Industry.