---
Start Vlogging with #7 steps
Blog: NASSCOM Official Blog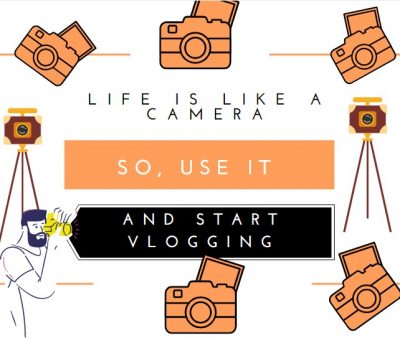 Roots of blogging can be traced back to the 90s, when Justin Hall – the founding father of the personal blogging scene, started writing about his life. Blogging in 2020 has reached a new level with over 152 million blogs being there on the internet. Looking at the stats, a new blog is published every .05 seconds. On the other side, 77% of the users read blogs regularly? Furthermore, do you know the quarter of websites on the internet are of blogs? Isn't that intriguing?
What next to blogging? Next to blogging is now the option for "Vlogging". If I tell you that you can convert your articles into videos, will you believe it? But = this is possible through vlogging. Vlogging is nothing but "Videoblogging". Research by Wyzowl revealed that videos give ROI to 89% of video marketers.
To explain vlogging in simple terms, if all the blogs at NASSCOM Insight platform are not in the written format rather all the blogger has narrated their amazing articles in a video and has published it. This will become vlogging. It is said that content from auditory and visual mode, leaves a long-lasting impact on human memory. Through vlogging, you move a step closer to making a connection with the audience.
Till this point, I am sure you have come across one thought "How can I start vlogging"?
So, here are #7 steps you need to follow to start vlogging:-
1. Decide the content
Same as we used to do in blogging. We have to decide the topic on which we build our vlog. Prepare a blueprint of the content with:- Title, starting points, supporting points, subheadings, and lastly the closing points. You just have to right pointers and try not to make a long vlog. For short vlogging jot down the points which will help you create content in the video.
2. Camera
Use of camera will differ according to the type of your content if you are planning to make a simple vlog you can use any camera or even webcam. But if you plan to make a more detailed and visually clear video you need to use DSLR and other camera equipment. For travel vlog, you can use GoPro or your phone.
3. Background
Will you be able to form a connection with a muddled background? Or will you prefer a clean and soothing background? Even if you don't have a beach background you can record the video on a plain wall with soothing colour. Make sure you don't have things lying on the floor.
(Soothing background)
4. Lighting
You will not like to shoot a video in a dim or a dark room right? Light up room or environment gives you more energy to work. Viewers may tend to judge your video by the quality of light in the video. Try using the daylight or can go for artificial lights like -light rings, umbrella lights.
(Recording in daylight)
5. Audio
Make sure that there is no background noise in the video. Until and unless your audience can hear you clearly, they will not be able to connect with you. Try making a video in a quiet place where only your voice can be heard in the video.
6. Editing your video
After you have made your video you can also edit it using various software. You may not get the right video as you wanted right away but you need to explore the software and which each trial you will improve.
7. Sharing
At last, is sharing it with your audience. Never feel shy to share your video with friends and family. Don't forget to ask for feedback from your close ones. Share it on your social media handles and prepare it for SEO.
After following these steps, you can start with your Vlogging journey. Keep the pace slow and explore this new journey. Doing it out of passion rather than as a burden will help you enjoy making your videos. If blogging has been your passion, vlogging will be great for you to start this journey.
Reference:-
https://newbluefx.com/blog/create-vlogs-9-easy-steps/
https://optinmonster.com/blogging-statistics/
About the author:-
Kirti Kumar is a budding HR professional currently pursuing PGDM in HR and Marketing at New Delhi Institue of Management. She looks forward to opportunities that can hone her skills. She is agile in her attitude with versatility in her action
The post Start Vlogging with #7 steps appeared first on NASSCOM Community |The Official Community of Indian IT Industry.