---
Site Selection a Prime Focus area for Datacentre Investments
Blog: NASSCOM Official Blog
Just read this news where the press has announced Reliance Jio's plan to invest $950 million in datacentres in Uttar Pradesh. Though the company is yet to confirm the news one thing is sure that the sector is bound to gain more investments considering the many advantages that the country has to offer. (Read the blog Datacentre Investments – The India Advantage)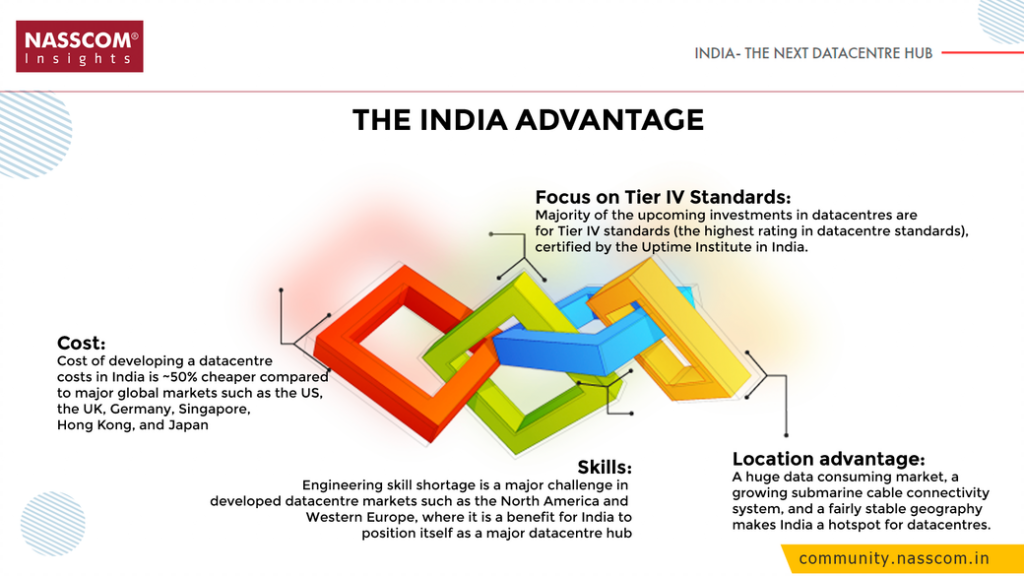 Though, the investments in the sector is growing it remains skewed towards some of the key locations including Mumbai, Chennai, Bangalore, Hyderabad and Delhi (NCR). This preference for select locations has a reason which in technical terms can be said as they meet majority of the "Site Selection Criteria" for datacenters.
Datacentres are a capital intensive industry involving huge investments, thus any company which is making such large commitments does a thorough check on the location they plan to invest in and thus site selection becomes an important criteria to evaluate.
Consequently, the site-selection criterion is gaining significant importance among datacentre developers and operators in India. Mumbai and Chennai are fairly established destinations for datacentre operators, as these cities are connected through submarine cables with other countries across the globe. Cities such as Bangalore, Delhi and Hyderabad are among the emerging destinations. While Pune, Kolkata and Kerala are the key upcoming destinations.
Some key parameters that are evaluated under the various site selection criteria include:
Geographical Location – Land Availability, Environmental Hazards, Climatic Conditions, Taxes and Incentives and Proximity to Customers
Power – Power Availability, Power Reliability, Renewable Energy Sources and Cost of Power
Fiber Connectivity – Carrier Availability, Latency, Network Disruption and Carrier Capacity
General Construction and Operations – Labour Availability, Labour Cost and Availability of Construction Resource
All these parameters have different weightages and India as a country has different ranking across different parameters considering their current state in the country for example – India has ample land which makes it a top choice as far as land availability is concerned, however it ranks lower on favourable climatic conditions.
In our report "India – The Next Datacentre Hub" we have attempted to give a snapshot on India's position across these parameters. Key recommendations on how ranking on some of these parameters can be improved and what gains can the investment in the sector witness in an optimistic scenario. Happy Reading!!
The post Site Selection a Prime Focus area for Datacentre Investments appeared first on NASSCOM Community |The Official Community of Indian IT Industry.