---
Secure In India 2020-GCC at the forefront of managing global digital risks
Blog: NASSCOM Official Blog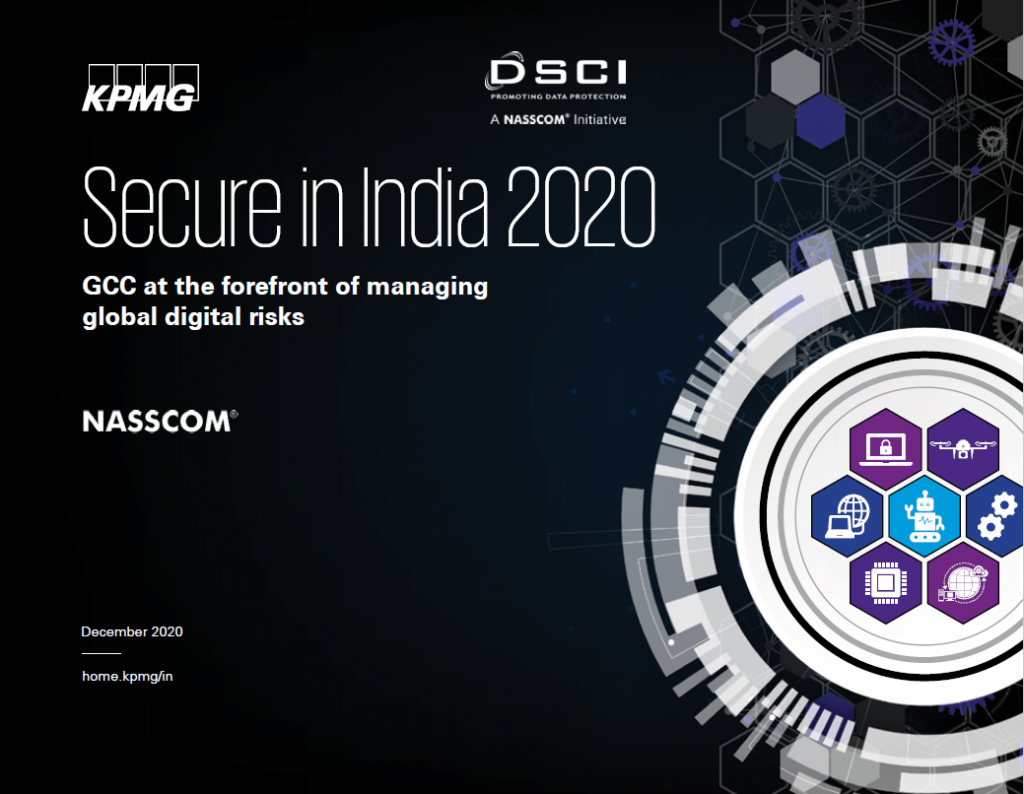 DSCI, in partnership with NASSCOM and KPMG, has developed the 2020 edition of the report 'Secure in India' to showcase the footprint of cybersecurity capabilities across the global capability centers (GCCs) in India. This study is the 2nd edition, a follow-up from the initial study launched in 2018. This edition of "Secure in India 2020: GCC At the Forefront of Managing Global Digital Risks" is aimed at showcasing India as the destination for global corporations to setup and expand their Cyber GCCs.
In the last two years the landscape has transformed significantly, and the report captures this transformation in a nuanced and insightful way, while shedding light on the virtuous effect of expanding responsibilities and capabilities on the Indian GCC landscape. The new reality, of increasing digital activity further heightened by the global pandemic, has accelerated the digital transformation journey manifold and nudged members across the board to re-strategize cybersecurity. CISO's and CIO's have taken centerstage and are making business decisions. Moving forward, we turn towards global GCC leaders and urge them to secure in India.
Secure in India 2020 captures the measures taken, key achievements, and pertinent challenges that have come to the fore as GCCs further expand their cybersecurity role and continue to be at the forefront of managing global digital and cybersecurity risks for their corporation from India. This report is aimed to provide insights across seven domains and help global leaders to take informed decisions for managing their digital and cybersecurity risks, especially when and how they tap into the treasured talent and experience of GCC ecosystem in India.
Key Highlights:
About 71 per cent of cyber GCCs have their leadership reporting to global heads in parent organisations
About 41 per cent of the cyber GCCs surveyed have at least a quarter of their global cybersecurity teams based in India
About 88 per cent of cyber GCCs believe that diversity is a key agenda for cybersecurity function
About 75 per cent of cyber GCCs have a focused program for innovation
About 25 per cent of cyber GCCs collaborate with start-ups for innovation programs to achieve innovation faster and at lower cost
Artificial Intelligence (AI) technology is currently used by 39 per cent of cyber GCCs and 32 per cent are planning to use it
About 40 per cent of GCCs, are supporting global agenda to address emerging technology risks and cloud security risks
Cyber GCCs helped their global offices win the stress test – 75 per cent of cyber GCCs enabled their global offices in dealing with the COVID-19 pandemic
The post Secure In India 2020-GCC at the forefront of managing global digital risks appeared first on NASSCOM Community |The Official Community of Indian IT Industry.