---
SaaS Technology Love: Rising and Rising
Blog: NASSCOM Official Blog
SaaS Technology Love: Rising and Rising
Software as a Service has been the growing choice of digital adopters and investors. The continuously growing need of cloud-based solutions are also leading to faster adoption of software products and SaaS-based solution turns out to be the favorite. This phenomenon is global and SaaS tech is becoming the choice with every business. SaaS ecosystem is getting bigger and bigger:
SaaS is expected to bring in nearly $105 bn in 2020
In 2022, SaaS expected to generate close to $141 billion.
European VCs invest 12 bn pounds in 2020
SaaS giant UiPath became Europe's most valuable tech company
UiPath valuation now stands at $10.2 bn
As per Gartner, the enterprise software market is expected to grow by ~9% in 2021 and SaaS has a big role to play in this growth. Also, global spending might take a hit but cloud spending expected to rise by over 6% y-o-y. The global SaaS market is estimated to grow to $230 billion in 2022 from $145 billion in 2019. SaaS has become a need for most of organizations globally:
As per a recent survey,
73% of organizations will be using all or mostly SaaS solutions by 2021
~85% already invested in SaaS
More than 100 SaaS apps. Are used by organizations with 250+ employees
Small firms of up to 50 employees use between 25-50 SaaS solutions
So what makes SaaS attractive?
Recurring Revenue (ARR)
Easy to upsell
The product can be easily accessed
Capital efficient business
Offer higher strategic value
SaaS market gained substantially even in India. Though overall VC investments were down compared to last years it was much higher than earlier years.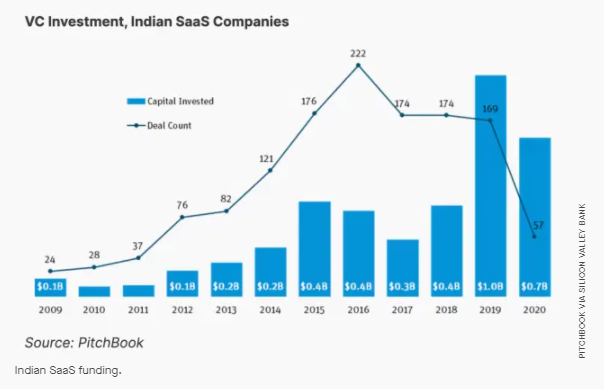 Many SaaS start-ups saw over 50% rise in revenue and an increase in time spent on platforms. Also, rise in demand was observed in support function softwares like payroll, customer relationships, etc. Property management software, billing software also saw significant growth. Based on a recent study, very important aspects of SaaS has come up which will emerge going forward:
SMB focussed SaaS companies
Vertical focused SaaS companies
Global competitive companies like API development companies etc.
B2B tech product companies
The outlook for SaaS also continues to be positive. The domestic market for SaaS India is likely to expand 6x to $13-15 billion by 2025. Funding in India has grown by 15% over the last three years, and 2020 alone saw six SaaS unicorns.
SaaS has become a heartthrob of the software industry, not only from the digital transformation perspective but the long term value it can offer to any business.
Source: BMC, Business Standard, Sifted, NASSCOM
The post SaaS Technology Love: Rising and Rising appeared first on NASSCOM Community |The Official Community of Indian IT Industry.