---
Role of AI in data-led digital transformation: 10 Key Takeaways from #TwitterChat
Blog: NASSCOM Official Blog
AI is transforming businesses and organizations across various industries are harnessing the power of AI to automate mundane, time-intensive tasks to make data-driven decisions and improve operational efficiency. NASSCOM Insights hosted a Twitter Chat via @NasscomR on 16th June, 2020 and it witnessed huge success. The theme of the discussion was "The Role of AI in data-led digital transformation" and the invited guests were Dr. Reema Aswani, AI Research Specialist, NASSCOM Research, Vijay S Bhaskaran, Partner Intelligent Automation Leader, EY and Rimjhim Ray, Co-Founder, Spotle.AI.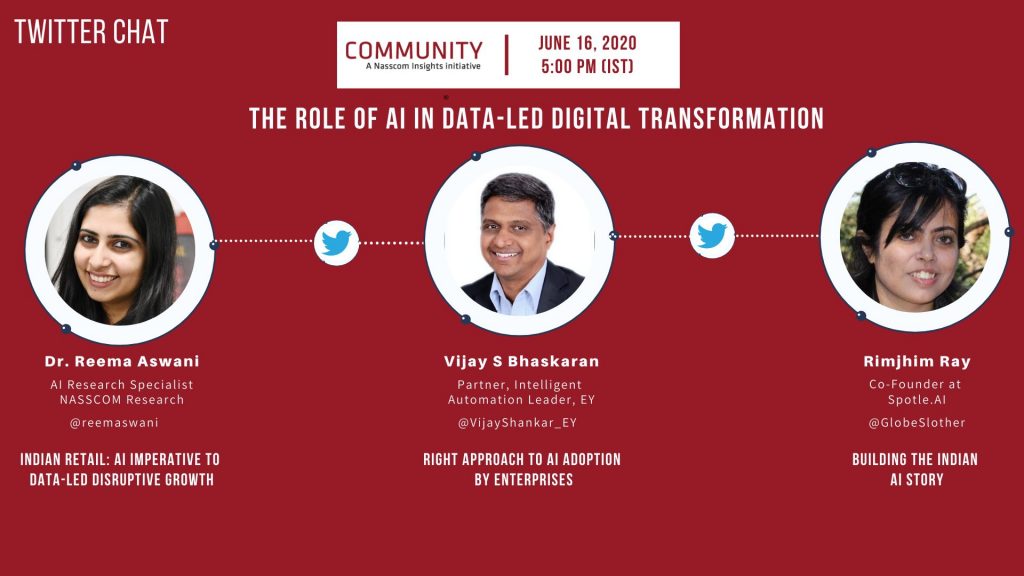 Here are my key takeaways from the Twitter Chat
Accelerated growth in organized retail and e-commerce will bring AI-led disruption opportunities
Indian Retail is one of the top five retail markets in the world by economic value and is expected to double by 2024, reaching $1.4 trillion. By 2024, organized retail and e-commerce are expected to grow by approximately 3X, bringing data-led AI opportunities to the forefront.
COVID-19 has aggravated current Indian retail challenges due to disconnected demand & supply
In the short to mid-term COVID19 has aggravated current Indian retail challenges due to disconnected demand & supply, some impact areas:
Limited demand visibility
Consumer demand segment shifts
Uncertain workforce requirements
Preference for contactless delivery
AI is expected to boost retail enterprises' agility amidst COVID and beyond
AI will boost retail enterprises' agility in current situation in the following ways:
Understand changing demand signals and proactively ensuring constant supply
Enable data-driven decisions to play a key role in the journey to become an intelligent enterprise
The post COVID-19 scenario further necessitates the application of AI in retail industry to address the above challenges. Read our article on Transformational Opportunity with AI in Indian Retail – COVID and beyond to know more.
AI can prescribe ways to build integrated and operational strategies for the entire retail value chain
AI can solve for challenges across the retail value chain. The snapshot below highlights some illustrative challenges faced by retailers and potential AI solutions. Our recent piece on #RetailTech: AI use case landscape in retail – Guide to start your AI journey details out AI uses cases in retail through an innovative periodic table.
Retailers need to identify the right AI use cases as they start or progress in their AI journey
Identification of the right use-cases is crucial for retailers to start heir AI journey. Prioritizing AI uses cases basis business impact & implementation capabilities is a critical step in enterprise AI journey. While starting the AI journey retailers can focus on implementing quick win use cases with high business impact & ease of implementation. Some of the quick win examples comprise
Customer service AI chat bots
Counterfeit detection
Dynamic Pricing
Our recent blog on #RetailTech: Prioritising AI opportunities in retail – Retailers' guide to identify the right AI use cases provides more details on this.
Collaborative approach with providers helps build right capabilities and resources for AI implementations
Each provider is playing their role in driving AI in Indian retail enterprises
Product Technology companies: offer full stack solutions, and get into multi-year partnerships driving long- term transformation initiatives
Technology service providers: Focus more on applications and insights layers
Start-ups: Focus on offering point solutions addressing specific retail challenges
Retail enterprises need to assess their current AI maturity and decide way forward
Retailers who are just starting their AI journey need to instill the following in their organizations to drive AI maturity:
Seed AI competency to go beyond POC
Make exec sponsorship a key imperative
Measure business outcomes instead of efforts
Collaboration with the innovation ecosystem
Recent report on Indian retail: AI imperative to data-led disruptive growth covers the AI maturity model for retail companies and highlights how some of the leading companies are adopting AI across their organization
Building the right AI talent is key for India's AI growth story
India needs to build AI talent at multiple levels. The COVID crisis showed us how critical data and reading it right is. We do not just need the AI engineers and computer scientists. AI relies on data, which will lead to many job opportunities around building right data sets and labeling them for ML models. We will also need AI integrators to integrate AI in existing ops.
The next frontier for AI is to offer it as a service – Democratize it!
For a robust ecosystem integrating AI with initiatives at grass root level, democratizing it, making it available for the masses, and making it simpler to use. The next frontier is to offer AI and data as a service.
AI is increasingly taking the center stage amidst the COVID-19 pandemic
AI has emerged as a powerful tool in the time to fight against COVID-19. Some areas where we see increasing AI interventions amid the pandemic comprise:
Better tracking and monitoring
Early disease diagnosis
Rapid clinical trials of vaccines/drugs
The post Role of AI in data-led digital transformation: 10 Key Takeaways from #TwitterChat appeared first on NASSCOM Community |The Official Community of Indian IT Industry.