---
Riding the SaaS Storm
Blog: NASSCOM Official Blog
Riding the SaaS Storm
IT industry has always been called by it major sections like BPM, IT services, Products, ER&D. But with time the sub segments under these categories are spreading its wings and gaining equal importance.
Now one of the biggest example of this sub segment is Software as a Service (SaaS). SaaS which is an important part of software product is getting more and more mainstream. The continuous digital adoption and cloud era is making many organization to adopt SaaS and create SaaS based solution. Over and above ease of use and pricing models make SaaS as superstar in this era. In COVID time when the businesses are bleeding, SaaS is expected to maintain its constant growth. The burgeoning rise of SaaS is felt not only the industry but also the economy.
To understand the SaaS in-depth market and opportunity, NASSCOM recently released its first ever report on SaaS titled "Riding the Storm: Towards the Giant India SaaS Opportunity". Report underlines the opportunity and whitespaces for the growing Indian SaaS industry. For the first time ever, key stakeholders in the Indian SaaS ecosystem have collaborated to create this research study. The report also highlights how India can become the global hub for SaaS and can tap the huge addressable opportunity by strengthening it ecosystem.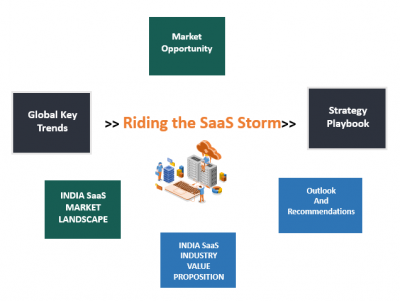 Global Key Trends:
Global SaaS market stands at $100 billion in 2019 growing at 6% CAGR
The Americas: Largest market – ~60% share
Top 5 players – 51% of market revenues in 2019
BFSI, highest adopter of SaaS, followed by Retail, Healthcare and Education
From a horizontal perspective, CRM has the highest market share followed by ERP and CCC
SaaS firms accounted for $32 billion funding (2019)
COVID-19 has had variable impact – some segments such as CCC and Security have seen significant uptick
India SaaS Market Landscape
Indian SaaS Revenues at $3.5 Billion in FY2020, growing at 30%

Global sales accounting for 75% of revenues
India pure-play SaaS companies generated revenue of $2.5 Billion in FY2020
Key verticals adopting SaaS: BFSI, Retail & CPG, Healthcare & Wellness
Diverse India SaaS Player Landscape

Includes Indian pure-play SaaS vendors, global SaaS companies, and integrated service providers
1,000+ Indian pure play SaaS vendors, with 150+ companies with > $1 Million ARR
6 Indian SaaS unicorns
Emergence of new players adopting disruptive strategies and exploring new technologies, geographies, customer segments
Rapid Maturing Ecosystem

Strong funding (15% CAGR over the last 3 years) from major VC players
Valuations of leaders at 8-10X revenue
Market Opportunity: By 2025, $400 billion addressable global opportunity for SaaS, driven by growth in new, untapped markets:
The core SaaS market, driven by America and BFSI, will continue to grow by $240 billion by 2025
Middle East, South East Asia and Africa to see rise in SaaS adoption and add $20-25 billion opportunity in 5 years
Rise in deep tech adoption & digitization to aid SaaS penetrate into newer industries such as Energy & Utilities, TMT, Sports- ~$15 billion opportunity
Customer segments like SMBs are showing traction in terms of SaaS adoption and can generate an addressable opportunity of $5-10 billion by 2025
Rise in digitization and dependence on data will ensure the rise in adoption of Data Analytics & Security adding $10-15 billion opportunity by 2025
Strategy Playbook for Indian SaaS: Indian SaaS companies need to have a strategy that is a combination of product, price, GTM which solves multiple purposes
Ensuring Business Continuity During Times Of Crisis

Evaluate partnerships and engage with ecosystems
Create flexible pricing and invest in sales and marketing
Look for inorganic growth, drive thought leadership & employee engagement
Enhancing Its Existing Value Proposition

Build domain expertise and product enhancements
Leverage digital to build automated, user friendly products
Build domain specific innovation centres and develop multi-lingual capabilities
Utilizing Emerging Opportunities

Identify growth opportunities and customize GTM strategies
Drive innovation and comprehensive product strategy
Recommendations:
Strong Government push for procurement of Made In India SaaS products
3-4X annual funding, required to grow India SaaS market by 6X
Robust non-VC funded model required to grow current SaaS industry base by 2-3X
Build Brand India for SaaS through marketing, visibility and trust
Focus on building SaaS skillsets and an effective Industry mentorship program
Please find more detailed insights on the NASSCOM SaaS report:
https://community.nasscom.in/communities/product-startups/nasscom-riding-the-storm-towards-the-giant-india-saas-opportunity.html
The post Riding the SaaS Storm appeared first on NASSCOM Community |The Official Community of Indian IT Industry.