---
#RemoteWork and #ReturntoWork the two Rs redefining business continuity in the #newnormal
Blog: NASSCOM Official Blog
In my previous blog I talked about the 4Cs that is driving client spending for Indian IT service providers.
Collaboration tools a key ask from Clients during the Covid times
One of the 'Cs' which has become crucial from a business continuity perspective during the Covid times is 'Collaboration', which takes into account collaboration tools for secured remote working. Over the last few months most of the IT companies have been focused on launching new products and platforms which support remote working.
Tech M – Recently rolled out its 'New Age Delivery' (NAD) platform with a new feature to power remote and secure working globally. NAD delivers a new age experience that powers business agility during COVID by optimizing software planning time upto 40%, around 20% reduction in operational-expenses, 25% upwards of cost saving.
TCS – Secure Borderless Workspaces is a transformative operating model that enables remote access for employees, sets up a suitable cybersecurity framework and all project management practices and systems, needed to ensure that work allocation, monitoring and reporting continues as normal.
#Returntowork solutions gaining demand as countries open up lockdowns
Though, organizations are continuing to work from home wherever possible, a lot of sectors such as Manufacturing, Retail, Airline, Hospitality, Life Sciences, BFSI, Energy & Utilities; have started their operations post the lockdowns across the globe are lifted. This has created a new opportunity for IT companies which are now offering return to work solutions focused on a safe transition back into the workplace.
LTI – In June 2020, it launched LTI SafeRadius, a GDPR-compliant return-to-work app useful for enterprises to manage operations in an efficient manner and assure employees about their safety & wellbeing. Key features of the app include – ascertaining overall health of employees, high-risk profiling, incident reporting, seating allocation, staggering work shift schedules, transportation management, real-time alerts on accidental congregation, highlighting the hotspots, and contact tracing. Currently, thousands of LTI employees in India are using the app regularly.
Birlasoft – Launched intelliOPEN, an analytics based system for contactless screening of people, social distancing monitoring and contact tracing.
Zoho – Recently launched an app "Back to Work" to enable organizations to safely transition back into the workplace. The app has six modules addressing various aspects including safe entry, employee wellness assessment, admin control panel, volunteer programs and a communications panel. The app is being offered free till December 2020.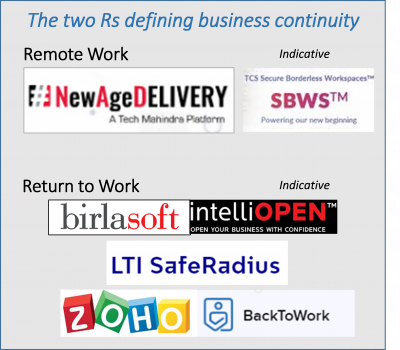 These return to work solutions are not only the need of the hour but also a quick revenue earner for IT companies. "These kind of services will be additional and most important part of the providers' existing digital workplace service portfolio, and revenue earned out of these services will be part of their existing digital workplace services revenues, that may providers report" Mrinal Rai, Principal Analyst, ISG
Overall, the pandemic has forced organizations across sectors to relook at ways they operate in the new normal with technology playing a crucial role in maintaining business continuity.
Indian IT services providers are playing a key role by supporting their clients getting back to work whether it's from home or office. To get more insights on the performance of Indian IT-BPM segment follow the Quarterly Industry Review by NASSCOM released every quarter.
The post #RemoteWork and #ReturntoWork the two Rs redefining business continuity in the #newnormal appeared first on NASSCOM Community |The Official Community of Indian IT Industry.