---
Quotation: recurring fee for regular (subscription) services
Blog: ProcessMate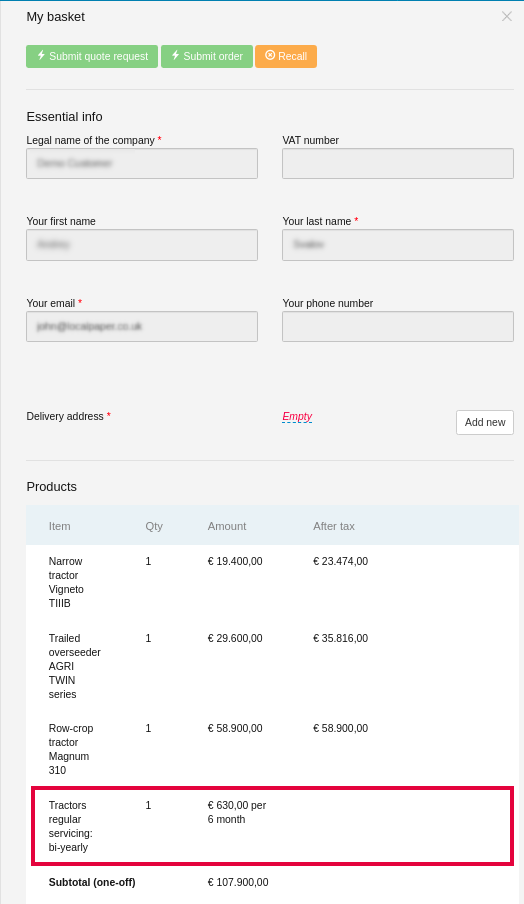 Recurring fees and subscription services, such as regular maintenance are a great way not only to increase revenue, but also make it more predictable and less dependent on the seasonal price fluctuations.
However many e-commerce and CPQ (configure-price-quote) solutions do not have the capability to include subscription fees into the quotes.
Recurring charges
ProcessMate includes a CPQ (configure-price-quote) solution for the recurring items. Some of the products or services in the product catalog may be marked as recurring. The recurring fee may be specified, including the time period (month, day, year, etc), as well as the price per period.
How the quotation will look like
The quotation will have two parts, the one-off price and the recurrence items. The subtotals (before applying taxes) and totals will not include recurring price. There may be more than one recurring items in the quotation (or order), and they may have different recurrencen time periods.
ProcessMate is a
CPQ (configure-price-quote) software
,
customer portal
and
business process management
cloud software that offers a simple and yet powerful CPQ and customer portals that can be branded and configured to accept specific types of service requests, check on status and receive notifications by you and your customers.
ProcessMate offers an innovative approach to the sales includes:
The quotation process may be optionally implemented as one preceding the actual sales.
The quotation and the sales process are processes with distinct tasks for users. Those processes are configured based on the specific of your business with additional optional tasks, such as "site visits", "inventory check", "check with supplier" etc.
The tasks are assigned to own users (your employees) but some of them may be carried out in the customer portal by your clients' users directly. For example, your client users may initiate the quotation process by filling in the basket of the products of their choice, approve the offer once it is ready, etc. So, no quotation is lost and users always know what tasks are assigned to them.
View more at processmate.net/customer-portal/
The post Quotation: recurring fee for regular (subscription) services appeared first on Process Management and Customer Portal software.