---
Manufacturing Innovation Challenge: Driving Enterprise and Start-ups Collaboration
Blog: NASSCOM Official Blog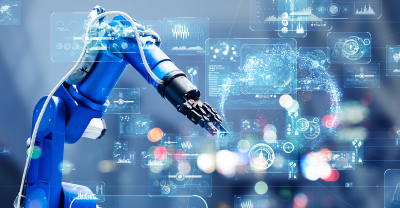 Manufacturing Innovation Challenge (MIC) is an event organized by the NASSCOM Center of Excellence, an initiative of the Ministry of Electronics and Information Technology (MeitY), along with the state government of Gujarat.The event is organized with an objective to provide a platform for start-ups and enterprises to collaborate and solve the key challenges that the manufacturing industry faces today.
NASSCOM conceptualized MIC to help deep tech start-ups in India to leverage cutting edge technologies to build market- ready products. The higher objective of the whole activity was to build industry-ready talent in an entrepreneurial environment by facilitating Incubation, Funding, Acceleration, Industry Connect and Mentoring. Platforms like MIC can act as effective enablers to kick-start and accelerate a digital transformation journey in the country's formidable industries. NASSCOM's endeavour becomes more relevant in the current environment, where companies are doing their best to maximize capacity utilization. Such initiatives can go a long way in supportingindustries to embrace digital technologies that can increase efficiency and productivity.
The event was organized earlier this year from 15th July 2020 to 21st August 2020 and received registration from 88+ matured start-ups from across the country. Participating start-ups were encouraged to solve any of the challenges mentioned by presenting a proposal.
With the immense amount of support and all the overwhelming response to the event, NASSCOM is back with the updated and modified second edition of it 'MIC-2.' How is it different, you ask? This time there will be six different use cases falling under three broad categories- Resource Optimization Man and Machine, Improve Throughput, Supply Chain from six different leading manufacturing companies.
More than 200 start-ups are expected to participate in the event, these start-ups will be given the opportunity to get mentoring support throughout the event. The mentors will coach the start-ups and guide them to be better ready for the challenge. While the mentors put in their best efforts to guide them through this journey, a panel of eminent judges will help to identify and narrow down the best solutions put forward for the use cases through rigorous screening and selecting processes.
TATA COMMUNICATIONS has partnered as a sponsor for the event. The registrations for the event will go online from 12th October and will close on 30th October, 2020. If your start-up wishes to take up the challenge, don't forget to register. For further details and event updates, you can refer to the official website at
The post Manufacturing Innovation Challenge: Driving Enterprise and Start-ups Collaboration appeared first on NASSCOM Community |The Official Community of Indian IT Industry.