---
Making Work From Home Accessible With Cloud and Mobility Solutions
Blog: NASSCOM Official Blog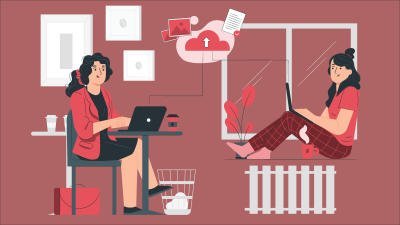 Every day we are dealt with the new regulation as to how we should be living our lives. It is a new situation we have to adapt to and adapt our businesses to as well. Guidelines for safety of citizens are currently geared towards honing a work from home environment and thereby stopping the spread of the coronavirus. Working from home is the 'new normal'.
The need for social distance has also reduced the ability for social interaction, office relationships, and access to office supplies. From organizations that have only in office work to those having manufacturing functions and others who work in a space built around person-to-person contact, they all require some element to pull them back together. Getting work done feels harder than ever and the only aspect seeming to pull people out of this is the cloud.
While there is no remedy for screaming children, barking dogs, and ringing doorbells, there are definitely solutions that are trying to ease out this process. Mobile accessibility solutions and cloud computing are trying to make working from home do-able, long term.
The Shift to Remote Work
Over the last 10 years, the concept of working from home has been consistently on the rise. Organizations have made their resources more accessible to their employees outside of the office. With travel becoming, easier businesses have made it easier to remove offices from the equation. Today, it has become more normal to meet for an evening chat over a video conference over getting coffee with your friends. However, there still are orders to be placed, quantities to be counted, services to be offered, bids to be made and projects to be completed.
The last thing anyone wants to do is make their work harder and learn to use a completely new interface from scratch. This is where many new systems have come into play. New cloud-based mobility solutions have created applications to digitize businesses while remaining seamless with processes from before. Cloud vs On-Premise has been a battle for a while, but in these times the scales have greatly shifted in favor of the cloud. It is a new generation of working from home with cloud computing.
The fact of the matter is that there is a big chance that you and your organization are already using some form of cloud services whether it is web applications that process forms via the cloud, email services, file sharing, and more. Right now is the perfect moment to take that one step further. Some of the most popular services you didn't even realize were cloud-based include Gmail, iCloud, Slack, and Microsoft Teams.
Mobility Solutions Are Powered By the Cloud
Consider this, imagine no organizations had set up systems to sustain a work from home lifestyle. Working from home means that there must be mobility of work resources. This means the documents, meetings, procurement schedules, research resources, and much more. The only thing that keeps these mobile working environments running is cloud computing.
Most companies without cloud computing would have had much larger of an uphill battle. However, one problem that has been seen across the board is the lack of laptops. Many organizations did not have the facilities to provide employees with laptops and they only worked on the desktops on the organizational network. Many new cloud systems such as Quixy and their process automation systems allow mobiles to benefit from the cloud systems. Additionally, a large number of employees can be all online on one platform making work from home a better reality than it already is.
Benefits of a Mobile Working Setup
From mobility to digital project data accuracy there are many benefits to shifting to an entirely cloud-based environment. These are the tools required to help prepare for any potential economic problems that ever unsteady world will throw at businesses. Not to be forgotten are also the project workflow, seamless security integration, and data storage.
Utilizing the power of cloud technology managers and other employees can maintain close relationships with one another. This also helps ensure that businesses can keep proper records from client communication on a cloud-based baseboard such as the project management functionality on QuickBase to ensure on-time and effective order fulfillment. Microsoft Azure really dives into the importance of this given any time and environment and how their system eases out the additional challenges being faced today.
The Skeleton of the Cloud
While you now know of the benefits of the cloud, you may still be questioning how it works. With tools that help you take your business to the cloud, you can expect a fast and agile infrastructure. While working from home with cloud systems you are basically using a variety of remote servers to process all of your everyday business needs whilst being able to scale quickly from home.
Working from home in most cases directly translated to an incomplete working set-up. However, while a cloud setup does not directly translate one to one to a traditional server set up it provides a large number of the same functions. Organizations that offer such services ensure data security and constantly modify their servers with new code and configuration as per the needs of the organization. This means one less job for you to worry about. Solutions such as AppSheet even help reduce the interim app creation step of becoming a cloud-connected enterprise by providing application outline modes.
In any case, this also means that you will never have to worry about building or buying new servers as that is something that the hosting organization will take care of. They will ensure to add on space as per your needs and provide a seamless experience you would otherwise have to worry about at your own office space. Additionally, with non-tech focused companies. Hosting data in the cloud helps ensure that recovery and retrieval of files can be made quicker in case of an emergency as the hosts have direct access when required, cutting out long and outdated processes.
Sustaining your business is obviously a top priority while working from home and mobility solutions are the only way to keep that up. Make sure you move your business to the cloud as soon as possible to ensure you never have to stop doing what you're doing. Research your options and set yourself up for success with remote working solutions.
The post Making Work From Home Accessible With Cloud and Mobility Solutions appeared first on NASSCOM Community |The Official Community of Indian IT Industry.