---
Key enablers for enterprise AI adoption: Towards Trusted AI systems
Blog: NASSCOM Official Blog
Trust is the lynchpin to enterprise wide AI adoption. While 57% of the respondents state that they trust AI to make operational and/or strategic decisions, only about 11% stated that they do not trust AI to make any decisions.
Enterprises at different phases of their AI adoption journey face different challenges and my previous article on Impediments to AI adoption: What enterprises "perceive" vs. what they actually "experience" highlights the top challenges faced by enterprises in the areas of technology and data, ability to quantify ROI, talent and culture, and trust, regulation and ethics. While the nature and intensity of challenges facing AI initiatives may vary, some key principles and methods can enable enterprises to enhance AI adoption and increase trust in AI systems, thereby generating long-term value.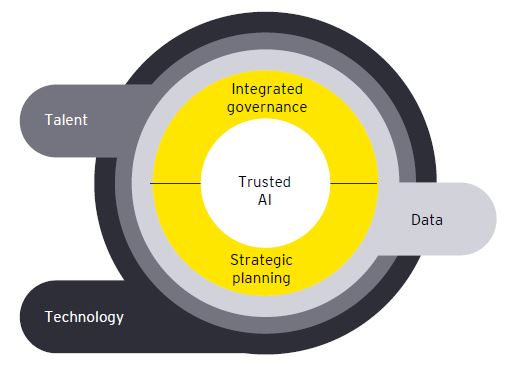 Getting the key levers of data, technology and talent in place through strategic planning and integrated governance is critical for a trusted AI systems.
Strategic planning
Strategic planning helps to integrate the key levers of talent, technology and data with a company's business objectives to help justify AI program investments.
74% of enterprises have established, either a formal strategy or obtained C-suite sponsorship to initiate or scale-up their AI programs
72% of CXOs believe that incremental changes to their underlying technology infrastructure may be sufficient for AI adoption
While talent is seen as a critical success factor, re-skilling of the existing talent pool is stated as the most preferred strategy by 78% of CXOs, enabling them to leverage the combination of newer skills that build on existing organisational knowledge
Preferred talent strategy
Integrated governance
Enterprises require integrated governance to promote reliability of data gathering, storage and its usage, with adequate safeguards built in through a robust risk management framework.
Almost 50% enterprises state that their data strategy has significant scope for improvement to ensure successful AI implementations
Dimensions for effective data strategy
88% business leaders indicate the need to establish/improve their risk management practices to address AI-specific concerns around ethics and biased outcomes
AI needs to be understandable, auditable and grounded on reliable data. Moreover, to ensure the development of trusted AI systems a mutually reinforcing combination of strategic planning and integrated governance is must
► bringing together required resources through strategic planning and investments from the highest levels of the organization
► Integrated governance including robust practices around data security and privacy
Download our full report "Can enterprise intelligence be created artificially? A survey of Indian enterprises" for more details and watch out this space for more interesting articles on AI.
NASSCOM and EY have also been working on sector specific playbooks to complement the survey analysis. These reports are completely tailored to the specific sectors.
The retail and healthcare playbooks are already out. Do check them out for sector specific insights and a bunch of AI opportunities to solve for key challenges.
Retail playbook – Indian retail: AI imperative to data-led disruptive growth
Healthcare playbook – Unravelling AI for Healthcare in India
The post Key enablers for enterprise AI adoption: Towards Trusted AI systems appeared first on NASSCOM Community |The Official Community of Indian IT Industry.