---
Indian Cryptocurrency Market – What to expect in 2021?
Blog: NASSCOM Official Blog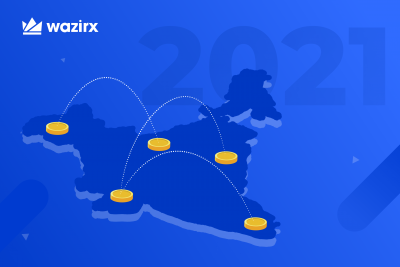 2020 experienced a Bitcoin boom, with bitcoin price in INR surging to 23,61,651 as we rang in the new year. In the duration between January 2020 and December 2020, bitcoin price in INR grew by an impressive 317.2%, according to YCharts. This boost in the valuation of Bitcoin and other cryptocurrencies such as Ethereum can be credited to central banks' global liquidity amidst the Covid-19 pandemic.
Finding a suitable cryptocurrency exchange in India has become easier, faster, and more convenient as we are shifting from banning them to formulating a suitable legislature to integrate them into the system. Here are some things you can expect from the Indian cryptocurrency market in 2021:
Rise of foreign investments in Indian crypto exchanges and companies
2020 was a successful year for any cryptocurrency exchange in India, thanks to the pandemic, which urged young investors to resort to digital currencies and investments for suitable returns. 2021 is set to witness a rise in foreign investments in cryptocurrency exchanges in India. Several investors such as Draper Associates, Coinbase, and Block have already taken a liking towards Indian crypto companies.
Cashaa, a foreign-based crypto player, has already announced a lucrative partnership with an Indian credit cooperative society to launch a crypto-friendly financial institution. This will operate physical branches of banks that will offer crypto services to customers.
Inclusion in the Union Budget
Every cryptocurrency exchange in India is being cautiously optimistic about the Union budget of the country in 2021. Given the series of positive developments and the appreciation in the price of cryptocurrencies, especially bitcoin price in INR gives them hope.
WazirX, your favorite leading cryptocurrency exchange in India, anticipates and hopes that the Indian government will provide much-needed clarity over important and long-drawn issues such as taxation on crypto gains, the possibility of every cryptocurrency exchange in India being brought under SEBI's purview, and much more.
Heavy trading volumes and signups
2021 is emerging as a promising year for Indian crypto companies, especially WazirX, which is a top cryptocurrency exchange in India. Even though there is a significant lack of regulations regarding cryptocurrencies in the country, WazirX and several other cryptocurrency exchanges in India have experienced a remarkable uptick in overall user signups, and trading volumes. It's honestly been quite phenomenal. We saw a nearly 28x rise in volumes between March and December.
This is estimated to rise and increase in 2021, as bitcoin price in INR and several other cryptos, continues to rise steadily.
Clarification on crypto laws in India
Finally, one of the most anticipated developments for the Indian cryptocurrency market is a much-needed clarification on crypto laws in the country. Even though the Supreme Court removed the RBI ban on cryptocurrencies, its regulations are extremely difficult to comprehend and probationary in nature. While crypto exchanges are legal in the country, cryptocurrencies are not.
This makes their operation in India extremely tricky and difficult. However, despite their apprehensions and concerns, there is no denying that cryptocurrencies and crypto-assets have a huge potential to genuinely make the financial system global while also promising high returns amidst the economic slowdown. Crypto laws in India need to be revised and improved, and a cryptocurrency bill is already being considered by the federal cabinet, as several reports have indicated. Hence, 2021 seems to be the year when crypto in India will be greeted with proper and welcoming legislation instead of limiting and restricting bans.
The Indian cryptocurrency market is on a steady, exciting rise. More and more young Indian investors turn to booming cryptocurrencies such as Bitcoin and Ethereum to make investments that promise them viable returns.
This blog was originally published
here
Subscribe
here
to get your weekly crypto updates
The post Indian Cryptocurrency Market – What to expect in 2021? appeared first on NASSCOM Community |The Official Community of Indian IT Industry.