---
#India #Digital Payments 2020 – Launching the First Adoption Index – Time is Now!
Blog: NASSCOM Official Blog
India's Digital Payments journey, which began in the early 2000s, has been nothing short of spectacular! Going from 3% of all cash and non-cash payments in 2005 to an estimated 58% by 2025, the phenomenal growth shown by digital payment modes* is extremely significant.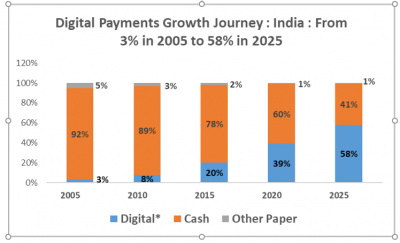 *Digital Payments include cards, mobile-based, QR based, wallet-based, and all other electronic modes of payments.
At the same time, smartphone penetration in India has risen from 2% in 2005 to 26% in 2015, 32% in 2020 and is expected to get to 36% by 2022. This is one critical trend that has boosted digital payments in India, leading to a 143% rise in UPI YoY, and similar growth in the emerging QR-based payments, AePS payments, and other payment apps. UPI is further projected to grow at a near 100% CAGR over the next few years.
More growth has emerged from the semi-urban and rural areas, with rural internet active users at 227 million exceeding urban users at 205 million for the first time ever! Another 550 million Indians use feature phones, a tremendous opportunity waiting to be monetized.
Together, these shifts have the potential to create a USD 1 Trillion market for digital payments by 2025, up from the projected USD500 billion projected for 2020 (Covid-19 may affect downwards some businesses, but other sectors may offer the hedge and overall growth momentum is likely to be sustained).
The journey to an all-encompassing digital payments inclusion needs thorough assessment of as-is gaps and future-state push and pull levers, now than ever before.
We started aggressively tracking and solving the gaps in digital accessibility and suitable payment methods after the massive success of UPI. Imagine, if we could have pulled forward this nation-wide digital payment adoption analysis by 5 years, to 2015. Where would India be today?
Some encouraging scenarios emerge:
UPI transactions could have grown 3-4X higher, driven by more low-cost smartphones and feature phone payment functions. Result: migrant, contract, rural workforce could have benefitted with contactless payments in times of crisis.
COVID-19 push could have further accelerated UPI adoption by 1-2X. Result: a sustainable behavior shift prompted by continuing growth in rural Internet users – 304 million monthly active users by end of 2020 – further increasing digital payment modes and adoption.
The seamless shift to digital payments by physical stores could have been easily affected. Result: fewer early challenges, better fiscal position with timely payments, and lower friction between physical and online deliveries.
NPCI's contactless and online onboarding for UPI and UPI QR could have already been in place. Result: a government-led push for simpler, more accessible, unified, and thus cost-effective digital payments framework in India.
Deals of the scope and scale of JioMart could have been preempted earlier. Result: the Indian Digital growth story could have leapfrogged even further.
But, as they say, that there is an opportunity in every adversity, Covid-19 has given an all-round disruptive push to drive first-time users to digital modes.
This is likely to be an irreversible and sustainably growing behavioral change that both individual consumers, as well as the industry, will have to monetize effectively for deeper digital payments adoption.
NASSCOM Insights and Paytm have joined hands to build the first India Digital Payments Adoption Index in 2020 that will generate become an important source of insights for businesses and solution providers to adopt and adapt to this #digital transformation!
References:
The post #India #Digital Payments 2020 – Launching the First Adoption Index – Time is Now! appeared first on NASSCOM Community |The Official Community of Indian IT Industry.