---
Impediments to AI adoption: What enterprises "perceive" vs. what they actually "experience"
Blog: NASSCOM Official Blog
Enterprises that have not implemented AI, believe that a low level of enterprise digitization is holding them back while the ones that are already on their AI journey, experience low maturity of the external ecosystem as the biggest challenge.
NASSCOM and EY recently launched a joint study on "Can enterprise intelligence be created artificially?" The report is based on responses from over 500+ CXOs who participated in our survey that was conducted during the period January to March 2020. The survey respondents were largely the CEOs and CIOs from large and mid-sized companies across India. Majority of our survey respondents represented sectors comprising Retail, BFSI, Healthcare and Agriculture.
One of the key focus area of the study was to address – What is it that is holding back organisations from implementing AI? The extensive research effort uncovered that the key impediments to AI adoption faced by Indian CXOs can be broadly bucketed in four areas of Technology and data, Ability to prove ROI, Talent and uclture and Trust, ethics & regulations. The below info-graphic highlights the top challenges in each of these areas.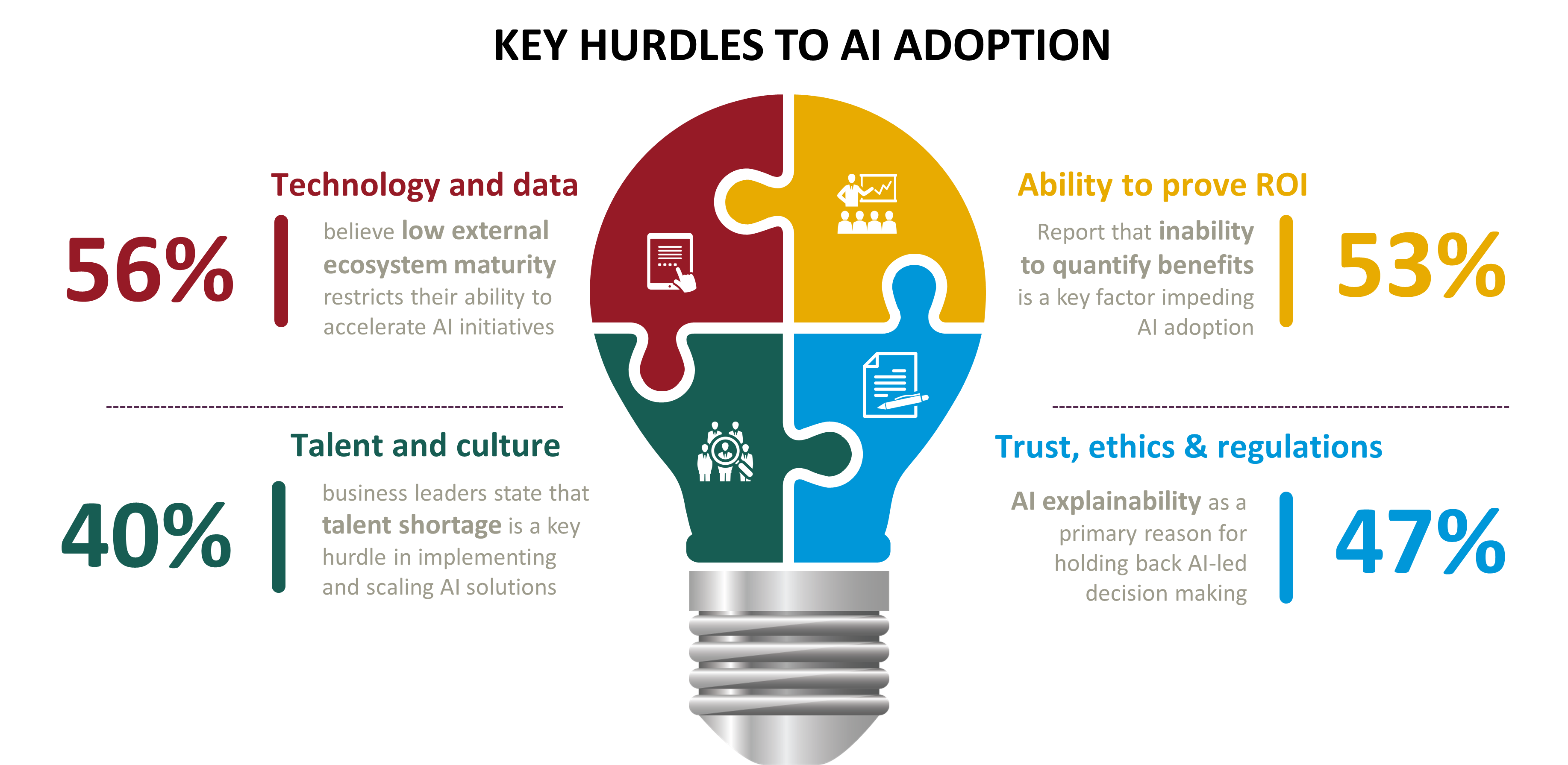 In addition to the above top challenges, there are many other concerns that the CXOs expressed during the course of this study and the same are illustrated in the info-graphic below.
Download our full report for more details and insights
CXOs report differences in their experiences with, and perceptions regarding, AI adoption
While we surveyed CXOs from enterprises that were in different stages of their AI adoption journey, we realised that there is a difference in the experiences with and the perceptions regarding challenges to AI adoption. The enterprises that have implemented AI in some form and those that are yet to deploy AI differed in their opinion of the key challenges and concerns pertaining to AI deployment. The info graphic below compares the responses of the two sides.
AI has something for everybody, and enterprises at different stages of their AI journey face different challenges. Sustaining the AI advantage requires organisations to address challenges related to talent, data, technology and governance, including critical aspects related to AI ethics, accountability and explainability. Doing so, will enable business leaders to build stakeholder trust and rapidly scale their AI programs. These aspects along with a roadmap for enterprise AI adoption would be addressed in my next article.
We are also working on sector specific playbooks that are completely tailored to that sector. The retail playbook is already out Indian retail: AI imperative to data-led disruptive growth. Download our full report "Can enterprise intelligence be created artificially? A survey of Indian enterprises" for more details and watch out this space for more interesting articles on AI.
The post Impediments to AI adoption: What enterprises "perceive" vs. what they actually "experience" appeared first on NASSCOM Community |The Official Community of Indian IT Industry.