---
How to Execute the Right Process Improvement Strategies for Your Company
Blog: Solutions Review - Business Process Management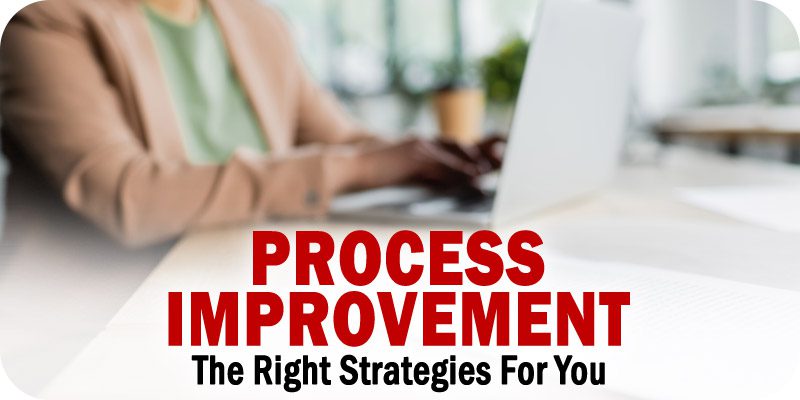 As part of Solutions Review's Premium Content Series—a collection of contributed columns written by industry experts in maturing software categories—Irina Lunin, the Vice President of Research & Development at Blueprint Software Systems, shares some insights on assessing business process improvement strategies for your company.
The processes used to get work done continually evolve to maximize efficiency while reducing costs. More and more enterprises are turning to business process analysis (BPA) to meet this challenge head-on. BPA provides a more holistic version of the traditional business process management model. BPA provides a structure for documenting how work gets done, analyzing that work, assessing its value, and, ultimately, executing better processes through a process improvement strategy. 
By relying on data to identify business processes and determine the best ways to improve them through alignment with its business objectives, BPA can continuously increase efficiency, lower costs, and drive higher value. However, enterprises need to employ appropriate BPA techniques and process improvement strategies to get there. Generally, enterprises should apply five analysis techniques to their BPA efforts to realize immediate results and make better business decisions regarding their business processes.  
A Value Analysis

enables a business to quantify the value a process is currently delivering. Value analysis uses metrics like duration, cost, resources,

and decision probabilities to attribute value to the work represented by each method, helping ensure the process delivers maximum value and aligns with overall business objectives.

 

A Gap Analysis

identifies the discrepancy between where a process currently stands and where the organization wants it to be, making it easier to implement changes and solve that gap. Gap analysis works hand-in-hand with value analysis to help companies determine

how much a process should be delivered and what changes—i.e., quicker execution times, variances, or using fewer resources—are needed to make that happen.

 

A Root Cause Analysis

identifies and removes the discrepancy between the current state of the process and the improved future state. While similar to a gap analysis, root cause analysis allows an enterprise to focus on waste, redundancies, or other issues limiting performance and identify what steps must be optimized to achieve the desired future state.

 

A Predictive Analysis

allows an enterprise to plug the new values developed from the value and gap analyses into problematic areas of the process uncovered in the root cause analysis to simulate the execution of a new, improved process. Doing so enables the enterprise to close gaps before deciding on the best process improvement strategy.

 

An Impact Analysis

connects existing processes and steps to relevant applications, systems, policies, rules, and regulatory obligations to instantly measure the impact these dependencies have on each other and mitigate any changes to the process or process dependencies. A business can consider these dependencies by running impact analyses during process improvement initiatives.

 
Once a process has been analyzed and its value assessed, the enterprise will be better positioned to choose the improvement strategy that delivers the most significant value. Enterprises typically employ four process improvement strategies: modernization, optimization, standardization, and automation.
Modernization
Modernizing processes can extract processes from limiting legacy environments and re-platform them onto more efficient, modern technologies. For example, re-platforming existing automated processes from legacy RPA platforms onto newer generation RPA tools can lower the cost of ownership, increase accessibility to automation, improve capabilities, enable scale, and produce higher returns.  
Optimization
Optimizing processes refers to leveraging predictive analytics and simulation capabilities—for example, simulating changes to resources, costs, execution times, etc.—to optimize improvements before they are implemented. A strong BPA practice is built on regularly optimizing processes, regardless of whether those processes are manual, automated, or outsourced. 
A business process analysis solution that acts as a central, consolidated process hub enables effective process optimization. It also lets you run what-if scenarios across processes to localize areas for optimization. 
Standardization
Standardizing processes drives consistency, improves quality, and increases process execution times. A large enterprise running thousands of processes can leverage the commonalities possessed by those processes. Reusing processes or process components that have already been vetted, tested, approved, tuned, and proven to deliver value also provides numerous benefits, including reducing the volume of processes needing management and increasing returns with marginal investment.
A good BPA solution will empower process reuse, allowing organizations to shift into a mode of assembling processes from standard components instead of authoring them from scratch. Doing so will increase quality, consistency, and speed. 
Automation
Automating processes is arguably one of the most prioritized process improvement strategies. Process automation streamlines a system by removing all human inputs, decreasing the potential for errors, increasing delivery speed, boosting quality, minimizing costs, and simplifying the business process. For enterprises, applying analysis techniques to their BPA efforts and then choosing the appropriate process improvement strategy (or combination of systems) should never be a matter of If but When (and perhaps Why Not Sooner). 
The bottom line is this: organizations must continually evolve and grow to keep up in a rapidly changing world. However, with so many internal and external factors at play, that cannot happen unless the business can solve two primary pain points: understanding how work gets done; and improving that work through structured optimization. To get there, enterprises must be willing to take steps to analyze their processes thoroughly, assess their value to the entire operation, and implement the process improvement strategies needed to maximize efficiency, minimize costs, and drive value. 
---
The post How to Execute the Right Process Improvement Strategies for Your Company appeared first on Best BPM Tools, Vendors, Software and BPMS.