---
How Can Businesses Increase Interoperability of IoT technology With Web of Things (WoT) Thing Description (TD)?
Blog: NASSCOM Official Blog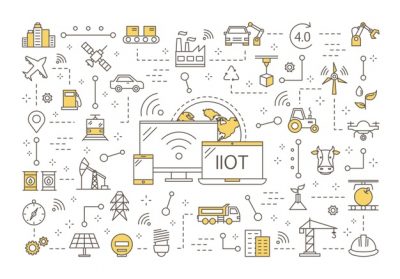 With the diversity of technologies used in the Internet of Things (IoT), such as protocols and data models, businesses are frequently facing high integration and maintenance costs in IoT projects as well as the demand to avoid secluded silos that often leave them stuck with obsolete software and falling behind in innovation. The W3C Web of Things (WoT) keeps the obligation to oppose the fragmentation of IoT by specifying a Web-based abstraction layer for existing services, programs, devices and gateways. By complementing existing standards, Web of Things (WoT) Architecture enhances interoperability thereby reducing the risk for investors and customers. The Web of Things (WoT) Thing Description (TD) is also applicable to various IoT domains, where regulation of the W3C WoT standards can clarify the development of IoT systems that connect devices from several vendors and environments.
The Need to Implement Web of Things (WoT) in IoT
One of the key components of how the W3C membership builds standards is by implementing the standards as they are being built. This has resulted in the Web of Things (WoT) Technologies being available today in a number of solutions in the technology industry. Currently, we know that a global network helps connects people via desktops, laptops, tablets, and phones that are used to communicate with each other. Usually, the information we send around goes via servers that run websites, email software, etc. These IoT systems have applications across industries via their distinctive flexibility and ability to be appropriate in any environment. They ameliorate data collection, operations, automation and much more via smart devices and powerful enabling technology. As more "things" are converted to the inventory of digitally connected Internet devices, the roles and accountability of web developers and technology managers will need to develop in keeping pace with the ever-expanding list of appliances and gadgets that need a web interface. This global innovation is known as the Internet of Things (IoT), and as a vision has inspired that same premise for Web of Things(WoT), and incorporates similar features. The web has been an already established system that can permit all things to communicate with each other in the most dexterous manner. Therefore the Web of Things is intended to enable interoperability across IoT Platforms and application domains.
What is Web of Things (WoT) Thing Description
The Web of Things (WoT) Thing Description is the fundamental building block in the W3C Web of Things (WoT) and can be acknowledged as the admission point of a Thing (much like the index.html of a Web site). A Thing Description (TD) instance has four main components:
Textual metadata about the Thing itself

Set of Interaction Affordances that indicate how the Thing can be used

Schemas for the data exchanged with the Thing for machine-understandability

Weblinks to express any formal or informal relationship to other Things or documents on the Web.
What is Web of Things (WoT) Architecture
The goals of the Web of Things (WoT) are to improve the interoperability and usability of the Internet of Things (IoT). Through a collaboration involving many stakeholders over many years, several building blocks have been identified that help address these challenges.
This specification is focused on the scope of W3C WoT standardization, which can be broken down into these building blocks as well as the abstract architecture that defines how they are related. The building blocks are defined and described in detail in separate specifications. However, in addition to defining the abstract architecture and its terminology and conceptual framework, this specification also serves as an introduction to the WoT building blocks and explains their interworking.
How Can Businesses Increase Interoperability of IoT technology With Web of Things (WoT)
The WoT extends the IoT in order to enable access and control of physical objects using web standards. The objects are expected to show up logical interfaces via web services, to describe web contents and services using semantic web languages and annotations, and to communicate together via standard protocols in order to provide software interoperability between objects. Such a WoT marketplace should permit developers and industrial companies to distribute their software applications and components and should endue end-users with software pieces, allowing them to implement various functionalities into their objects in order to perform dissimilar tasks.
The Web of Things and Smart Homes
The smart home environment is probably symptomatic of the (too) vast number of standards and protocols that exist for connecting things to networks. Although all devices in your home should talk to each other, they can't because those protocols are incompatible and you end up with more apps and remote controls than ever before. The Web of Things offers an alternative approach where web languages are the baseline, the minimal API that devices should offer either directly or indirectly through gateways.
The Wireless sensor networks (WSNs) and the Web of Things
It's understandable that the majority of wireless sensor network (WSN) devices weren't designed for the public. Those platforms were intended to be mainly programmed by experts. The ability to communicate with embedded sensors using standard web protocols makes the collection, storage, and analysis of data from miscellaneous sensors much simpler.
The Web of Things and Smart Logistics
Imagine a web-enabled supply chain that knows in real-time the temperature, product longevity and can send alerts as soon as the conditions change or even regulate automatically according to the type of the products being stored and transported. Sharing historical data about devices using web standards will make it much easier for multiple applications to work together across the whole lifecycle of products. This means much lower integration costs and high data integrity across the different systems that will process and handle those products.
The Web of Things and Wearable
Integrating wearable and quantified-self devices on the web, so that the data is directly accessible by other devices and applications will make it much easier to develop new classes of extensible applications for elder care, health and fitness, or fun and sports.
The Web of Things and Industry 4.0
Using web standards to interconnect all the elements in a business process, such as the shop-floor machinery, enterprise software, employees in various departments, products, customers, and suppliers, IoT will represent a significant revolution in Industry 4.0. When all the devices in these processes are able to automatically decide how best to perform their duty based on real-time data, there's no doubt that the way we design, manufacture, and distribute physical products will be profoundly changed.
The Web of Things and Smart Cities
Using web standards in the context of smart cities is particularly interesting because they make it much easier to share sensor data with the public and make it easy for developers to consume real-time data about traffic, pollution, or public transportation in their own urban applications.
Conclusion
The Web of Things is an evolution of the Internet of Things (IoT) services that refer to the adoption of technology that will enable this sort of global functionality among smart devices. The WoT was inspired by the IoT as in common day-to-day devices are connected to the Web and can communicate via different systems. The Web of Things is not just another vertical IoT technology stack to compete with current platforms. It is intended to integrate a horizontal application layer to bridge together multiple underlying IoT protocols. The key point is that this doesn't involve the reinvention of the means of communication because current standards are used.
The post How Can Businesses Increase Interoperability of IoT technology With Web of Things (WoT) Thing Description (TD)? appeared first on NASSCOM Community |The Official Community of Indian IT Industry.