---
Here's Why Mid Range Chinese Phones are Still Going Strong this Year
Blog: NASSCOM Official Blog
There was a definite anti-China sentiment brewing due to growing border tensions between India and China in recent months. However, surveys (and hard statistics) have proven that the Indian market is most likely going to continue to lap up Chinese smartphones. It is not that Indians buying these products do not care about these sentiments; they are simply motivated by better prices and an overall better product.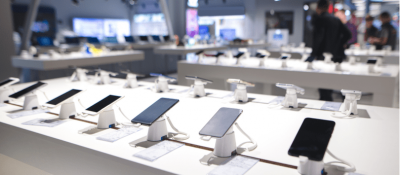 A survey conducted by Counterpoint Research found that only 40% of Indians were likely to boycott Chinese brands due to the fall-out. Experts reason that alongside price, availability (or lack of) of alternatives has probably also prompted Indian smartphone users to continue looking towards Chinese brands for their upcoming smartphones.
Chinese brands have also been keen to shrug off association with the anti-China sentiment that is likely to affect their sales. They want their phones to be seen as made in India phones. They are publicizing and talking up their factories in the country, putting logos on the boxes of made-in-India phones (that is phones manufactured in factories within India), and doing everything in their power to showcase that they've got legs in India, even if they are Chinese by birth.
The problem is that there is really no other choice available to Indian smartphone buyers, unless they want to pay more for less. If you're looking to get the best smartphone under 25,000 INR, you'll get stellar features from a brand that is Chinese by origin, but offers made-in-India features. You might have to pay more for a phone from a fully home-grown brand. This is because some components are still imported – like chipsets, for instance.
Samsung is one of the few brands that offers competition to the Chinese brands, but again, Samsung is not fully home-grown either. Like the Chinese brands, it has simply established manufacturing capabilities here.
Something that you, as a thinking smartphone buyer with a conscience, might want to know is that these Chinese brands are investing in India, and expanding their factories, and therefore hire local staff here. Many of their agreements allow them to scale up production and even export phones from India to other parts of the world.
India reportedly has over 200 smartphone manufacturing centres in the country across all the brands. Many of these are Chinese. India also exported over twice as many made-in-India phones in the last fiscal year as compared to the fiscal year prior to it.
A simple look at the features being offered in the best smartphones under 25,000 INR by Chinese brands also helps us understand why these brands are unlikely to lose ground here.
The OnePlus Nord offers a 6GB RAM version in the under Rs. 25,000 price segment (there are also 8GB RAM and 12 GB RAM versions in the under Rs. 30,000 price segment) and is powered by a Qualcomm Snapdragon 765G chipset. The phone also packs a wide angle camera lens, and can capture 4K videos. Gamers will be delighted to know that it comes with a 90Hz refresh rate, while the phone offers 5G capability.
The Redmi K20 Pro also has a 6GB RAM version for the under Rs. 25,000 price segment (there is also an 8GB RAM version available in the under Rs. 30,000 price segment). It comes with a Qualcomm Snapdragon 855 chipset, and houses a 20MP pop-up front camera and supports 27W fast charging.
The Vivo V19 smartphone comes with 8GB RAM and a 48MP quad-rear camera setup. The smartphone comes with storage variants of 128GB and 256GB (the latter is priced marginally higher), while also housing a 32MP dual front camera setup. This phone also comes with a 33W fast charging feature to boot.
The post Here's Why Mid Range Chinese Phones are Still Going Strong this Year appeared first on NASSCOM Community |The Official Community of Indian IT Industry.