---
Future of Technology Services, Navigating the New Normal
Blog: NASSCOM Official Blog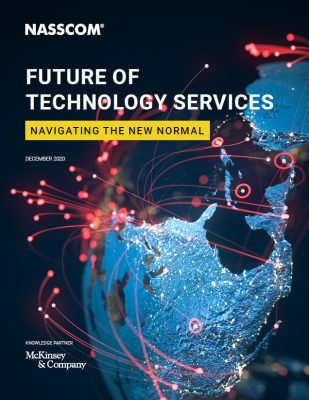 The global pandemic has had tremendous impact on the global and Indian technology services industry. There are several immediate shifts as well as global mega trends that offer new opportunities and challenges which need to be thought of now. New delivery models, workforce of the future, the digital consumer, emerging ecosystems are themes which will affect the industry in a big way.
Companies need to develop a two-part response to the evolving landscape: near term plan of action and long-term strategic rethinking.
This report forms the microscopic view addressing the 12-18 months' time frame called 'Navigating the new normal'. It will be followed by the next report which forms would form the telescopic view addressing a 3-5 year time frame called 'Winning in the next decade'.
Key Report Highlights
~65% of market cap gains driven by Tech Natives and Digital Reinventors

Share of Tech Natives and Digital Reinventors in the overall outsourcing market will rise significantly in the next 3-5 years

Demand recovery varies significantly by micro-vertical

Hi-Tech, Telecom, Lifesciences and Medical Devices, Healthcare, Grocery/Retail, Consumer Essentials, Media, P&C and life insurance – show favorable outlook
While Aero & defense, Heavy engineering, Automotive, Non-grocery retail, Airline and Hospitality – facing challenging outlook
Enterprises have transformed: 5 big themes emerge

CIOs taking center stage: Evolving role during pandemic; Active reprioritization and variabilization of spend; Speed: The new key buying factor; Preference for strategic and stable partners; Innovative commercial constructs for Digital propositions
Key shifts in sales development process post Covid-19

Significant acceleration in proactive selling; Existing accounts drive growth; focus on innovative commercial models and personalized and innovative virtual marketing approaches; Re-skilling salesforce becomes necessary to drive virtual sales
Download the full report here.
The post Future of Technology Services, Navigating the New Normal appeared first on NASSCOM Community |The Official Community of Indian IT Industry.