---
Fashion & Lifestyle Retail – Charting a roadmap for survival during COVID
Blog: NASSCOM Official Blog
The COVID-19 pandemic has battered and halted economic engines globally, and one of the worst affected is the fashion and branded retail industry.
The major catalysts on which the fashion industry thrives are socialization, travel, and festivity. Unfortunately, the prolonged lockdown has suspended the demand side of the business. Retailers and fashion houses had stocked up on fresh collections in the month of February in anticipation of high-growth Spring-Summer season. However, the COVID-19 black swan event has pulled the shutters down on all plans and created a near-panic situation.
Even in August, almost 120 days past the first 'Unlock', most fashion retailers were reporting sales at 25%-35% of pre-COVID levels. In everyone's mind, there is one key question "How long will the lockdown last?"
To survive these trying times, fashion labels and retailers must take drastic measures to reduce and manage their three key costs – manpower, rent, and supplier payments.
Salaries – Companies will need to reduce their fixed salary cost by almost 50%. They must also endeavor to move to a variable pay structure linked to organizational revenues, at least till volumes return to pre-COVID levels. Given the radical change in the business models, reskilling employees to fit into new assignments should be a priority for Human Resource teams.
Rent – The existing fixed rental model can no longer work. Organizations must renegotiate with landlords and move to revenue share or other variable payment terms.
Supplier payments – Organizations will need to balance the need for better payment terms with ensuring their suppliers can continue operating without significant impact. A gradual release of suppliers' payment based on sale for the interim period will help ensure this.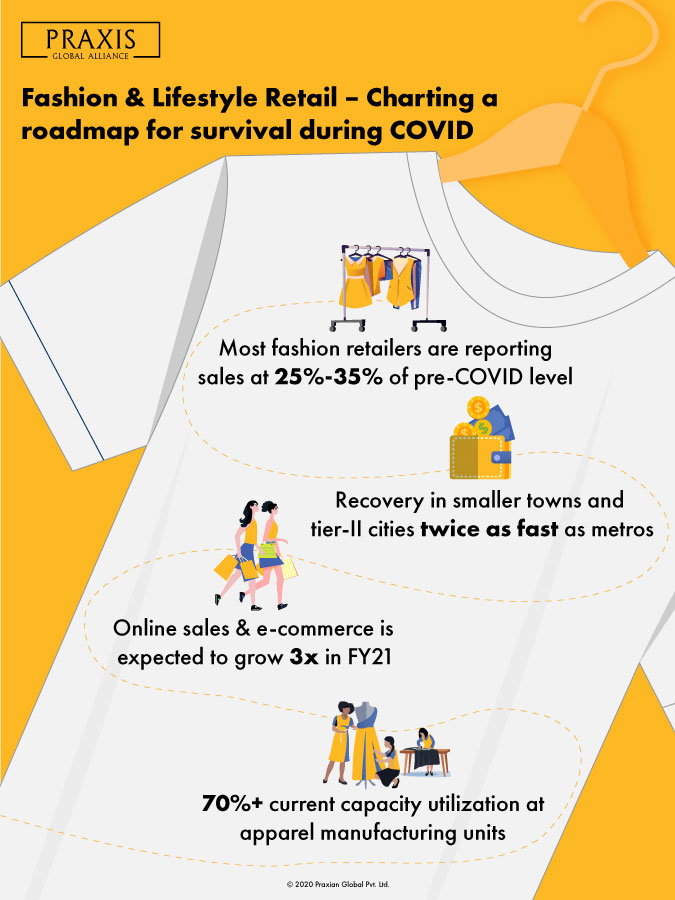 Nearly five months after the lockdown, we are beginning to see some rays of hope. Research suggests that we are likely to see a flattening of the curve by September end, followed by the availability of a vaccine in December. This gives tremendous hope to the industry. With Diwali falling late this year, in mid-November, and the expected release of long bottled-up consumer emotions, there are high chances of better days in fashion and lifestyle retail.
Human trials of vaccines have started in India and other countries
Reverse migration of workers has begun, and manufacturing units are back at 70%+ capacity
Online sales and Ecommerce is expected to grow 3x this year
An above-par monsoon is expected to boost consumption
Smaller cities and towns are recovering twice as fast as metros
Orders for the winter season collection are being prepared
Backed by optimism and festivity we expect the end of the third quarter will see much better days for Fashion Retail. It is important to stay on course, probably we have just crossed the worst period.
Authored by:
The post Fashion & Lifestyle Retail – Charting a roadmap for survival during COVID appeared first on NASSCOM Community |The Official Community of Indian IT Industry.