---
Engineering Pulse Survey 2020 – Digital Transformation, the 2021 imperative
Blog: NASSCOM Official Blog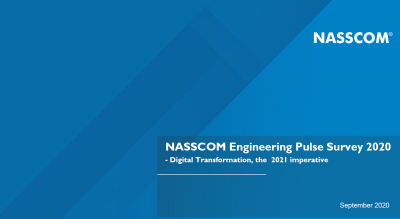 Businesses around the world have been recalibrating their business models, operations, processes and product/service portfolio to the changing customer landscape. This has been brought on by macro-economic factors (trade wars, growing protectionist sentiments), slowing demand & demand shifts (own vs. As-a-Service), consumers seeking highly personalized experiences leading to hyper-customization, impact of digital technologies and more.
This journey got a booster shot from the COVID-19 pandemic as it fast-tracked the digital transformation journey of customer enterprises. Engineering R&D firms incl. GCCs have been helping customers on this journey for long; however, given the rate of change, the ER&D industry felt the need to explore how the B2B and B2C customers are changing and better understand its implications on their portfolio offerings.
With this in mind, NASSCOM ER&D Initiatives and NASSCOM Research teams, partnered with Future Factor launched this Voice of the Customer initiative – aimed at getting insights of impact of COVID-19 on business, anticipated recovery period, understand trends in investments & ER&D budgets and the impact therefore on ER&D players.
We also wanted to gauge customers' perception of how well India's ER&D ecosystem performed during the crisis and the expectations for the future. We expect the findings to help ER&D players to chart their medium to long term roadmap in response to these market forces.
Access this report here: https://bit.ly/3ctVynS
I hope you find this report useful. Do share your feedback/suggestions at: diksha@nasscom.in.
The post Engineering Pulse Survey 2020 – Digital Transformation, the 2021 imperative appeared first on NASSCOM Community |The Official Community of Indian IT Industry.