---
Do's and Don'ts of retail POS testing
Blog: NASSCOM Official Blog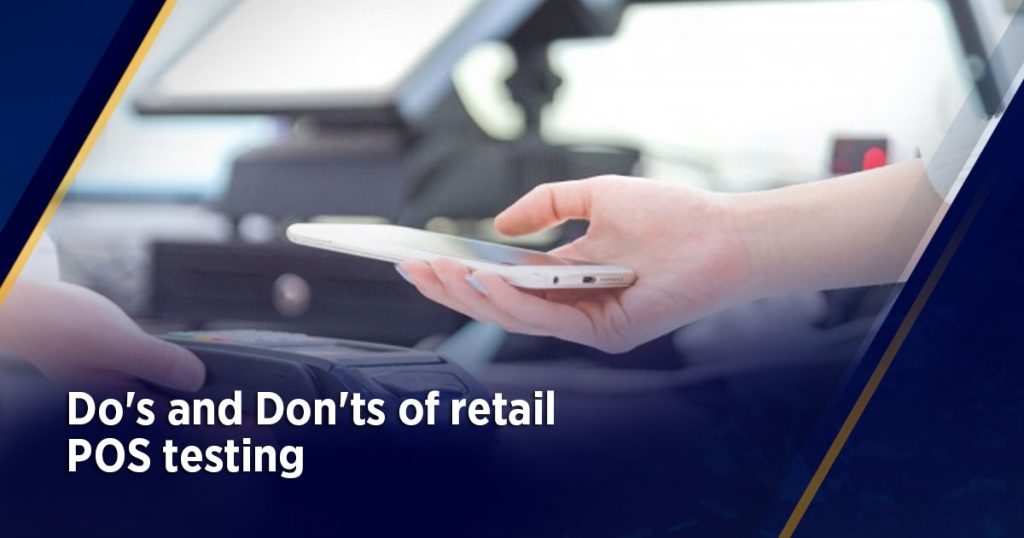 POS testing should follow certain dos and don'ts such as studying customer issues, taking the opinion of every stakeholder in the retail ecosystem, not depending entirely on test automation, and redeploying the workforce for higher-value services.
Digitization, by making the delivery of products and services, convenient, speedy, reliable, and cost-effective, has benefited the end customer with numerous touchpoints the most. One of the areas where digitization has made its presence felt, apart from creating a whole virtual ecosystem, has been the retail sector. Enterprises have adopted the use of computer systems to perform a slew of functions such as inventory management, sales, cash handling, marketing, and delivery. Among the computer-based retail touchpoints transforming the end-user experience are the Point of Sale (POS) terminals. Used across the end-to-end spectrum of retail operations ranging from small kiosks to large hypermarts, POS terminals calculate voluminous transactions within a twinkling of an eye and help cash handlers in particular or retailers in general in computing transactions, accurately, fast, and reliably.
These systems help the retail sector to increase productivity and sales, lower operational costs, and improve customer satisfaction. In addition to calculating a series of transactions, the POS systems can offer a host of functions as well. These include self-checkouts, online store access, gift registries, loyalty programs, and checking of prices, among others. Notwithstanding the many functions, the POS terminals should be a part of retail testing to enhance customer service and satisfaction. Imagine a hypermart handling thousands of transactions with scores of customers lining up at the POS touchpoints. What happens if one of the terminals or the entire network suffers an outage or malfunctions? The management of transactions can go for a toss leading to chaos, taut nerves, customer dissatisfaction, and even disavowal of the store or hypermart.
Why is POS testing important?
POS terminals are important customer touchpoints at places like airport check-ins, ATMs, utility payments, or paying for fuel at the gas station, among others. Using such POS terminals, retailers can do away with mundane activities such as bookkeeping with excel and operating cash registers, among others. Since POS terminals are a combination of hardware and software, retail application testing should be an integral part of their manufacture. It helps to maximize the potential of a retail store by generating more sales and enhancing the in-store experience of the customers. However, testers should know the dos and don'ts of POS testing to ensure the outcome is aligned to the business objectives of retail stores.
Dos and don'ts of retail testing
Since the POS systems are driven by software applications, the same must undergo retail app testing to lower operational costs and improve customer service. To ensure the same, QA specialists should follow the below-mentioned dos and don'ts.
Dos: Study the customer or employee issue(s)
Analyze the level of interaction of your customers with the POS system. The system should integrate into the overall retail management system offering customers speed, accuracy, and convenience. Also, not all retail applications will be alike and should address the specific needs of a particular store or mart. You should study the specific issue(s) faced by the customers or employees running the store and ensure the retail application is able to address it.
Don't: Limit your opinion to the IT department alone
Before planning the course of POS testing, it is better to take the opinion of every stakeholder like operations, marketing, and IT running the retail ecosystem. This is important as the app running the POS is not only an information technology system but one that delivers better customer experience as well.
Dos: Realign the workforce
POS applications should facilitate better customer experience at check-out in the form of customer self-service. This should free the store employees from performing routine transactions to other higher-value activities like up selling. The POS systems should not be considered as stand-alone solutions but as a means to upgrade customer experiences in a broader context. Hence, the retail testing strategy should look at validating various functionalities in the POS system to maximize customer interaction and satisfaction.
Don't: Depend on retail test automation entirely
To perform retail application testing involving various dependencies, it is never a good idea to depend entirely on test automation or the use simulators/emulators. Rather, testing on real devices can help to identify UI defects better. Also, since the process of retail test automation is mostly devoid of human observation/intervention, manual testing, especially to undertake usability testing, should be made an integral part of retail testing to improve customer experience.
Conclusion
As the retail industry (online and real) is expanding rapidly and incorporating digital technologies to streamline operations, lower cost, and improve customer experience, retail software testing should be made an integral part to validate the functioning of POS terminals.
The post Do's and Don'ts of retail POS testing appeared first on NASSCOM Community |The Official Community of Indian IT Industry.