---
Digital Hybrid Workplace: Adapting to the New (Ab)normal
Blog: NASSCOM Official Blog
By Prashanth Machaiah and Jemkumar Mathew, Fidelity Investments, India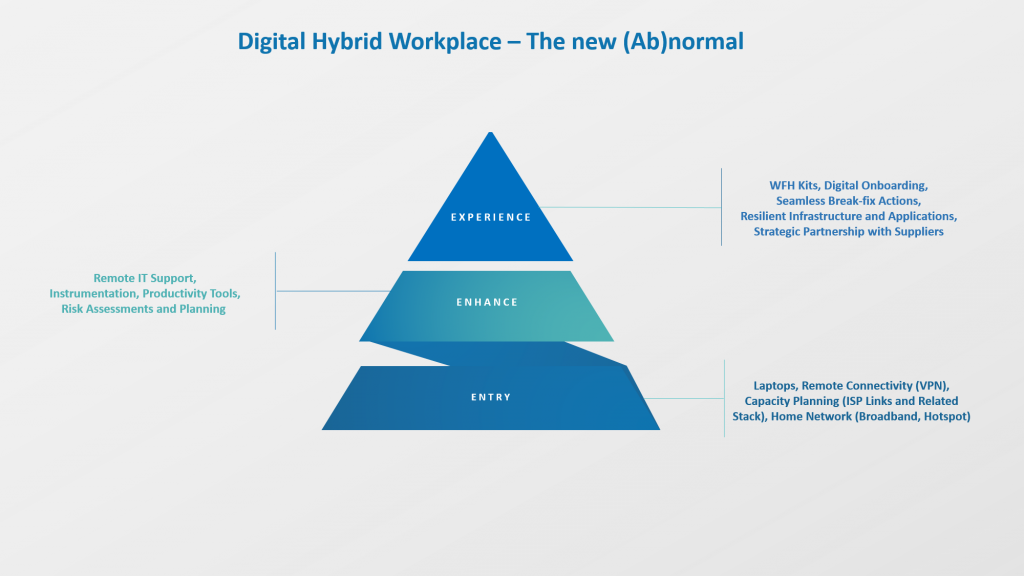 For any organization, especially in these times, ensuring business continuity and seamless business operations amid various uncertainties including employee health and safety, bearish markets, and changing customer requirements can be quite challenging. In this scenario, several enterprises have taken tangible actions to effectively prepare for this new (ab)normal.
IT infrastructure
One of the foremost requirements of any industry leader in these times is to get ahead of the curve, be prepared for any eventuality and be an early mover. Building technology infrastructure capacity and business resiliency in a timely and periodic manner is a key enabler for ensuring a seamless, smooth and high-speed technology experience for associates who are bound to have to work from anywhere and at any time, regardless of the hardware and software platforms used.
Continuous monitoring, trend analysis, tweaking and upgrading of the ISP links and corresponding extranet stack, along with the acquisition of software and hardware for enabling remote connectivity to meet and surpass the peak utilization at any point are key steps for enabling a digital hybrid workplace. While infrastructure readiness keeps the enterprise functioning in the interim, ensuring the right ways of instrumentation and measurements by the command center are essential for reviewing data and deriving insights. Even as the IT teams use the data for risk analysis and short- to medium-term mitigation planning on the critical IT infrastructure, application availability, and access constraints, it also opens up avenues for planning infrastructure overhauls, increased cloud adoption, and strategic engagement with key suppliers and vendors in the long term.
Newer ways of working
Times such as these also automatically propel enterprises into considering new and more digital ways of working. Timely assessments of existing tools, and investments in newer digital tools to enhance productivity and efficiencies play a crucial role in equipping the workforce to embrace new ways of working and thereby benefit the business.
With associates working remotely across the country, IT teams should be equipped with the right tools and technologies to provide them remote support around-the-clock. Enabling critical associates with essential IT assets such as additional monitors, power backup, keyboards and the like will ensure key business deliverables are not impacted. In addition, actions such as providing a seamless digital onboarding experience for new associates and a robust support system to assist both new as well as existing associates in addressing hardware and software issues will provide a huge boost to the associate experience. It will also help ensure such practices become part of the new way of working for an organization. Times such as these are great opportunities for organizations to innovate and implement newer ways of approaching and addressing issues.
Looking beyond the current crisis
Thus, even as organizations look to adopt new, digital ways of enhancing business processes, such times also provide a good opportunity to invest in a robust, resilient IT infrastructure that will not only help boost their business continuity strategy but also at the core their very way of working and delivering value to customers.
The post Digital Hybrid Workplace: Adapting to the New (Ab)normal appeared first on NASSCOM Community |The Official Community of Indian IT Industry.