---
Conceptualizing AI as a General Purpose Technology
Blog: NASSCOM Official Blog
AI's true potential emerges from its ability to drive transformation across multiple sectors through diverse range of applications. Research suggests that we can best understand the implications of AI by viewing AI as a General Purpose Technology (GPT). AI as a GPT implies, that AI led innovations will be reflected not only as direct contribution in the sectors it is applied to, but also drive complementary innovations and spillover benefits across the economy.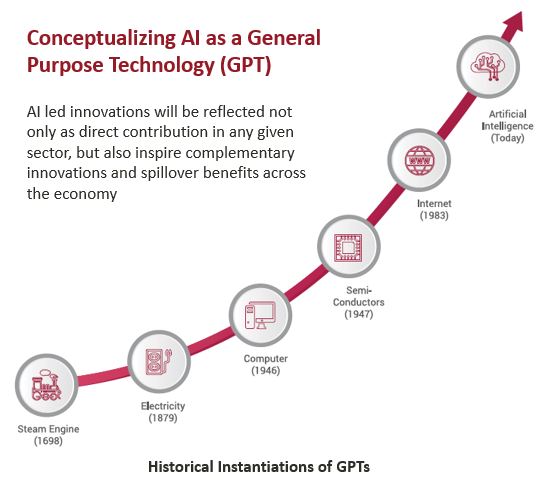 Source: Implications of AI on Indian Economy
"For more than 250 years the fundamental drivers of economic growth have been technological innovations…… The most important general-purpose technology of our era is artificial intelligence, particularly machine learning." —Erik Brynjolfsson and Andrew McAfee, 2018
Three critical features characterizing GPTs that AI fulfils:
GPTs are pervasive, evolve and improve with time, and play role in enabling innovation.
Pervasiveness: AI pans across various "application sectors" including automotive, banking, consumer goods, healthcare, insurance, pharmaceuticals, retail, telecommunications, and transport and logistics sectors, etc., making it pervasive
Technical Improvements: Field of AI continues to undergo significant transformations, not just in terms of performance and applicability but also changing trends in various AI techniques like the rise of game theory, machine learning and natural language processing
Enabling Innovations: Diffusion of AI has enabled a wide range of activities that were unimaginable before. AI's predictive capabilities are reducing costs and altering organizational costs across verticals
Like other GPTs in the past, the effects of AI will not be fully realized until waves of complementary innovative solutions are developed, implemented and deploying. GPTs have unlocked the growth potential and played a significant role in driving economies. AI fulfils certain fundamental characteristics of GPTS as highlighted above, and thus to is expected to validate the future promise of AI-driven economic growth. When one thinks of AI as a GPT, the implications for output, welfare and productivity gains are huge.
Conceptualising AI as a GPT and its adoption will:
Drive innovation across sectors
Generate social benefits and improve welfare/productivity
Result in spillover benefits throughout economy
NASSCOM, ICRIER and Google conducted a joint study on Implications of AI on Indian Economy. The report traces the impact of AI on the Indian economy using an econometric model to estimate the impact of GPTs, such as AI, on firm productivity.
Watch out for more interesting articles on AI !
References
[1] Implications of AI on Indian Economy
[3] Artificial Intelligence and the Modern Productivity Paradox: A Clash of Expectations and Statistics
[4] http://ide.mit.edu/sites/default/files/publications/2019-04JCurvebrief.final2_.pdf
The post Conceptualizing AI as a General Purpose Technology appeared first on NASSCOM Community |The Official Community of Indian IT Industry.