---
Building a Restorative, Regenerative Economy: The Technology Impact
Blog: NASSCOM Official Blog
This article is authored by Karthikeyan Natarajan, President and Chief Operating Officer, Cyient
2020 has been an inflection point for the global economy forcing businesses to rethink the purpose of what they do, why they do it, and most importantly, 'how' they do it. Industrialization and the pursuit of economic growth have invariably led to a negative impact on the planet, threatening its very survival. From minimizing carbon emissions, controlling climate change, and rejuvenating planet resources to eliminating unfair labor practices and ensuring sustainable, collective growth, new fundamentals are governing how progressive and responsible businesses unlock significant benefits.
Building and contributing to a "circular economy" is gaining relevance while redefining what value creation means for the organization. The concept of a circular economy is not new. It is woven into the sustainability measures and practices that businesses have been undertaking as they move away from the linear "take-make-waste" approach to growth. Restorative and regenerative by design, circularity emphasizes on dissociating growth from the use of finite resources. This, by no means, implies an increase in costs. The premise of building a circular business is based on moving toward sustainability without compromising profitability.
Numerous companies across industries have made significant strides in this direction. Take Apple, for example. The company's 29-arm disassembly robot, Liam, dismantles an iPhone in 11 seconds and has helped the tech giant secure 61 million pounds of reusable materials, including 2,204 pounds of gold valued at $40 million, in 2015 alone. On the other hand, Nigeria-based Hello Tractor uses mobile technology to help 250,000 small farmers access tractor services on demand and increase crop productivity. Additionally, their tractors come with M2M technology to get data on tractor utilization and efficiency and alerts for proactive maintenance.
Taking a circular economy approach
In principle, circular economy practices ensure that non-renewable items cycle through closed product loops at their highest utility for as long as possible. Taking a circular approach in business and industry extends to saving a significant amount of time, raw material, and money. At the same time, it opens up new opportunities to innovate, diversify, and create new revenue streams. And digital technologies are driving this shift toward sustainability.
As we move towards connected factories or Industry 4.0, companies can easily monitor, optimize, and maximize their operations with IoT and sensor technology. Sensors and connected systems empower decision-makers with the right data sets and actionable insights on the supply chain, inventory, rework, scrap reduction and waste management to enhance competitiveness across the entire value chain, leading to higher profits and a much lower carbon footprint – a start to decarbonizing the world.
Building smart cities and smart homes is also a significant application of technology toward building a circular economy. For example, city authorities can connect street and outdoor lighting systems and remotely manage light intensity depending on natural light and street conditions. This also helps replace components based on their actual usage rather than replacement based on a time duration.
Smart homeowners, too, can ensure better repairability of their connected devices through remote diagnostics, maintenance advice, and failure detection. By identifying appliance problems remotely, technicians can bring the right tools and components for the job in a single trip. Sometimes it may even be possible to fix the part remotely via corrections or software upgrades. Additionally, by monitoring performance data from a connected appliance, manufacturers can improve existing and future products.
These are only but a few examples of how digital technology enables circularity. But establishing a long-term plan will require concerted efforts of tech companies, governments, and citizens.
Creating a Technology Roadmap for Circularity
The Sustainable Development Goals (SDG) adopted by the United Nations in 2015 earmark targets, including clean energy, sustainable cities, responsible production and consumption, and climate action the world must strive to achieve by 2030. The task ahead of us is not an easy one. If we can truly create a decarbonized world by even 2050, we would have succeeded in protecting our planet. Technology is slated to play a vital role in achieving these SDGs. As digital acceleration continues to reshape industries and economies, it is also emerging as one of the biggest drivers for building a circular economy. There is clear evidence that technology is being utilized to design better businesses. A study by the Ellen MacArthur Foundation and the World Economic Forum found that "pairing circular economy principles with information generated from intelligent sources creates a fertile ground for innovation transforming the economy's relationship with materials and finite resources."
Technologies such as the Internet of Things, advanced analytics, AI, 3D printing, cognitive computing, and blockchain are fast emerging as the building blocks for a circular economy. According to a Gartner survey, 70% of supply chain leaders plan to invest in the circular economy, but only 12% had linked their digital and circular economy strategies till now. Supply chain functions where these technologies are being applied to make the transition include delivery, customer engagement, manufacturing and logistics, and planning.
Digital Technologies Used to Enable Circular Economy Activities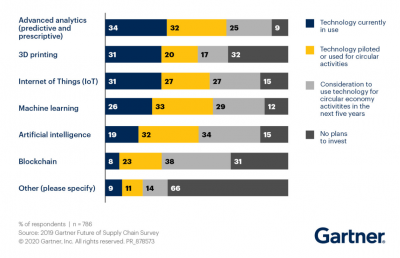 And the proof is in the pudding. By adding sensors to its tires, French company Michelin was able to analyze tire performance, wear and tear over time enabling customers to save money and improve safety with insights on when to replace or rotate tires. This data is also helping the company to further its business model from selling tires to leasing them. And now, ensuring tire longevity is a business imperative at Michelin—a profound change in how they viewed their product in the past. There is also increased financial benefit in recycling materials vis-à-vis purchasing them.
Similarly, Electric Power steering or EPS is now becoming the technology of choice in vehicles, given it can improve fuel efficiency by up to 4%. The aviation sector, too, responsible for producing 2% of all global CO2 emissions, is experimenting with all-electric aircraft. In June 2020, the world's largest all-electric aircraft, a Cessna Caravan 208B with a capacity for nine passengers, undertook a successful first flight in Washington, United States, setting the stage for more sustainable innovation in the area.
But all-electric aircraft are still a far way off. Today's continuous growth of air traffic leads to a significant air quality concern at airports and vicinities. On ground taxiing of aircraft after landing or before take-off is an essential part of the aviation industry chain and contributes significantly to the carbon footprint. However, managing this aircraft movement (from the landing strip to the gate) using electric tugs or tractors is ideal for minimizing carbon emissions. The tug tows the aircraft to the point of take-off, saving fuel, reducing air pollution, and significantly lowering noise pollution. Further, technologies such as artificial intelligence, machine learning, and analytics are being used to optimise aircraft routing, especially across the world's busiest cities. Such technologies consider factors such as congestion at destination airports to decide ideal aircraft speed so that the aircraft does not reach the destination too early to end up circling in the air waiting for a signal to land. This leads to improved fuel efficiency and reduced emissions, making cities more liveable.
In the power sector, too, companies are looking for ways to optimize electricity consumption through distribution. Smart grids today are using intelligent controler systems that apply machine learning and AI to evolve for a more sustainable energy supply continuously. The aim is to use predictive learning to understand what an individual's predicted power for the next hour will be so that distribution systems can act accordingly. Moreover, a smart grid also enables two-way communication to optimize power distribution and allow users to control their energy usage patterns. For example, alerts sent to consumers during peak load periods and the likely consumer response of decreasing demand to peak price signals will automatically reduce the grid's load.
China's renewable first policy is a demonstration of how the state is deploying technology to enable circularity. By applying analytics and AI, power plants can seamlessly switch between renewable and non-renewable sources depending on demand, focusing on utilizing renewable energy first. Nations are also expanding their use of electric locomotives optimized for freight with research on to find ways of leveraging the natural slope to move locomotives. For example, China is exploring trains that never completely stop and platforms that run at low speeds, so passengers can hop into the train without the need for it to stop.
Rising to the Challenge
With growing environmental consciousness, a focus on sustainability, and lowering the carbon footprint, businesses and economies are moving closer to embracing the concept of circularity. And the numbers show it—a study found that six in ten Europeans are willing to pay a premium for food products that use less plastic in their packaging. With environmental regulations also gaining traction and moving in the right direction, conditions are apt for revisiting the core of the business and aligning it with a circular economy.
While technology will not necessarily fix the ecological and climate crisis the world faces today, it will undoubtedly act as an enabler to minimize negative impact, maximize resource utilization, and usher in a truly inclusive, sustainable economy faster. Leveraging digitally-enabled platforms to co-create in ways that reduce costs, drive innovation, and embrace environmental objectives will help imbibe purpose by design into the organization's DNA.
The post Building a Restorative, Regenerative Economy: The Technology Impact appeared first on NASSCOM Community |The Official Community of Indian IT Industry.