---
Blended working model the new way of working – #future of work
Blog: NASSCOM Official Blog
In my previous blog in April, "Is Work-from-home (WFH) the future working model for technology companies?" I had highlighted that Indian technology companies have been fast in reacting to the pandemic by making a shift towards working from home in line with their global counterparts.
Indian Technology companies maintain 90% or above level of employees WFH in 1QFY21
In their 1QFY21 results majority IT companies highlighted that over 90% of their employees continue to WFH during the quarter.
.
| | |
| --- | --- |
| Company | Share of employees working from home as of 1QFY21 |
| Wipro | ~97% |
| Infosys | ~99% |
| HCL | ~96% |
| WNS | ~92% |
| Mphasis | ~90% |
| Tech Mahindra | ~95% |
Sources: Company Reports
Also, this situation is expected to in the short-term as with majority employees continuing to work remotely as companies are concerned about employee safety and thus are not in a hurry to get all people back to offices soon.
For the same reason IT companies had requested the government to extend the WFH relaxations, which was agreed by the government with the Department of Telecommunications (DoT) extending the relaxation in terms and conditions to facilitate work from home till December 31, 2020 (earlier it was allowed till July 31, 2020).
Work Productivity – mixed impact during WFH
According to a Bain survey of over 900 company employees, during April 28, 2020 to May 20, 2020 – more than 50% of the respondents said their productivity either increased was the same during WFH with no commute time and increased ability to focus as the top reasons for the same.
On the other hand, 42% respondents highlighted that the productivity declined with lack of work mindset and dedicated workspace as the key reasons for poor productivity.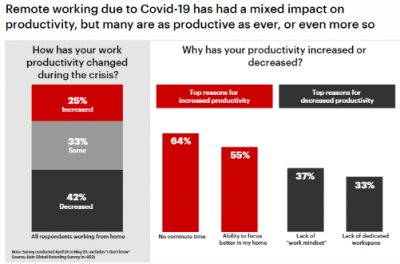 Source: Bain and Co.
Gradual return to office important for some employee's basis client demand and remote working challenges…
… with WFH expected to remain a critical part of future Business Continuity Plan (BCP)…
….Blended working model with a WFH component will emerge as the future of work model
This current success of managing work-from-home seems to be disrupting the future of work with companies making a shift towards a blended model, which will have a component of WFH.
This trend is not only for Indian companies but global companies are also making similar changes:
Overall, a lot has changed in the post Covid era and it seems the Blended working model with remote work component will be one big change which will stay virus no virus.
The post Blended working model the new way of working – #future of work appeared first on NASSCOM Community |The Official Community of Indian IT Industry.