---
#AIForIndia: 5 building blocks to promote data utilization and AI adoption
Blog: NASSCOM Official Blog
Data and AI are the two centrepieces that can help India realise the vision for 2025. My previous article highlights the role that Data and AI can play help India in delivering economic value and help realize the vision of inclusive development. This article focuses on identifying the fundamental blocks critical for promoting data utilization and AI adoption for realising India's vision for 2025. Countries that are actively promoting data utilization and AI are driving initiatives across these 5 building blocks.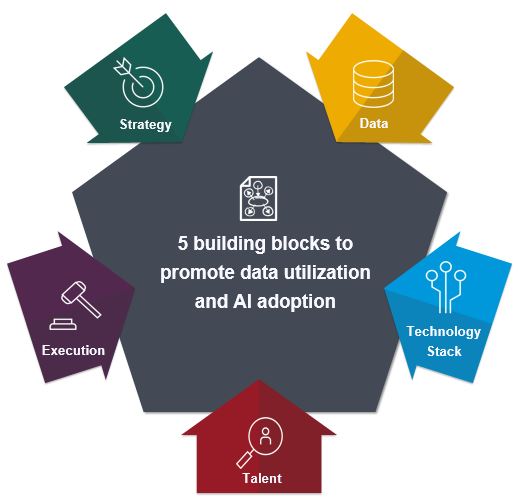 Strategy
Develop a data and AI vision for the country
Identify priority use cases
Create an integrated action plan
Prepare a long-term implementation plan for the program and commit funding
Data
Identify data sets required to unlock priority use cases
Assess quality and align on gaps to be filled
Develop programs to generate and provision data and derived services at-scale
Institute data governance policies
Technology Stack
Create platforms to securely host data, AI services, models, open-source libraries, applications and testbeds
Formulate policies to ensure the security, reliability, interoperability and economic viability of the stack
Design programs for components and enabling infrastructure
Talent
Define capabilities as well as standards for training and certification for AI roles
Estimate demand-supply gaps in AI workforce and develop a talent strategy
Develop programs to address gaps by attracting, developing and upskilling talent at-scale
Execution
Design a national program for AI and empowered central apex body to spearhead it
Define structures, roles and processes to enable various stakeholders to effectively collaborate
Formulate programs to empower the ecosystem for innovation and adoption
Instate an independent body to define and enforce AI policies
It is critical that a coordinated action plan is designed across these 5 building blocks to help accelerate India's journey towards its vision for 2025.
Learnings from global case studies: Case in Point – Singapore
Countries proactively leveraging data and AI have taken actions across the five building blocks. Let us take the example of Singapore.
Source: Unlocking value from Data and AI
Given India's scale and complexity, the global learnings will require tweaks and tailoring to make them work in the India specific context. Download our full report on "Unlocking Value from Data and AI – The India Opportunity" for more details on each of the construct and other global case studies.
The post #AIForIndia: 5 building blocks to promote data utilization and AI adoption appeared first on NASSCOM Community |The Official Community of Indian IT Industry.