---
AI in IoT for a Better Future
Blog: NASSCOM Official Blog
Introducing IoT & AI
Artificial intelligence helps machines to behave like humans such as face recognition, decision making, learning and solving problems. Artificial Intelligence are used for learning and making self-decisions by using the process of complex organized or unorganized data. This technology has given a new horizon to the digital world like the way smartphones made a change in our lives. Every day, we get to hear about new upgrades and new technologies bringing rapid change in the globe. With every change, the tech world is also growing resulting in advanced technology which is bringing us closer. Such an example is the development & advancement of IoT or internet of things. Here artificial experience plays the role to speed up user experience. Before getting into the technical skills of IoT, lets understand what is it and where is it required?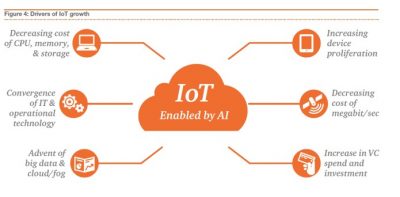 (Picture Reference: https://www.reply.com/breed-reply/en/content/why-are-ai-and-iot-perfect-partners-for-growth)
Actually IoT cannot work without AI. Why? Internet of things (IoT) is a network of technologies or sensors that contains some advance technology embedded into it. It helps in communicating and interacting with their data. The process involves receiving and transferring data through the network without human interactions or human to computer involvement. These data from devices or sensors can be stored in the cloud and it can be made available for real-time analytics.
IoT collects these vast amount of data from different environment. With the help of data science and applying analytics, AI converts these collective data into applications. So the whole process involves collecting and processing data.
AI and IoT: Why Do We Need It?
According to a report, companies like Deloitte have already using AI and IOT for establishing themselves in the market in 2017. So why is it so important?
Actually artificial intelligence has become a perfect solution to manage multiple connected IoT elements, its unlimited processing and learning abilities. These are considered to be quite useful for making sense of millions of data transmitted by IoT devices.
(Reference: https://www2.deloitte.com/insights/us/en/focus/signals-for-strategists/intelligent-iot-internet-of-things-artificial-intelligence.html )
How Does The Steps Takes Place?
We can call IoT as the data "supplier" while machine learning can be considered as data "miner." The process takes place as follows:
IoT sensors supplies millions of data points.
The "miner" or machine learning identifies the relations between them
Extract meaningful insight from these variables.
Transport it to the storage for further analysis.
(Picture Reference: https://www.business2community.com/big-data/iot-big-data-ai-new-superpowers-digital-universe-01926411)
Earlier the traditional analytical approach was used which was as follow:
The system gathers past data.
Data processing.
Generate reports.
Thus we can conclude that IoT and machine learning works more on prediction. It starts with the desired outcome and searches interactions between input variables to produce results.
As more data are being received and aggregated, the system returns even more accurate predictions due to its smart thinking. In this way, businesses can conclude to a perfect decision without actual "thinking" or human interaction.
How IoT Benefits From AI?
Soon, IoT would produce vast amount of data due to the rapid growing of devices and sensors. According to a research, 50 billion devices will be connected to the internet by 2020, ranging from smartphones, gadgets, smart watches, various computer systems and vehicles. These data would be a lot helpful for various things such as predicting natural calamities, accidents and crimes, helps doctors getting real-time information from medical equipment, optimized productivity across industries, predictive maintenance on equipment and machinery, create smart homes with connected appliances and provide critical communication between self-driving cars. The possibilities are endless.
(Picture Reference: http://www.starproperty.my/index.php/articles/property-news/what-is-the-internet-of-things/)
These big data are important only when it is transformed into valuable and actionable information within a given time period. Obviously it is not possible for human hands to do it. This is where artificial intelligence comes into play. AI collects the data and extracts the meaning from it by applying analytics. When we feed data from IoT devices into an AI system, it reviews and analyzes the data, produces decisions made either by machines or humans.
(Reference: https://www.zdnet.com/article/what-is-the-internet-of-things-everything-you-need-to-know-about-the-iot-right-now/)
Examples showing implementing AI in IoT applications.
Smart decisions. When a device detects unusual conditions due to any error, it needs to know how to and when to react or whether it need human assistance. Obviously intelligent learning and decision-making capabilities are required to make such wise decisions. Google uses this approach in the Rank Brain algorithm. Once the solution is made, it responds in real-time without any human intervention.
(Reference: https://searchengineland.com/faq-all-about-the-new-google-rankbrain-algorithm-234440)
Smart Meters. Smart meters use specially designed sensors, incorporated into smart grids to record and upload electrical and background data. Here Artificial Intelligence techniques are applied to the grid to integrate privacy. They are used in every electricity consumption unit. Not only does they have the bidirectional flow of both electricity, they are equipped with real-time sensors which collects data on relevant factors that includes frequencies used by different equipment and appliances.
(Reference: https://iot.eetimes.com/smart-meters-and-ai-take-on-electrical-grid-load-forecasting/)
Boosting efficiency. Machine learning with AI can decipher trends and make predictions about future events, by applying predictive analytics. This shows the real benefits of IoT in a variety of manufacturing industries.
Healthcare. In the healthcare sector, AI with IoT can improve patient care. Sensors from medical devices such as healthcare mobile apps, fitness trackers and digital medical records have been producing and storing patient's data. The AI and IoT approach can help predict diseases, suggest preventive maintenance, track physical activity, heart rate, body mass, temperature and provide drug administration by reviewing the medical history and identifying the health problem. When it is regarding health protection or disease control, patients and doctors would accept the benefits that come with the AI and IoT approach.
(Reference: https://blogs.sas.com/content/sascom/2018/05/01/how-will-iot-and-ai-drive-transformation-in-health-care-and-life-sciences/)
Forecasting. Accurate forecasts help farmers to plan farming or harvesting. Train or plane schedules fully depends on weather forecasting to modify for expected weather interruptions. Businesses that are weather dependent, such as landscaping or utility companies can accurately employ labor and resources according to expected weather events.
AI can help make more accurate forecasting. Artificial intelligence (AI) techniques apply its method on past predictions and actual outcomes. By comparing predictions with outcomes, it produces results for the future, with greater accuracy. AI feed both old and currently available data into algorithms that effective at past occurrences with future predictions.
(Reference: https://www.wired.com/brandlab/2018/05/bringing-power-ai-internet-things/)
Scalability. IoT can scale data. It means:
AI extracts information from one device.
Analyses and summarizes the data.
Transfer it to the other.
Thus it reduces the enormous amount of data to a lesser amount and enables a larger number of IoT devices to be connected to the network. This is called scalability.
(Picture Reference: https://www.nextgenexecsearch.com/iot-enables-smart-cities/ )
Smart Devices: Today we have basic things fitted with technology like smart TV, smart watch, smart security system. Even we have "intelligent" vacuum cleaners, doorbells and lightning systems which have already come to the market. All this is due to artificial intelligence and it do makes life easier.
AI can make life in smart homes even more comfortable. It can detect your mood and analyze your interaction with home objects such as
Adjusting temperature for both heating and cooling.
Adjusting lighting.
Put on music of your choice.
Close or open windows depending on the weather.
Conclusion
The IoT and Artificial Intelligence (AI) will play a vital role in the future as it has become a growing need for technologies in both private and government sectors. Engineers, scientists and technologists have already started to implement it in various levels. The potential opportunities and benefits of both AI and IoT can be gained once they are combined, both at the devices end as well as at the server.
(References : https://www.wired.com/brandlab/2018/05/bringing-power-ai-internet-things/, https://www.ariasystems.com/blog/iot-needs-artificial-intelligence-succeed/ , https://www.techemergence.com/artificial-intelligence-plus-the-internet-of-things-iot-3-examples-worth-learning-from/ )
Written by:
Ayanti Goswami
The post AI in IoT for a Better Future appeared first on NASSCOM Community |The Official Community of Indian IT Industry.