---
A Transformative Opportunity in Disguise: By James Gallo, QuEST Global
Blog: NASSCOM Official Blog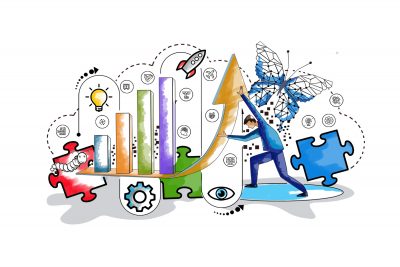 A Transformative Opportunity in Disguise
Why do caterpillars transform into butterflies? A caterpillar's only goal is to eat and grow, gaining the nutrients to become a butterfly ultimately. They have no way of reproducing as caterpillars, which is why they must change into another species to survive and continue their cycle of life. If they don't transform, they will become extinct. This metaphor is relevant in today's world that has become extremely dynamic, and change seems to be the only constant for survival in these challenging times.
"When the rate of change inside an institution becomes slower than the rate of change outside, the end is in sight. The only question is when"- Jack Welch. Unfortunately, there are shocking examples of hugely successful companies who perished because they did not find the courage to transform. An industry leader for cameras and film that ruled the world for over 100 years filed for bankruptcy in 2012. Reason? The company was addicted to its 35mm film's profits and did not see any reason to embrace the new technology. They failed to invest early in building a digital photography business, resulting in other firms taking the initiative and locking them out of a vast market which they could have easily dominated.
The best practice has always been to transform the businesses in anticipation of the changing needs of the world and consumers. We cannot succeed with our old ways when the global realities are changing. This creative destruction process works well on longer time scales, but what about very short term and unexpected events? A BCG survey on companies that emerged from the 2009 economic crisis revealed – although most companies struggled to rise above the crisis, 1 in 7 or 14% of these companies expanded their business and margins through the crisis. What does this imply? It means that there is an opportunity in every crisis! We must be able to quickly reprioritize, re-plan, agile to act, thinking through which short and medium terms strategies will succeed in the changing environment.
Today, some engineering services players are seeing a decline between 20-50% in terms of the share price over the last few months. In the 2009 recession, service providers also went through a challenging period that took 3-4 years to get back to the pre-crisis levels. If you go back and look at the individual company-level performance, there is a lot of variation, both positive and negative. The key lies in how these companies played in their spaces differently and emerged as winners and losers.
Which engineering services players will become 14% of winners emerging from the present crisis?
These will be the companies who will realize the importance of this crisis, with an understanding that many fundamental assumptions and drivers have changed. These are the firms that are willing and able to transform quickly. For a service company to be successful, we have to enable our customers to be successful in their markets, which themselves are disrupted. We, therefore, have to get aligned with their new priorities. What does this mean? It means that customers are shifting their core to a new place, and we may be able to support them with some of our advanced technologies, such as pervasive digital skills, in those new core areas. Who will take care of the areas that they need to leave behind to invest in the core? Here our transformative solutions around product, ownership, legacy, product, ownership come into play, allowing our customers to be ambidextrous – taking care of their future and the past simultaneously.
The opportunity for innovation and refocus
– Across sectors, there is an increased urgency for digital and digitalization. There is a higher adoption of digital by laggard industry verticals like aero, energy, health care and this I believe will create all kinds of opportunities for service players across different segments including engineering services
– Cost pressures and margin compression will create new demands on R&D and product development teams to take cost out by automating, re-using learnings, and shifting activities to the lowest cost skill sets and locations possible.
– There will be a shift in business models of companies. This means that as companies relook at their value chains, there will be changes in what they would like to keep internally and what they would like to outsource for focus, cost, and variability reasons. This make/buy reassessment may also change service provider engagement and commercial models, migrating from onsite to remote support and value suppliers who can support their worldwide needs with consistent processes and tools.
Companies who will emerge stronger and more resilient from the crisis will have to invest in redefining their core, digitizing their business, re-evaluating their HR policies, and adopting radical transformational solutions across their engineering and production ecosystems. The mindsets and behaviors have already started to change, and the world will never be the same as before the COVID-19 crisis struck. We all are at the forefront of a huge disruptive change. Without getting through the process of metamorphosis to face a different world, any company will be vulnerable to extinction.
What is your take on business transformation?
How will you be part of the 14% that emerges as the winner post-crisis?
The post A Transformative Opportunity in Disguise: By James Gallo, QuEST Global appeared first on NASSCOM Community |The Official Community of Indian IT Industry.